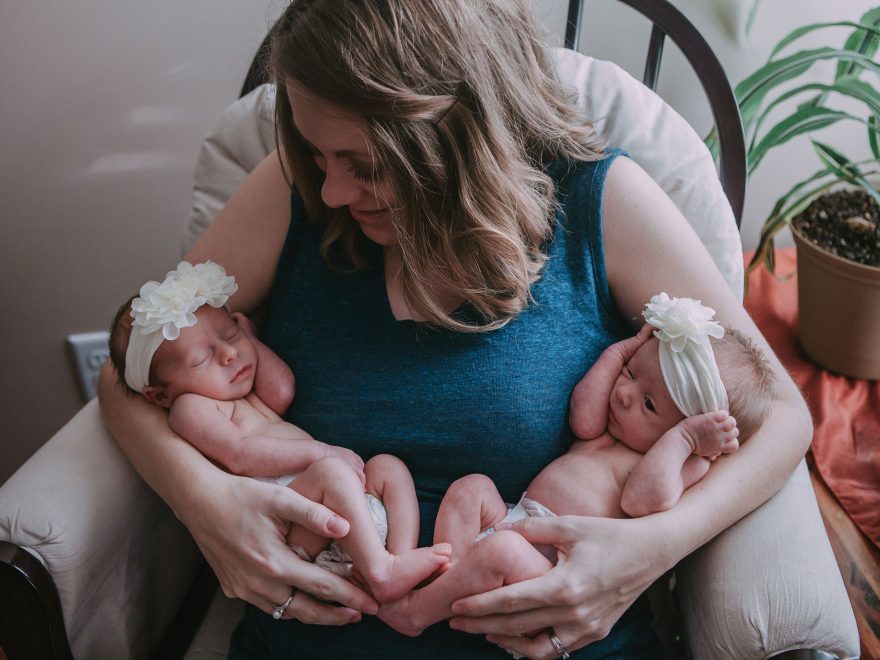 As I sit down to write this story for Henderson Family Magazine, in my view are two little bundles of joy, my twin daughters, Penelope Faye and Ava Louise Ross. Born September 14, 2017, I can't remember what life was like without them here. In the early weeks of their lives, our world changed dramatically. Our living room is full of baby gear. Our kitchen is full of bottles. Our laundry has become significantly cuter with baby socks and onesies. Our vehicle has recently become a van (something I thought I would never buy). As I sit in my living room converted to a nursery, I hear cute (and mildly gross) baby sounds and music coming from their bassinet. Who knew that this would be what parenthood looked like? A change in identity, for better, for worse.
At 27 (three years ago), my husband and I thought we were ready to be parents. (Side note: is anyone really prepared to become a parent? Now that I am one, I think not.) We didn't realize how long the process of trying to have children would take. For some, it may be instant, but for my husband and I, our journey took almost two years. With twins, people often ask me, "do twins run in your family?" While that question initially was an uncomfortable one for my husband and me, it is now part of the deal. With a smile, I often say something like, "No, twins don't run in the family. We were shocked." But were we really shocked? Not really.
In January 2017, my husband and I went through intrauterine insemination (IUI) due to me having polycystic ovarian syndrome or PCOS. The doctor had explained to us that with this procedure, we were more likely to have multiples. My response? Something like "I don't care how many babies I have, I just want a baby." My husband nodded. Little did we know…
A few weeks later, we found out we were pregnant. We were elated! The excitement lasted for a short time, as I quickly became very ill due to "morning" sickness. (Morning? I laugh. More like all day every day.) I thought, do women get this sick? Due to having double the hormones, with double the baby, I found out quickly that twin moms are often sicker than their pregnant with singleton baby-counterparts.
I would love to say my reaction when finding out we were having twins was a moment to remember. At first, I started laughing uncontrollably. As my husband celebrated out of what was pure joy, the first thing that popped out of my mouth was "we are going to have to get a van… two car seats, two cribs, a bigger house, double of EVERYTHING!"
While the pregnancy started out rough, for carrying twins, it was a relatively good pregnancy. We knew beforehand I wouldn't go full term (40 weeks) with twins. At 32 weeks, I went into preterm labor and was put on hospital bedrest, then at-home bedrest, and somehow, was lucky enough to make it to my scheduled cesarean-section at 37 weeks and five days. It was a grueling last few weeks, though, as it was in the middle of the hot summer and everything hurt. I quickly realized that any woman that has gone through the pregnancy journey is a rock star – as it was the hardest thing I've ever done – until the girls got here, of course.
Recovering from a C-section and taking care of two babies, even with help, is no joking matter. It was hard. Fully healthy, it still is hard, and I have a sneaking suspicion that it will continue to be hard for the rest of my life. After 30 years of thinking about myself, I found out that parenthood is going to be a lifetime of thinking of someone else (or two someones elses, in my case). The babies don't know if I am sick with a cold, tired and rundown, or busy writing an article for Henderson Family Magazine. They need to be fed, changed, rocked, etc. regardless of what I have on my to-do list. As we left the hospital, I couldn't believe the doctors and nurses trusted me and my husband to keep these beautifully perfect, tiny humans alive.
Nothing prepares you for your first few weeks at home. Though we took pregnancy to parent classes, read "What to Expect When You're Expecting," and talked to other parents, learning to be parents is truly "trial by fire." And with two of them, it only made it more interesting. Though I am new at parenthood, I have put together a list of things I have learned throughout this process.
Spend time with your significant other before you have children! My husband and I take care of the girls in shifts and sometimes go days on end without seeing much of each other. I miss him!
The time you do have with your significant other, make sure you communicate. And cuddle. We may not have a lot of good things to say when thoroughly sleep deprived – so nonverbal communication helps.
Get out of the house! Even though it's difficult to pack everything up (but the kitchen sink), going for a walk or just getting out of the house with the girls is helpful to my psyche.
Take advice sparingly. I know people mean well when they share their own experiences, it can be overwhelming. I usually only take the advice of my pediatrician to heart. No one knows your baby better than you do, so trust your gut. (It's that trial by fire thing I talked about).
Don't Google things. Just…don't. Though it can be somewhat helpful in a pinch, its mostly just makes me worry more (aka my baby's persistent hiccups could be anything from a strong diaphragm to stomach cancer according to the internet). If you're really worried about something, contact your pediatrician.
Don't feel pressured to breastfeed. With twins, people often (weirdly) ask how the breastfeeding process works. Well, it doesn't. I decided early on I would exclusively pump breastmilk so that other people (my husband) can help me feed the girls via a bottle. Though pumping is incredibly difficult to fit into my already busy schedule with twins, it's what works for us. Do you want to feed your baby formula? Do it! Do you want to breastfeed? Go for it! Don't let anyone pressure you into something you're not comfortable doing.
Try not to use the phrase "I can't wait until…" In my mind, I often think "I can't wait until they are old enough to sleep through the night." Or "I can't wait until they can feed themselves." I try really hard to live in the present – I can wait. They will only be this little once, and I don't want to wish away quality time I can spend with them right now. It's incredible how quickly they have already grown in just two short months.
Last, but certainly not least, don't be too hard on yourself. Having children is hard! I often end the day by patting myself on the back for keeping the girls fed, mildly clothed, and somewhat happy.
I feel like I have learned 1,000 more things as a new parent, but these are the ones I feel apply to my experience. Everyone's experience is different. If you are in the early days of parenthood, keep your head up. It's an exhausting journey, but I am so lucky to be on it. I am aware that many women may be unable to have children and struggle even more than my husband and I did to get pregnant, so I feel blessed beyond measure to take on this grueling, but fantastic parenthood journey. I've heard it gets easier… 🙄 .
Join our list
Subscribe to our mailing list and get interesting stuff and updates to your email inbox.