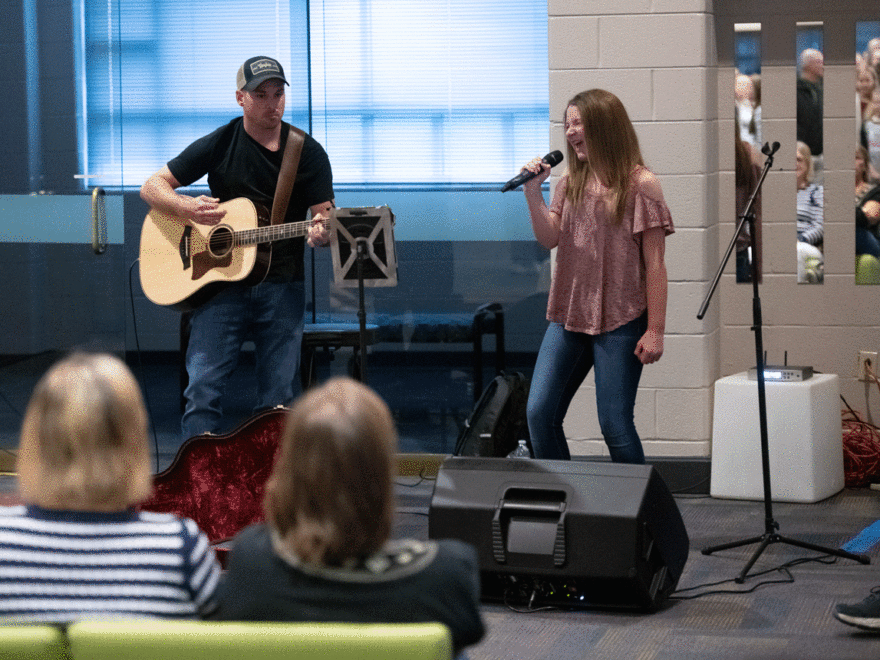 Annabel was born to sing. Turning down her radio to take time to chat with our magazine, she shared of her early introduction to music at age 5. "I sang Joy to the World in my church play and that is where I found my love from just being on stage," said Whitledge. She never experienced stage fright or felt uneasy. "I just went up there and did it," she said.  After singing Adele at the 3rd grade talent show, her love for music was undeniable and her parents saw it too.  "It brought my mom and dad to tears, so I knew I did really bad or really good," said Whitledge.  
Guiding the Way
Every young superstar has some people who help pave the way.  For Whitledge, there is a special voice coach who gives her lessons.  "She tries to expand my range, perfects me on songs, gives me tips on how to sing and helps me breathe better," she explained. Whitledge feels that everyone can benefit from a voice coach even if they do not think they need one, because the coach helps you improve and get better.  She attempts to play guitar but has not mastered any instruments yet even though they always surround her.  "I am in a band and have a guitar player, drummer, bass player and sometimes a fiddle player, and we always practice together," said Whitledge.  The band is comprised of her father's friends.  "My dad spends so much time and puts in so much work and effort into music because he is my agent, manager and road person," the grateful singer said.  Her inspiration, Miranda Lambert, has impacted her life as Whitledge praises her singing voice and charitable deeds.  "She helps people and is a really great person, so I want to meet her," said Whitledge.
Audience at Home
Whitledge loves hanging out with friends and family.  At home, her two dogs get to hear her skilled voice and she has a younger half-sister who she calls one of her pets as well.  She hopes in time she may be able to teach her how to sing.  Her mother is a different story though.  "My mom is a pretty good singer but just sings in the car and shower and not in front of people," she expressed.  
Performing in Kentucky and Beyond 
Being advertised by Thompson Square and getting to sing out in the lobby at one of their concerts was a big step forward for Whitledge.  "I loved opening for them because they were amazing and really nice people," said Whitledge.  This is just the beginning as she hopes to play at the Grand Ole Opry and become successful in the music business.  Whitledge makes frequent trips to Nashville where she envisions eventually moving if her parents make the big decision.  For now, her fan base is huge and grows by the day on Facebook and Instagram.  She also has t-shirts available for people to buy.  "You need exposure and you need experience and you will eventually just get better," said Whitledge. Annabel wants to continue spreading her name and voice.  It means so much to her, and she is excited to let others know about her big dreams with the hope that they may be inspired to follow some of their own.  
A Way with Words
In addition to being so proud of her singing, Whitledge has straight A's.  What people should know is plain and simple.  "I want to tell everyone to never stop singing and keep practicing," said Whitledge.  Never giving up is one of Whitledge's strongest messages that she preaches loud and proud.  "One of the things Thompson Square told me is that 97 percent of people who quit are not going to make it and there are a million people who go through Nashville who give up after the first couple of years," she explained.  Whitledge feels sure she will be in that 3 percent who invest the time and perseverance and hits it big.  "Everybody's story is different so do not give up and try your hardest," said Whitledge.  Looking at the world ahead of her there is no path she would rather pursue.  "Music is pretty much life." 
Jamie Lober, author of Pink Power (getpinkpower.com), is dedicated to providing information on women's and pediatric health topics. She can be reached at
[email protected]
Join our list
Subscribe to our mailing list and get interesting stuff and updates to your email inbox.
Reader Interactions