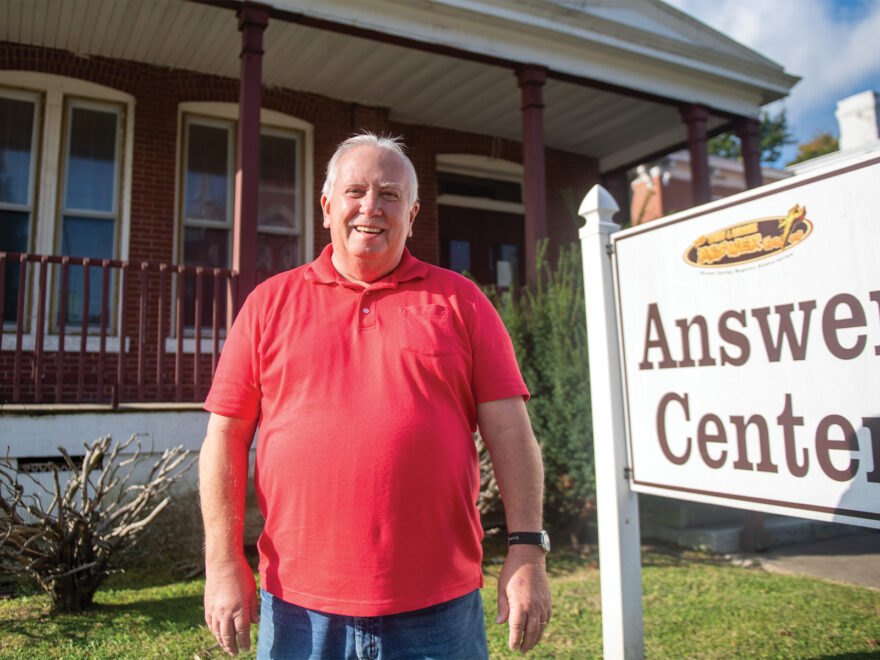 Photos by Darrin Phegley
The Answer Center was started in September of 2000 and is part of the Green Valley Baptist Association, in which they give away clothing of all sizes for men, women and children along with grooming kits (hygiene products), towels and washcloths, blankets and more. It's purpose is "to give the answer of Jesus Christ to our community while meeting needs."
The Donation and

 

Shopping

 

Experience

 
Before the pandemic, clients were able to come inside The Answer Center to shop. However, this process since changed, and the Director and volunteers are still continuing to follow the shopping protocol that was put into place in 2020. Items are now fulfilled by clients pulling up for a drive-thru experience. Volunteers will come to their vehicle and hand them an order form to mark the items they are in need of. Sometimes there may be one order form for a carload while other times there may be a few people in one car from different families. There are 2-4 teams of volunteers inside, 2 volunteers per team, who will go upstairs and fill those orders. 
Everyone who comes through the line is signed in and has a file. The purpose of this is for The Answer Center to have contact information in case there is something a client was looking for and couldn't find. If the center happens to get that particular item, they can call and let them know, or sometimes will go buy it for them. 
Sometimes there are items donated that do not particularly fit with their need, and this has been a wonderful way to allow clients to get out of their vehicle to shop while their orders are being filled. Volunteers will sit tarps outside along the drive-thru, and clients can look around and shop through those items while they wait for their order. These may include toys, picture frames, books, etc. 
Food is another donation that isn't an official part of their ministry, but they will sometimes have donated. If they have food on-hand, they will have it outside to give away on the Saturdays clients come to shop. The value of this is that the Henderson Christian Community Outreach isn't open on Saturday or Sunday, so they are able to help families get through the weekend and get them to the Salvation Army for a meal, too. 
The Answer Center also has $10 Sureway gift cards they will give out to help those in need of food to get through the weekend. Sometimes volunteers take it upon themselves to help. One of their volunteers put someone up in a hotel for two nights and brought him food to get through the weekend. They are blessed with 46 volunteers who so graciously give their time, and they are thankful for everything they do. 
Donations may be dropped off in the back of the building. There is a dropbox that was built by Josh Mcleod in 2009 with the help from Scout Troop 400 as part of an Eagle Scout Project. Nancy Brown, a retired middle school teacher, has been a volunteer since August 2015. She works alongside Rev. Burke at The Answer Center, and they are both part of the Kentucky Baptist Mission Corps. Nancy said, "It's a delight to meet people at the door." Some are new faces while others they are reacquainted with. The Answer Center is all about relationships. They pray with everyone who comes through. 
The Mission Field
Although they are known for their Clothing and Household Ministry, The Answer Center also has what is known as their Kid's Korner Ministry. This is a seasonal ministry for Easter, Back-to-School and Christmas for children in the Henderson community. Children are given books, Bibles and gifts. 
In 2019, they gave away 350 backpacks during Christmas. Last year, their number was around 200 due to the pandemic. The Christmas backpacks are given out the first two Saturdays in December, and this takes a lot of help putting these backpacks together to hand out. The backpacks will include some school supplies, clothing by age/gender, hats/gloves, shirts and pants, food, grooming items, brushes, hair accessories, and a few toys. "Sometimes they look like they are going to burst open," Rev. Burke said with a grin on his face. "There is so much love that goes into the making of these backpacks." 
They have had help from Kentucky Kid Changers, who came across the state and put together 30 backpacks for the back-to-school ministry. These were all elementary aged kids who came and spent a Saturday, volunteering their time to help those in need right here in Henderson. They also receive help from local churches who are part of the Green Valley Baptist Association. 
Two years ago, they had the opportunity to drive to Rogersville, TN to pick up over 900 Christmas backpacks that were unable to be passed out at a school district in Eastern Kentucky. They had been put together by churches in North Carolina, Georgia and Alabama. Rev. Burke was the first to respond when the message about the backpacks went out, so they drove down to get them and took a box truck. The Manager at Royster's Machine Shop here in Henderson is a deacon at Henderson First Baptist Church and made and made the warehouse available for them to store the backpacks. They took everything out and organized all of the items, which allowed The Answer Center to use those items for Easter giveaways, Back-to-School and Christmas backpacks for two years, including this year as they use the remaining 60-70 backpacks. They had two big boxes of canned goods such as spaghettios, vienna sausage, fruit cups, cookies and more. This was a huge blessing to the Henderson community, and they were so grateful these backpacks were able to be used. 
Another exciting event they were able to participate in was the Career Job Fair at Audubon Kids Zone. Their purpose at The Answer Center was to let people in need come and get clothing and grooming kits for their interview. Then, when they received the job, they would supply them with uniforms. They were able to supply 12 individuals with head-to-toe uniforms (black shirts and black slacks). These had been donated to them, and they bought all the shoes new. "This is just one of the fun things we do! This whole ministry is a lot of fun, and a blessing to us because we feel like we are making a difference," said Rev. Burke. 
TAC Life Change Support Ministry is another ministry. This is a satellite ministry, and it supports the Women's Life Change Ministry at Henderson County Detention Center. This ministry helps provide Bible study supplies, food items for Christmas and work through grants, which helps with clothing. 
A Community

 

Partner
The Answer Center is grateful to work alongside other community organizations. Henderson is blessed with amazing organizations to help those in need throughout the entire year, just as The Answer Center does. Together, they are making a difference in the lives of so many Hendersonians.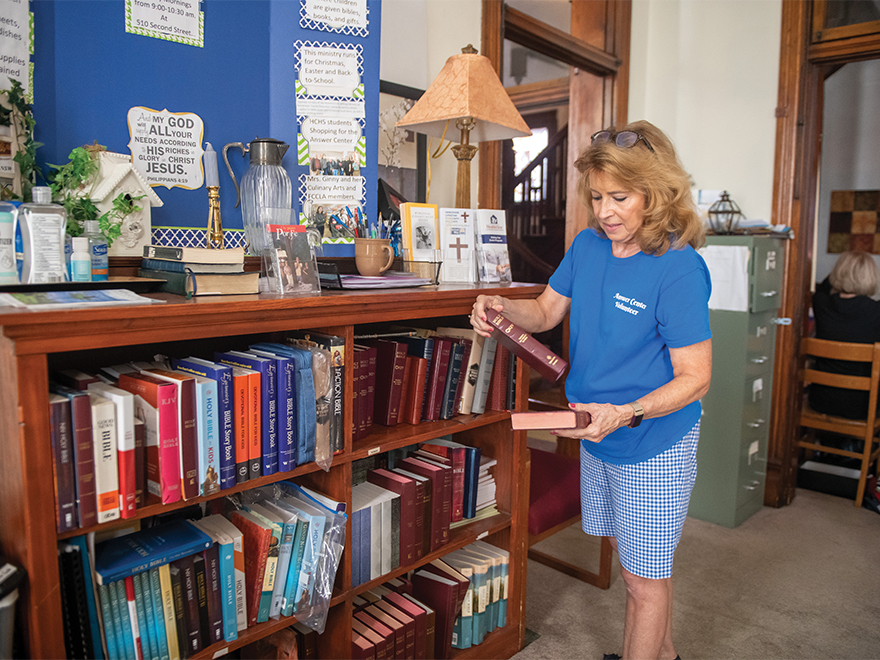 Some of their amazing partners include Habitat for Humanity, Father Bradley Women and Children's Shelter, The Women's Addiction Recovery Manor (WARM) Center and Harbor House Christian Center, along with Henderson Christian Community Outreach and the Salvation Army. These are just several they are able to work with to meet the needs of community members. For Habitat, they will hand out vouchers to help those looking for furniture. They are able to use grant money they receive to assist with this. The voucher comes in $100 segments (one piece of furniture). Initially, they helped with beds and The University of Southern Indiana was building beds and using grant money for that until they ran out. Once a voucher has been filled out, he will let Brittany Smith at Habitat for Humanity know there has been one given out and what is on it. Rev. Burke explained how he recently did one for a family who lost everything in a fire. They were able to get 4 pieces of furniture; a couch, dining set and 2 beds at $400. They have been able to help 8-9 families this year who have lost everything from a fire. 
Those who have completed the WARM program may come to The Answer Center to receive a Household Kit. This will include laundry and dishwashing detergent, towels, sheets, toothbrush/toothpaste, a comforter and more. 
Ellis Park Ministry is another ministry partner of The Answer Center. They help the groomsman, stable workers and their families on the backside during the racing meet. They exercise horses and have great needs as they travel from track to track, so they are happy to be able to take The Answer Center items they are in need of. 
Looking

 

Ahead
In 2019, they had 5,000 individuals come through. This was when they were still fully open. Thus far in 2021, they have had 1,000 clients use their drive-thru service. They are open twice a month for individuals to come shop for their needs. Rev. Burke believes they will be full once again when their doors are open for shopping inside once more. Clients may come once a month to pick up items, while others may not come but once every 6 months. Even though they aren't seeing the numbers of what they did, ⅓ of the number of those they have helped have come for the very first time, including some who have been homeless. 
The Answer Center has been able to help 12-14 homeless individuals here in Henderson this year with mats given to them by a ministry in Crittenden County. Tim and Joyce Burden, who are missionaries, attend a church in Crittenden County where they focused on making mats for the homeless out of Walmart and Dollar General bags. When individuals open the mat up, they will find a pillow and a Bible. Each mat is made up of 700-1,000 bags. However, some choose not to accept a mat because it can be heavy. The mats keep them dry and warm. They hope to continue helping these individuals in every way they can. 
Every September, the Green Valley Baptist Association takes up the Eliza Broadus Offering for State Missions. Last year, The Answer Center received $4,000 given to them through a grant from this offering. Those who donate to this mission have an impact on what they are doing right here in Henderson. They are allowed to use this money on towels, sheets, grooming kit items, which are extremely popular and consist of shampoos, hand soaps, toothbrushes/toothpaste, wash cloths, deodorant and more. They may also use on basic supplies that are needed for the ministry. This offering has made a difference in the lives of so many within our community, and they pray their center continues to receive a grant each year to continue growing this ministry and helping to meet the needs of many more. 
If you or someone you know would like to make a donation, volunteer or you are someone in need of The Answer Center's services, they are open Mondays from 3-5pm, Thursdays from 9-11 and every 2nd and 4th Saturday of the month from 9-10:30am for shop days. 
Nancy said, "We are in a season of Christmas all year around because we share God's love the entire year with people who are in need and need His comfort and love!" And what better way to love on people than to do so by giving.  
Join our list
Subscribe to our mailing list and get interesting stuff and updates to your email inbox.
Reader Interactions