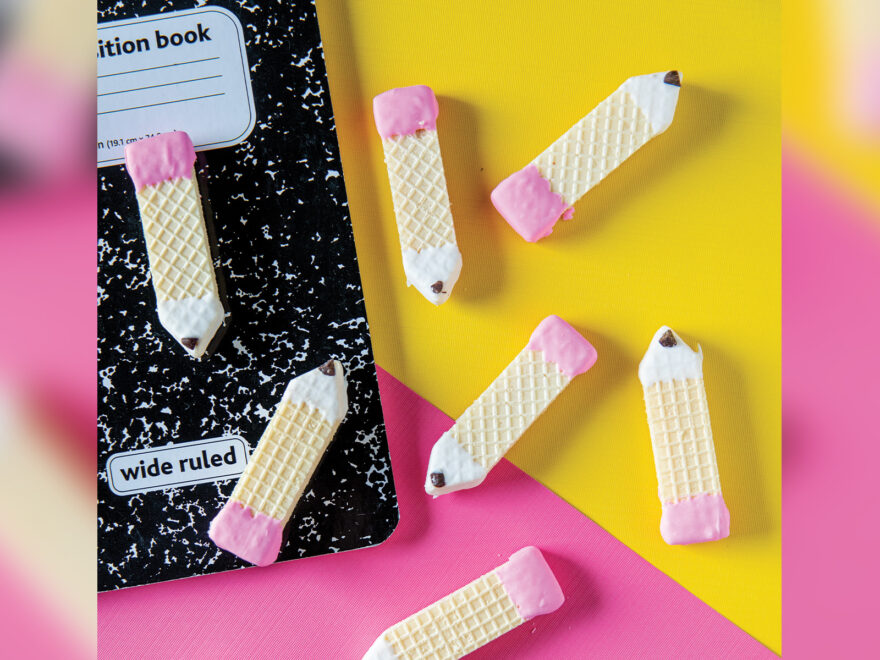 Photo by Jamie Alexander
This back-to-school treat could NOT be easier! Who doesn't love a recipe that requires no baking, only a few ingredients, and practically no time at all? While the recipe below calls for white and pink candy melts, it can also be made using vanilla and strawberry icing, or even vanilla frosting with pink food coloring for the erasers. I don't use exact measurements in the recipe because it really depends on how many cookies you want to make! I recommend using a tall and skinny microwavable container to thin out the melts or frosting to make sure your liquid is deep enough to dip the cookies. You could also try using these cookies as cupcake toppers for an extra-special back-to-school treat. What a great way to start the school year! 
What you'll need:
›› Sugar Wafer cookies (vanilla)
›› White candy melts
›› Pink candy melts
›› Miniature chocolate chips
Instructions:
›› With a SHARP knife (to avoid crumbling), cut a triangle shape on one end of each vanilla wafer cookie to create the "pencil tip" shape. 
›› Line a baking sheet with wax paper (parchment paper should also work fine), then melt your candy melts in their separate microwave-safe containers (if you are using frosting instead, separate them and microwave for about 10 seconds to thin the frosting, then add pink food coloring to one of the containers). 
›› Dip each cookie into the frosting containers (white for the triangle-end, pink for the square end), then lay them out in a single layer on the wax paper. Take one miniature chocolate chip and stick it to the end of the triangle end for your pencil tip! 
›› Serve once the melts have cooled/hardened. 
Join our list
Subscribe to our mailing list and get interesting stuff and updates to your email inbox.
Reader Interactions