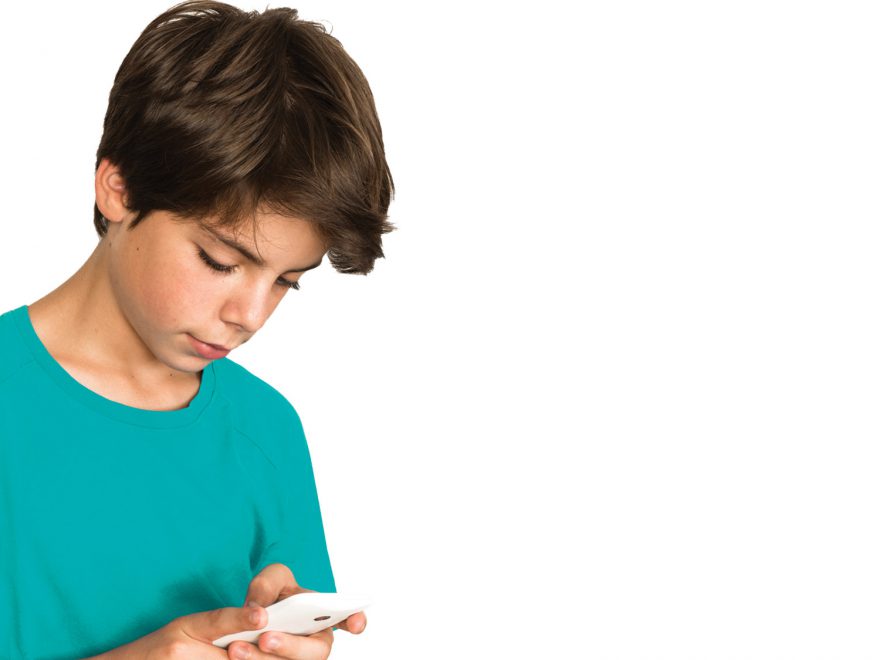 Q:  My 10-year-old wants a smartphone. I'm not sure I'm ready for that, but I don't want him to feel left out. Is that too young? I know lots of kids have a phone nowadays.
A: I can tell you from working in a school, kids are getting phones younger and younger.  I personally think this question doesn't have a right or wrong answer.  It's more of a personal choice or opinion.  You have to first ask yourself can you afford a smart phone and all the extras and money that are involved?  Do you want your child texting and can you monitor it well enough to make sure everything he is doing is safe?  I know plenty of children who have Facebook accounts that are not the appropriate age, but the parents probably have their passwords and have access to their account—or at least I hope they do.  I do encourage you to make sure that any time your child needs to be on a computer or device, have them in a main room of your home where you can walk by at any time and be able to see what they are doing.  The difference with a phone is they can take it anywhere and you can't always monitor it. I think you need to be ready and if you're not ready then that's your answer. I hope that helps!
---
Q: I recently had a very unpleasant encounter with someone and it was in front of my 11-year-old daughter. She asked me a lot of questions afterwards and I wasn't entirely sure that I answered them the correct way. The person was yelling at me a little and I wasn't saying much back. The whole thing came across like I was not standing up for myself. I was upset after the incident and didn't handle it the way I should have. Should I address it again or just leave it alone?
A: This is a very interesting question to me. I have actually had a similar instance happen, so I can relate to where you are coming from. It sounds as if this was a "heat of the moment" situation and of course we always look back and know exactly what we should have said or done. But it's never that easy in the actual moment itself. As far as addressing this again with your child, I would say that is entirely up to you. Chances are your 11-year-old has completely moved on and forgotten about it. But it sounds like it may still be a sore subject for you and I think it's fine to readdress it. When I think of a situation like this one, I do look at it as a teachable moment in life. I'm always looking for teachable moments that I can pass onto my child. I don't know the ins and outs of what happened, but I think the teachable moment here is talking to your child about how to deal with people that are not very nice. It's simply a fact of life that we will run into people through our lives that are not nice people and what better skill to teach your child than how to deal with someone like this. This is a skill that they will use the rest of their lives. It is a skill that they will use in school and dealing with their own peers. And sometimes the most important thing we can do is to remain calm, hold our temper and be able to walk away from a heated situation. Do not beat yourself up about this situation, but instead use it to turn a negative situation into a positive teaching moment!
---
Q: My 13-year-old son is going to be the death of me. All I do is nag him to clean up, take a shower and do his homework. I get on my own nerves. I know there have to be better, more productive ways to get him to do this. I will try anything.
A:  I feel like a nag too sometimes and I hate it. I get to the point where I do not want to hear my own voice. Children at this age can be quite temperamental. This is a very important age developmentally and I try to use this period as a way to boost self-confidence whenever I can. This can be used at any age, but I find that it can be effective during the adolescent years. I want you to try and catch him while he is good. Now, I know some of you might say, "Well, then I will never catch him because he is never good!" LOL! But, I need you to really focus and pay attention. For example, your child picks up his glass and puts it in the sink and you say, "Thank you very much for putting your glass in the sink." How much better would that be instead of, "You never help out around here! Why would you leave that glass on the table?" I know you have to catch your child doing something good, but it's there. And the difference in how you both feel in sentence one versus sentence two is huge. Build confidence through giving out compliments and talking about how they are doing the right thing. It will hopefully have a positive impact on everything they do. I know it can be hard. I just want you to look at it from a different view.
Join our list
Subscribe to our mailing list and get interesting stuff and updates to your email inbox.
Reader Interactions