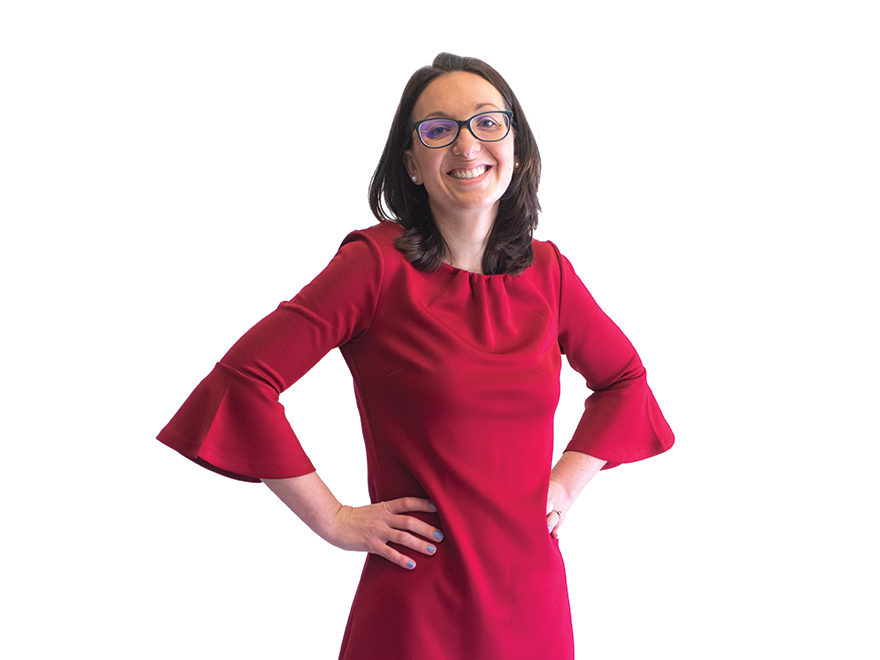 Photo by Darrin Phegley
Tell us a little about your family (kids, pets, etc.)
Our little family consist of my six-year-old son, Everett, my husband Andrew (who is an English Teacher with the EVSC), myself and our 3 cats (LouAnn, Toby and Millie.) We just recently moved back to Henderson. I am a Hendersonian myself and grew up here, but we had been residing in Newburgh for about seven years. My little boy is in the first grade at Holy Name and loves to play video games. 
What do you do for a living and how long have you been in this position? 
I am the Executive Director at Habitat for Humanity of Henderson. I have been in my position a little over six years. 
What is most rewarding about your role and working with Habitat? What is the most challenging? 
Most Rewarding—Working with families to help give them a safe, decent, affordable home.
Most Challenging—We can't control the weather, and with building houses, we are at the mercy of being in a midwestern state that has cold winters and hot summers. Our volunteers are great and never complain about the elements we have to work in to build homes, but sometimes I wish we had a nice 65 degrees year round.
I am also challenged in my role because I do not have a construction background, as I did HR before coming to Habitat. Our many volunteers and two wonderful Foreman have been very patient with me and helped me learn many aspects of homebuilding that I had no idea about over my six years at the affiliate
What hobbies do you and your family enjoy? 
My family and I enjoy going to State Parks. My husband is an avid bird watcher and has introduced me to many beautiful state parks that we like to hike in. My family also likes to visit Sandy Lee Watkins Park, Audubon Park and the Wetlands during the weekends. 
How has the pandemic affected this organization? 
The pandemic has made our organization more creative I believe. Our staff came up with great ideas on how to keep our ReStore running during the Spring 2020 retail shutdown. We were able to create an online ReStore and even did auctions during the shutdown. We also had to get creative with how we work with families we are building homes for. We paired with a company that offers online financial courses for our families, and did home visits through pictures and social media apps. We took advantage of the UK Extension Office take home bags and many of our partner families picked up the take home bags and got to learn new skills, such as making a door hanger, candle making kit and many easy and cheap dinner recipes. We found out how blessed we are as an organization with the outpouring of donations, prayers and well wishes from the community and our many volunteers. Our volunteer crews are the best. They have continued to volunteer their time to help us build homes because, especially during COVID, we know that many families need safe, decent, affordable homes now more than ever. 
What are your hopes for the future of Henderson's Habitat for Humanity?  
Habitat for Humanity of Henderson is celebrating its 30th anniversary in January 2021. I have an amazing staff and volunteers, and with their help, we hope that we can build even more homes in the coming years. We are also working toward becoming a Certified Housing Development Organization—or as we call it­— CHDO. We'd be the first housing organization in the Western part of Kentucky to hold this certification. The CHDO certification will help raise our capacity as an organization and create new opportunities to serve the Henderson community and its affordable housing needs. 
For those community members interested in volunteering and getting involved, what steps do they need to take? 
We have volunteer opportunities for any and everyone who wants to become involved with Henderson Habitat for Humanity. We have a wonderful website
www.hendersonhabitat.org where anyone interested in volunteering can click the volunteer link on the homepage and even send us a request to reach out to them. Our Volunteer Coordinator is always willing to hold one-on-one meetings with anyone interested in volunteering. She can be reached at [email protected] or by phone at 270-826-0015. We even have opportunities for people who are not able to leave their homes to help us with our mission.  
Join our list
Subscribe to our mailing list and get interesting stuff and updates to your email inbox.
Reader Interactions