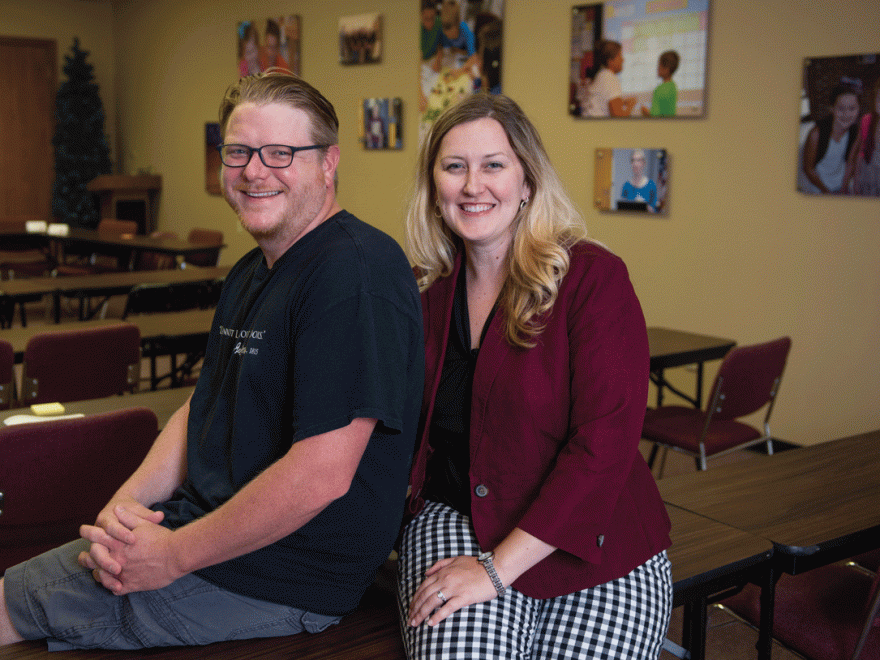 This October, the Henderson County Schools Professional Development Center, located on the campus of Thelma B Johnson Early Learning Center, will host a program available to all students called Prime Time Reading. The program targets students ages 5 to 10, although students of any age are welcome to join. Prime Time Reading is a six-week session of reading and discussing books, which have themes of fairness, greed, courage, cleverness and determination. 
"It's new to Henderson, but it's been in Kentucky for a while," says the program's scholar, Megan Mortis. "Prime Time Reading is about bringing together the whole entire family during that prime time, that evening hour, when families are either together or individuals are watching prime time television." 
The program is provided free of charge and caters to the needs of the families in attendance by offering dinner, provided by the Henderson UK Extension office, and free childcare for the younger siblings of the students. To add to the excitement, the Brain Bus and Book Mobile will be there each week. Books and giveaways will be offered at the sessions as well, all in effort to create a relaxing evening of family fun while developing and growing each student's love of literary arts. 
A.J. Casey, storyteller for the program, said, "When many people think of children's books they often trivialize them. They sometimes dismiss them." Casey, who has a background in theater, reads aloud the books to the group during each session. The book's theme then leads to a discussion among the group, which is comprised of students, parents and volunteers of the program. "There is a book, called The Big Orange Splot (by Daniel Pinkwater), that at its core is about creativity," Casey explains, "but at the same time it's about conformity. We can then discuss when are appropriate times to express yourself and when are appropriate times to conform."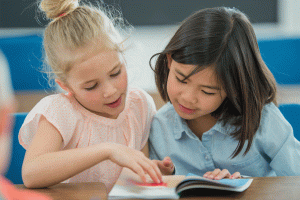 During a recent session, the topic of bullying was being discussed. Mortis recalls, "We went off on a topic about individuality, but ended up discussing bullying and how to respond to it. Some of our parents even talked about how they were bullied when they were students. We discussed how important it is to be an individual." The program opens the doors of communication for families and school administrators by providing a safe environment to discuss important issues. 
From the perspective of the student, it may appear just to be an entertaining night of simple storytelling. However, every detail of the program is planned with great purposefulness and with a focus on instilling a love of reading, while also considering new ideas and having dialog about them. Simply reading a book to the kids "sounds so trivial as to what really happens," Mr. Casey acknowledges.
Community partners and volunteers are vital for the success of Prime Time Reading. "You can't underscore enough the support from the Henderson County Board Office. They see the value in this," says Casey. Stephanie Smith, HCS District Reading Coordinator, stated, "Families are very enthusiastic about the program. We are pleased with the response to the program and the support of the community organizations and businesses." Jo Swanson, Assistant Superintendent of Teaching and Learning, Rita Herron and the Henderson County High School Student Ambassadors are among those helping to serve the needs of the beneficial program. Mortis, when asked why she gives so much of her time to Prime Time Reading answered, "I have a passion and a love for reading. I really want to see these families engaged in learning about the books, exploring the books and discussing them."
This valuable program was made possible by grants from the Kentucky Humanities Council, National Endowment for the Humanities, Institute of Museum and Library Services through the Kentucky Department for Libraries and Archives and the Raymond P. Preston Family Foundation. 
More information about Prime Time Reading can be found by visiting the Reading Resource page at henderson.kyschools.us 
Amanda Waggener is a blogger for the Huffington Post, author of No Grit No Pearl blog site and is a native of Henderson. She and her husband are the parents of two teenagers who they are raising with as much zeal as they can muster.
Join our list
Subscribe to our mailing list and get interesting stuff and updates to your email inbox.
Reader Interactions