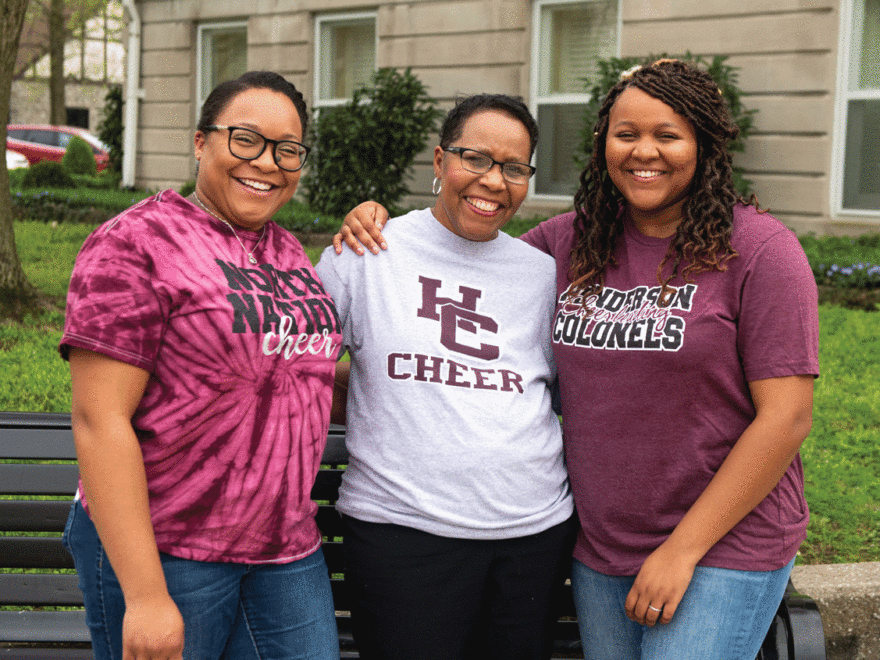 "We want to win the first ever national title, whether it comes from the high school or middle school." Erin Williams, HCHS Head Cheerleading Coach
Henderson County made history this year as the high school cheerleading team won 5th at Nationals, which is the first time in UCA (Universal Cheerleaders Association) history Henderson has made it to the finals and placed in the top 5. North Middle placed 13th in the nation. This was a successful year for both teams, and the drive and passion the Williams sisters have in leading their cheer teams to become National Champions is unlike any other. They are so grateful they have both been given the opportunity to coach for the schools that shaped their own personal cheerleading careers. 
Cheerleading is a Family Affair
Tim and Cindy Williams are the proud parents of Erin and Mallory Williams, Head Coaches of Henderson County High School and North Middle School's cheerleading teams. The Williams family lives and breathes cheer in every way. Cindy is co-chair of ABA Cheer here in Henderson County and assists both of her daughters with coaching both cheer teams. Tim is their proud cheer dad. "He supports them 110%," Cindy explained. He wears the same blue sweater to every competition, even those taking place in Orlando when it's 85 degrees outside. He is a true cheerleader for his girls. 
Both Erin and Mallory started cheering when they were only in the 4th grade with ABA Cheer but were both on gymnastic teams before trying out for cheer. As Cindy thought back to such a vivid memory, she laughed stating, "Erin played basketball first and her dad was the coach, but instead of her playing she was on the sidelines doing flips and jumps." Cindy explained how both of her girls grew with cheer over the years and truly developed a passion for it. 
Although cheerleading plays such a significant role in their everyday lives, they also love their day-to-day jobs. Cindy moved to Henderson County when she and Tim married in 1987. She is the Public Relations Officer at the Henderson County Board of Education and has worked there for 31 years. Erin works at North Middle with behavioral kids while Mallory is currently a full-time college student at Henderson Community College. As a family, they enjoy spending time together, going to ballgames and going to church and spending time with their church family. When Erin isn't at home, which is very normal for her to be on-the-go, she enjoys walking downtown in her free time. Mallory said they will take trips to Florida a lot, so she loves going to Disney, but her college coursework keeps her very busy these days. 
Cheerleading 101
When it comes to cheerleading, the Williams girls want their teams to have fun, but they instill the importance of academics. They watch their grades to make sure the teams are putting their academics first. Last year North Middle had an average of 3.2 for the entire team. Over half of the high school's cheer team was all-district. They always tell their teams they can't be successful on the court if they aren't successful off the court. 
"If you can't spell cheer you can't do cheer," says Tim. This has been his saying since both of his daughters first started cheerleading many years ago. 
Cindy takes care of all paperwork. "I don't think people realize how much paperwork there is. There is a paper to go with everything," Erin stated. They must make sure all students have physicals up-to-date. There may be students who have medical conditions so they must be trained on how to deal with those. It goes with more than being on the basketball and football field.
It is also very important to build relationships with the parents. When you have a good relationship with parents, it makes a good well-rounded program. Both Erin and Mallory could not express enough how blessed they are with such wonderful parents to work with.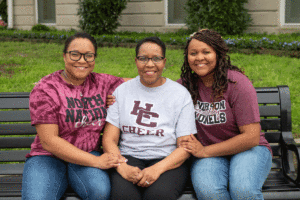 Getting Involved
Cindy has been co-chair of ABA Cheer for about eight years now, and both Erin and Mallory were previous ABA Cheer coaches. "I really enjoy it because that's where they get their foundation. We always tell them we can only take 12 for each school team, but if you don't make it this time work on your skills and come back," Cindy explained. She expressed how impressive it is that many of these students do come back and make it the next year because they have really worked on improving. It just shows their determination at such a young age.  
Each school has an ABA team (eight schools) with Holy Name included. "I love being around the kids and seeing the excitement, especially when they are competing and performing at games," Cindy said. ABA holds a competition at the end of the season and last year they had over 1,000 to attend. They ask USI cheerleaders to judge so no favoritism is shown towards the kids. 
North Middle tryouts are usually the week before Spring Break. This year, 55 girls tried out for North Middle's cheer team, and they took 47. HCHS tryouts are always in April. The Williams girls always encourage those interested to come out, whether they have experience or not. Erin stated, "I always give my kids a chance and say no experience needed. There is a team for everybody."
When it comes to practices, cheer teams must always be prepared to put in a lot of time, especially before competitions. Usually between April and May, teams practice three to four days a week. In June and July, five days a week and when August hits they will be going every day except for Fridays and Sundays, as occasional Saturdays are typical. Erin laughed as she said, "When competitions come between October-February, they won't have a social life." On a serious note though, she explained how other sports practice every day, and their cheer teams are just the same. It is just like their job. 
Cheer schedules become the team's everyday routine. They know practices start 30 minutes after school is out. They have that time to work on homework, get changed and have a snack. Snacks are provided by the middle school. Erin spends over 60 hours a week doing cheer stuff, with her team spending about 40 hours a week. The same goes for the middle school team. 
"I always ask my girls if you aren't here to be successful, why are you here?" Erin said. 
Fundraising plays a very important role for these cheerleading teams, too. Between uniforms, traveling, competitions and camps, the expenses add up. They appreciate any donations they receive. They have put on car-washes and sold cookies and tumblers to name a few, and they are grateful most of their fundraising efforts have been successful.
Although Erin and Mallory push their teams to work hard, they do it because they know their teams have it in them. "We have a lot of our kids going to college clinics. Clinics are fun. They get to stunt or tumble with college students, and it gives them a good opportunity to get out of their shell," Mallory said. 
Morehead State is currently looking at a student to potentially recruit for their cheerleading team, and she is only a sophomore at the high school. Cheerleading programs are growing in Henderson County, and people take it seriously now. With a cheerful voice, Cindy exclaimed, "The cheer program has gained momentum."
The Joy of Coaching
Erin and Mallory love what they do. Some days are great. Some days are tough. But coaching cheerleading truly brings them joy.  For Mallory, she loves seeing all the connections the girls make throughout the year. They all come from different feeder schools so seeing how they interact with the older middle schoolers is fun to watch. She enjoys making connections with the girls herself and talking to them. She doesn't feel there is anything too hard when it comes to coaching because "when you enjoy it, you know it's going to fall into place no matter what." Erin loves watching all the hard work pay off at the end and watching the girls be successful. "It's a bunch of weight lifted off your shoulders at the end," she expressed. Time management is the hardest part of the job for Erin as she finds a hard time balancing her personal life with her work life. She puts herself on the backburner because she puts her job first, but it's only because she is so passionate about it and wants it to be the best it can be for her team. 
Cindy explained how she has seen Erin and Mallory have some bad days because of something that has happened with one of their cheerleaders, and they have shed tears out of love and concern for their team. She is so proud of how they handle things and accept responsibility. She always tells them, "You aren't only their coach. You're their mentor, counselor, sometimes you're their parent and friend. Someone they can have as a sounding board." And Erin and Mallory are just that for their team. They realize their team looks up to them, and they want to be the best role models they can be. 
When you are part of these cheerleading teams, you become like family. The Williams coaches always have a get together at Christmas for the high school and middle school teams at their house. Last year, the middle school adopted a family and this past year sorted canned goods at the Salvation Army and rang the bell. This past year the high school adopted their bus driver and bought Christmas for her because she takes them everywhere. They laughed and said they needed a charter bus that says, "Henderson County Cheer." 
Erin and Mallory will spend time with their teams over breaks. They will go running with them on Green Street for practices. They want them to feel and know they are truly all in this together. They are one. They rely on each other for support, encouragement and what it means to be there for each other and their community. 
"I get enjoyment seeing them, and the hard work they put into it and results. The connections and relationships they have built between the girls. That really pleases me. I know they are hard workers; they expect for their teams to be hard-working and put forth an effort like you wouldn't believe," their proud mother said. 
And the momentum for these programs will only continue because what Erin, Mallory and Cindy love about coaching a team is the fact that "it builds up their self-esteem and social skills. It gives them a safe place to be and they like it." These coaches believe in their teams. They see the potential. They have big dreams for the future of these programs, and they are determined to see them through.  
Lyndi Mauk, editor of Henderson Family Magazine, was born and raised in the Bluegrass State. She is grateful to be going through life alongside her husband and best friend, Brandon, and being a mother to their little girl.
Join our list
Subscribe to our mailing list and get interesting stuff and updates to your email inbox.
Reader Interactions