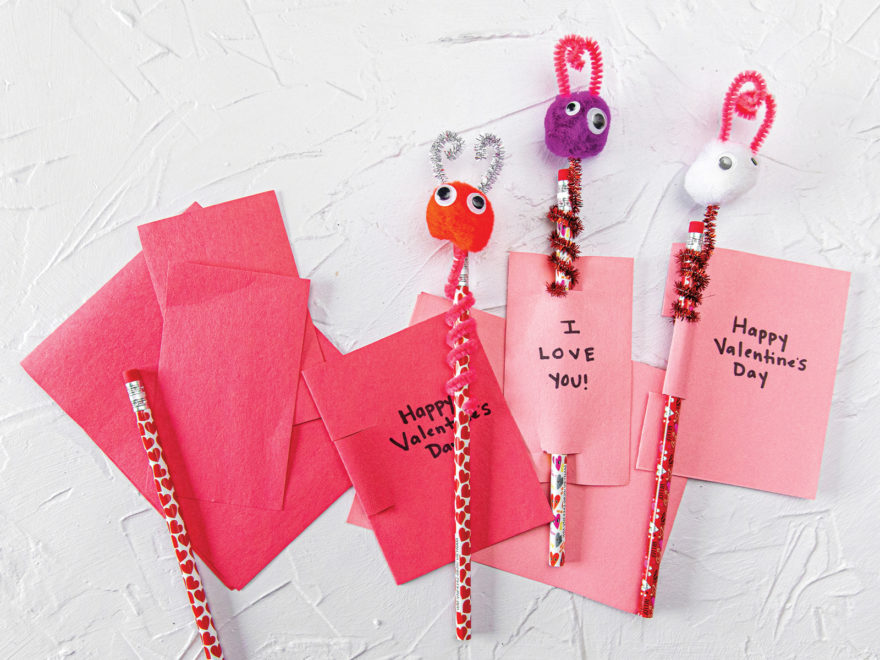 Photo by Jamie Alexander
What You Will Need:
›› Pencils (Valentine colors)
›› Variety of Colored Poms Poms
›› Googly Eyes 
›› Colored Pipe Cleaners
›› Hot Glue Gun 
›› Valentine's Day cards (store bought or homemade)
What to Do: 
›› Cut a pipe cleaner in half
›› Hot glue one pom pom to the top of the pipe cleaner. (You'll want to make sure the pom pom is pressed tightly around the top of the pipe cleaner.)
›› Attach two eyes on the front of the pom pom
›› Take a different colored pipe cleaner and cut two small pieces off to make the antennas. Hot glue each piece to the top of the pom pom and curl the tops 
›› Wrap remainder of pipe cleaner around the top half of the pencil 
›› Attach pencils to Valentine's Day cards to share with friends!   
Join our list
Subscribe to our mailing list and get interesting stuff and updates to your email inbox.
Reader Interactions