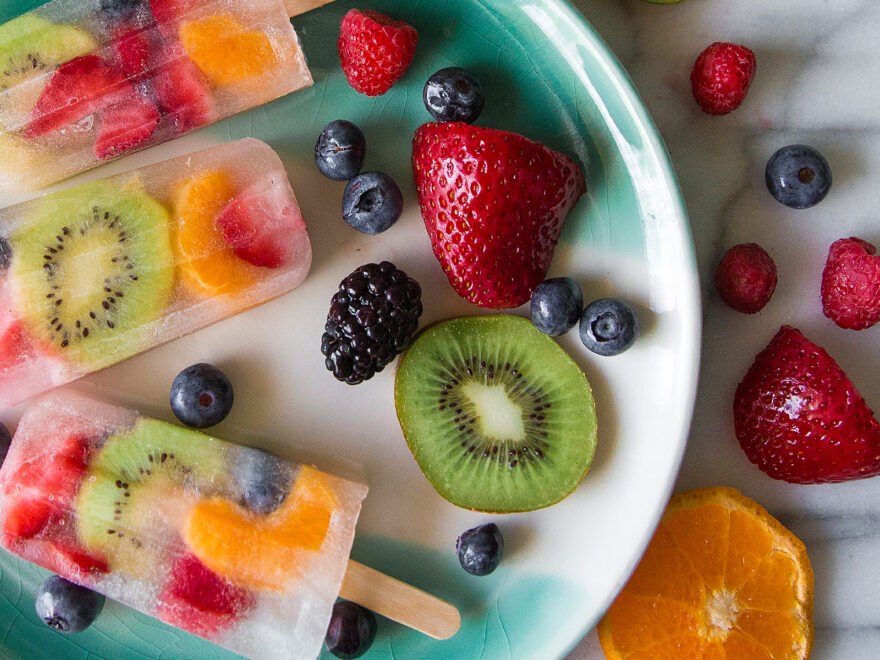 Photos by Jamie Plain
These tasty popsicles are the perfect treat to cool down with as the weather warms up! Not only are they an easy healthy snack, they're completely customizable for the pickiest of eaters. All you need is a popsicle mold, sticks, your favorite fresh fruit, and a liquid to hold it all together!
›› Start by cutting up your favorite fruit. Juicier fruit (like berries) typically work best for an icy pop! 
›› Fill your popsicle molds with your chopped fruit. Fill them up as much as possible for the prettiest pops.
›› Pour your favorite liquid into the mold to hold your pop together. 
›› Use your mold to guide your popsicle sticks into place, before placing the filled mold into the freezer.
›› Freeze overnight.
More Tips:
To easily release your popsicles from the mold, try running the mold under hot water for about ten seconds. 
Some great fruit options are:
• Mixed berries 
• Peaches
• Watermelon
• Mandarin oranges
• Kiwis
• Pineapple
• Grapes
Some great liquid options are:
• Apple juice
• Orange Juice
• Lemonade/Pink Lemonade
• Limeade (juice)
• Coconut water (pictured)
• Yogurt (for a breakfast pop try sprinkling granola at the base of the pop before freezing!)
Try some of these great flavor combinations!
• "Frozen Fruit Salad" (pictured). A mixed variety of fruits with coconut water.
• Chunks of strawberries in pink lemonade 
• Lemons and Cucumbers in coconut water
• Watermelon and Kiwi in limeade  
Join our list
Subscribe to our mailing list and get interesting stuff and updates to your email inbox.
Reader Interactions