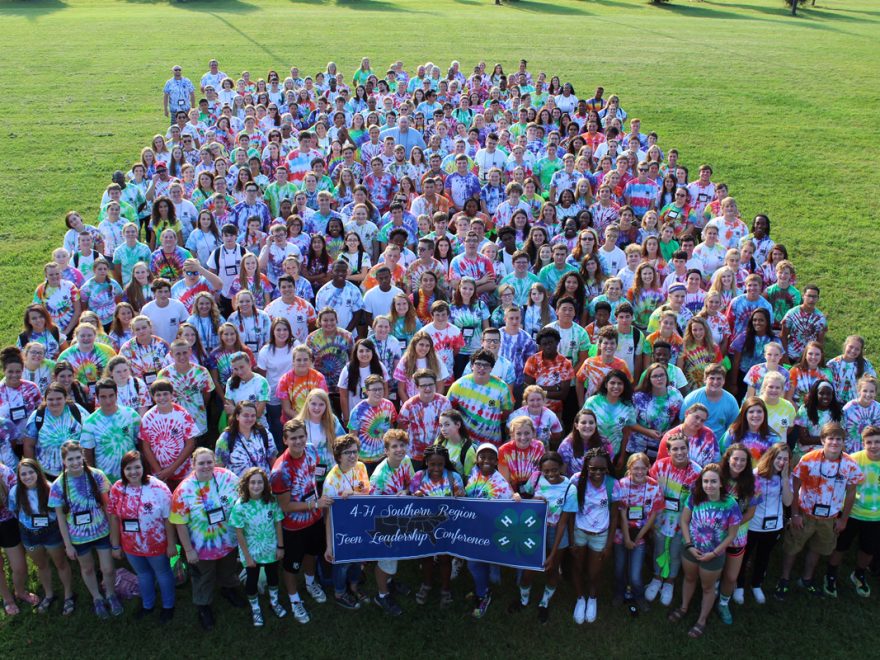 From September 20 through 24 Lauren Fambrough, Paige Ford and Mary Kate Miller from Henderson County 4-H attended the Southern Region Teen Leadership Conference, held at the Clyde T. York 4-H Center in Crossville, Tennessee. This event is hosted by Kentucky 4-H, Tennessee 4-H, Florida 4-H and Georgia 4-H.
The Southern Region Teen Leadership Conference is designed to inspire and empower youth from the southern region to make a positive impact in their communities through youth-adult partnerships. Over the course of the conference, youth are given the opportunity to zero in on their leadership styles and techniques. Participants attend numerous classes and workshops, designed for youth to develop leadership skills and programs to bring home to their counties and implement. Started in 2005, SRTLC has grown and 2017 was the largest year ever, with approximately 400 attendees from Kentucky, Tennessee, Florida, Georgia, Louisiana, South Carolina, North Carolina, Virginia and Ohio.
There are also opportunities for youth to sample different foods from all the states in attendance, as well as view and discuss different programs from the states. Youth can see programs that other states have implemented, and take those ideas back home and implement them to meet the needs of their county.
During the conference, 4-H participants collected money for a community service project. On Saturday, with a pool of close to $3,000 and an army of 400 4-H attendees, we boarded school buses and headed off to Walmart to purchase items for youth in foster care. Returning from Walmart, the youth broke up in teams to sort everything into bags, based on age. Later that night, youth had the opportunity to see their work come full circle when they met with a family that has fostered over twenty youth.
For more information on the Southern Region Teen Leadership Conference and other 4-H programs, contact the Henderson County Cooperative Extension Service at 270-826-8387. Educational programs of the Cooperative Extension Service serve all people regardless of economic or social status and will not discriminate on the basis of race, color, ethnic origin, national origin, creed, religion, political belief, sex, sexual orientation, gender identity, gender expressions, pregnancy, marital status, genetic information, age, veteran status, or physical or mental disability.
Submitted by: 
Jeremiah Johnson, Henderson County Extension Agent for 4-H Youth Development Education
Join our list
Subscribe to our mailing list and get interesting stuff and updates to your email inbox.