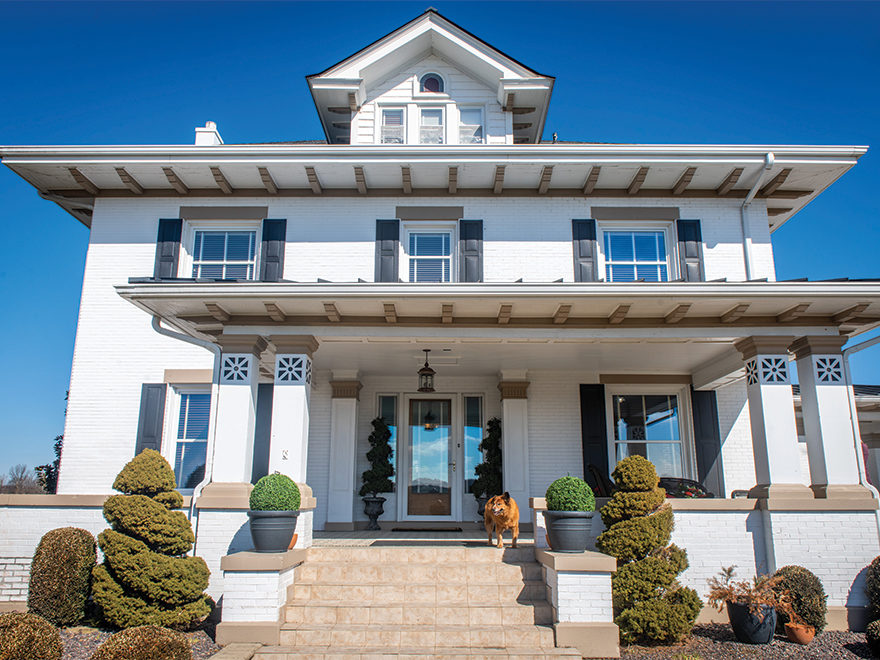 Photos by Darrin Phegley
Nestled off Highway 60, Hendersonians can't help but notice the beautiful, white brick house that sits on the hill. On 14 acres of land, the home features a stocked lake, a gorgeous barn and more. Built in 1913 by Lee Baskett, this home has a story to tell.
Joe Hopper was born and raised in Henderson, KY. He was familiar with the house but had never been to the property. Before purchasing the farm, he had renovated a house in downtown Henderson on Main Street and said he would never renovate again—that was until his family persuaded him to go look at the "El Nadir." El Nadir means "the lowest point" in Spanish. The house originally sat on 420 acres, so Joe's thought is maybe the house sat on the lowest point of that acreage. In 2010, Joe and his children's mother, Shannon Hendricks, purchased the home from Paul Nevel, after sitting empty for 9-10 years. They gave the farm a new name, Salto De Fe, meaning "Leap of Faith," because that's exactly what it was for them. 
Why was his family drawn to this particular home? Joe chuckled, "There was a barn, and my daughter loved horses." He smiled thinking back to how his family really wanted to make the move and renovate this place, and he is so happy they did.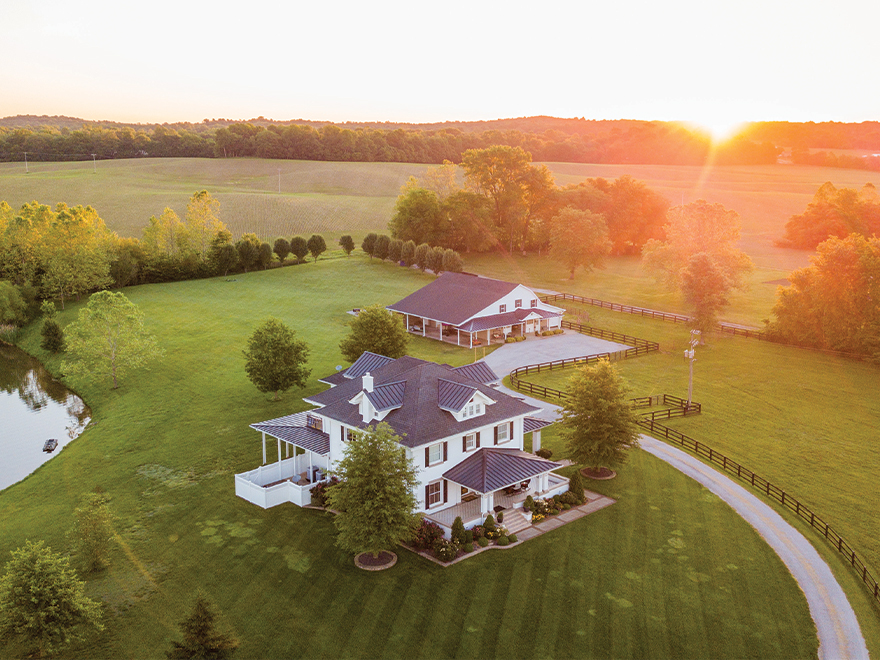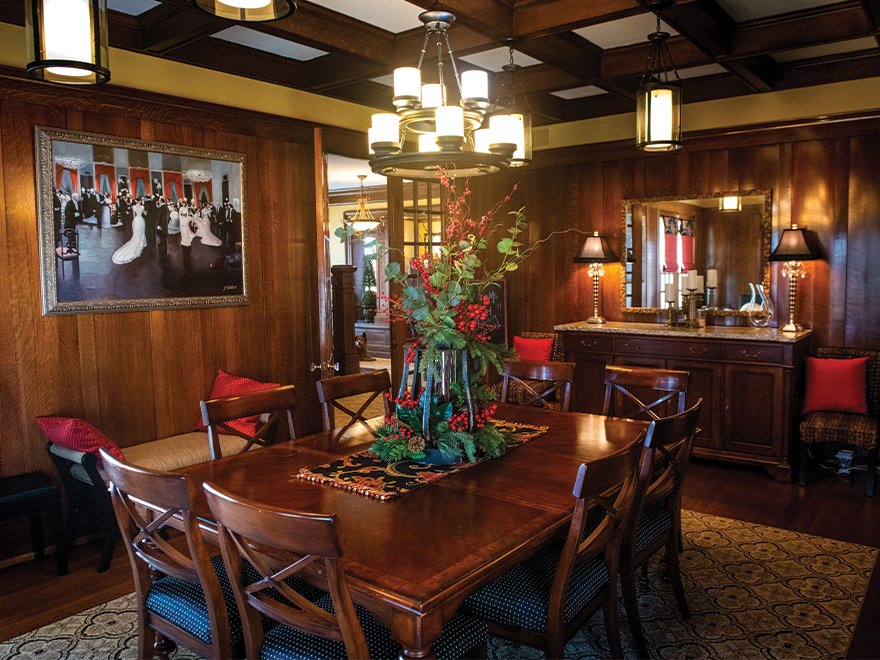 The History Behind the Home  
So, what makes this house unique? Mr. Hopper gave a brief history lesson about the place he now calls home. The man who built the home, Lee Baskett, and his friend, James C. Ellis, started Dade Park Jockey Club, which was the catalyst to what we know as Ellis Park raceway. Mr. Baskett went through some hard times during the Great Depression, and after facing bankruptcy, Mr. Ellis bought him out but let him continue to live in the home.  According to a story published in The Gleaner on July 4, 2009 by Frank Boyett, Ellis gave the opportunity to start a tea room to two women in the culinary business, Judith Montgomery and Estella Spence, which was originally known as The Montgomery-Spence Tea Room. Joe said there were many famous and well-known people who would stay at the house, and it became a place for Hendersonians to entertain, especially to gather for race parties. 
Joe said his family was the reason they ended up there, but he remembers as a kid always hearing about the Tea Room. He said he remembers there used to be a lot of wedding receptions, dinners, graduations and gatherings that would take place there, and he didn't even know the house had a lake until he agreed to go look at the home with the realtor. 
A Place to Call Home
When the renovations began, they tried to keep as much of the original woodwork as possible. Shawn Williams was the family's contractor at the time, and between him and Shannon, they made this home into what it is today. Joe said Shannon orchestrated it all, and he gives her all the credit for its creativity. 
"It was in bad condition," he said. He said many played a key role during renovation, such as Caton Electric, Pat Payne Plumbing and Lineman Electric. "When it got started there was no plan." As one project was being tackled, the decision would be made to go ahead and start something else. Some of the changes they made were raising the floors, taking out a closet in the dining nook to put in a fireplace, completely updating the kitchen and bathrooms, adding the beautiful carport and back porch patio and refinishing the barn. They also made additions such as adding a small kitchen area off the main kitchen. This allowed them to have a separate place to prepare food and drinks when entertaining, since guests typically mingle in the kitchen. They turned their garage into a workout room, where it has its own kitchen area, bathroom, hot water heater and A/C unit. 
The previous owner, Paul Nevel, was in the construction business. "There are two significant things Nevel did, in which I appreciate," said Mr. Hopper. "There are 62 windows in the house, and he replaced them all and brought every wall in the house in and insulated four inches behind."
It took about two years to complete the house renovation. Even when the major renovations were complete, Joe said what became laughable was visitors would come over and say, "You know what you need to do?" There was always an idea of something new they should change or add to the home. 
Taking A Tour 
Walking up to the front door of the home is a beautiful wrap-around porch with black and white flooring, gorgeous landscaping and elegant columns. Upon entering, there is an office to the right and a large living area to the left. As you continue walking forward, you will pass the wood stairway going up to the second floor before entering the large kitchen area. Off the kitchen, you will find the separate working kitchen space, a large window cutout, that is original to the home, overlooking the dining nook and outside patio. The bar, dog room and large dining room sit to the left off the kitchen. Upstairs you will find the spacious bedrooms, bathrooms and laundry room. The garage and the barn sit to the right of the house behind the home with a scenery that is stunning, whether you are sitting on the back porch or the patio off the second floor. You will find rope light, wainscoting and beveled woodwork throughout the home, which adds a little touch to those spaces. 
"We have had some cool functions out here. It's a great place to entertain. My favorite place in the whole world. I hate the thought of one of these days having to part, but my son has now graduated from college and out on his own and my daughter has a baby girl and is getting married at the end of March." He has their dog and two horses. They used to have four horses, in which one was a show horse, but hasn't been shown in a couple of years.  
One of the great things about the home's location is it always has a breeze when you are sitting outside. Another great perk is when inside, you can't hear anything. It is a very peaceful and quiet place, especially for retirement. 
Mr. Hopper chuckled as he walked out of the garage and said, "One of these days I'll just move out here and turn this into a Bed and Breakfast."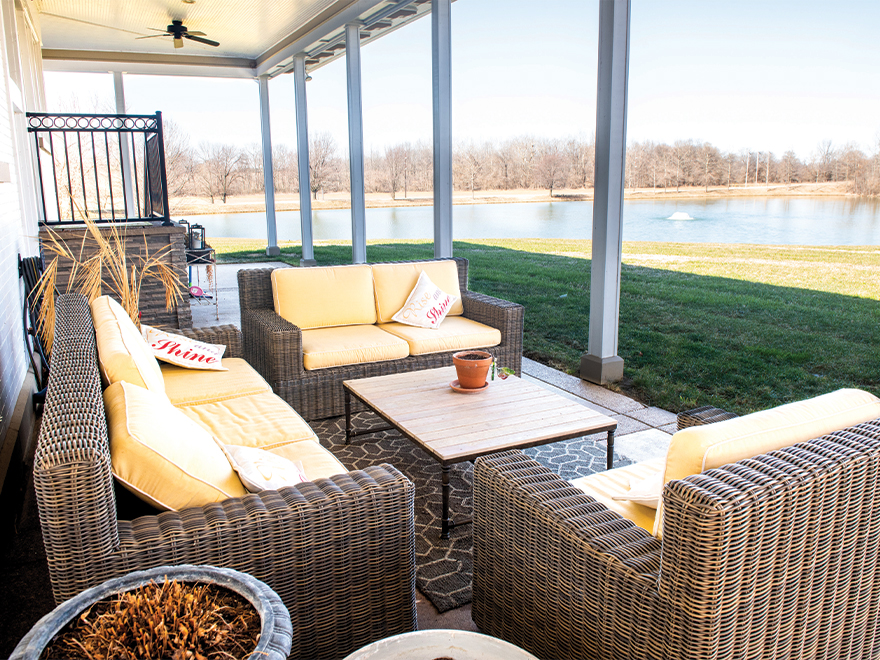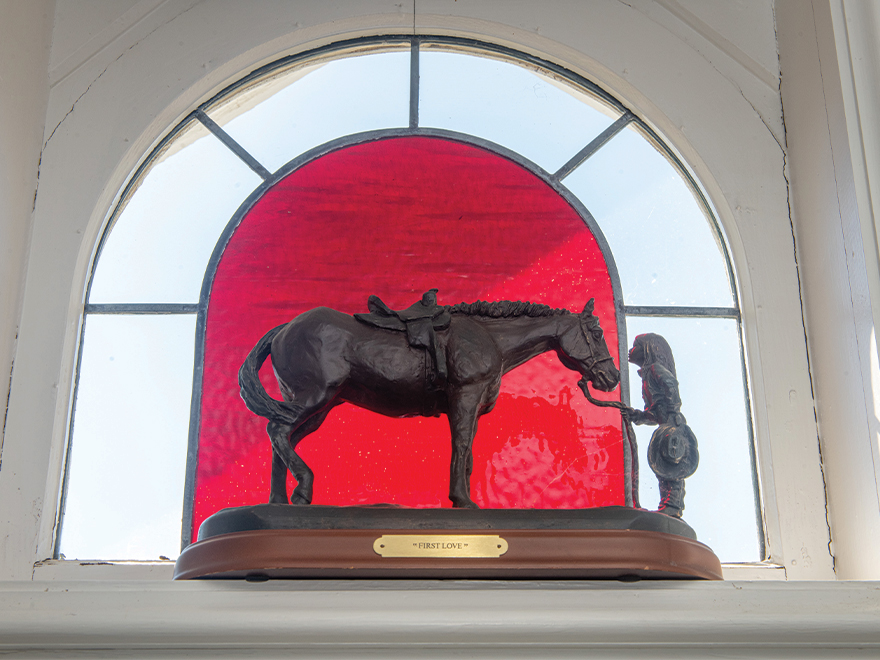 It's More Than Just a Home 
Joe Hopper retired from Brenntag, and he traveled a lot. He was on a plane almost every week. When people ask him if he will travel now that he is retired, he said his response is always, "Absolutely not." He enjoys being home. 
"I had two wonderful parents. My mother refinished antiques and sold them. She was a waitress, and my dad was a bartender. That gets woven in with this place with the Tea Room. That didn't have anything to do with me buying, but that plays into thinking about it a little bit. I live just outside the city limits but there's solitude here. My favorite thing about the house is the fact that I can go and sit on that back porch because I've been blessed. I've been around the world physically twice. I've been so many places, but my favorite place in the whole world is my back porch. It really is. I'm humbled by the fact that I can live here."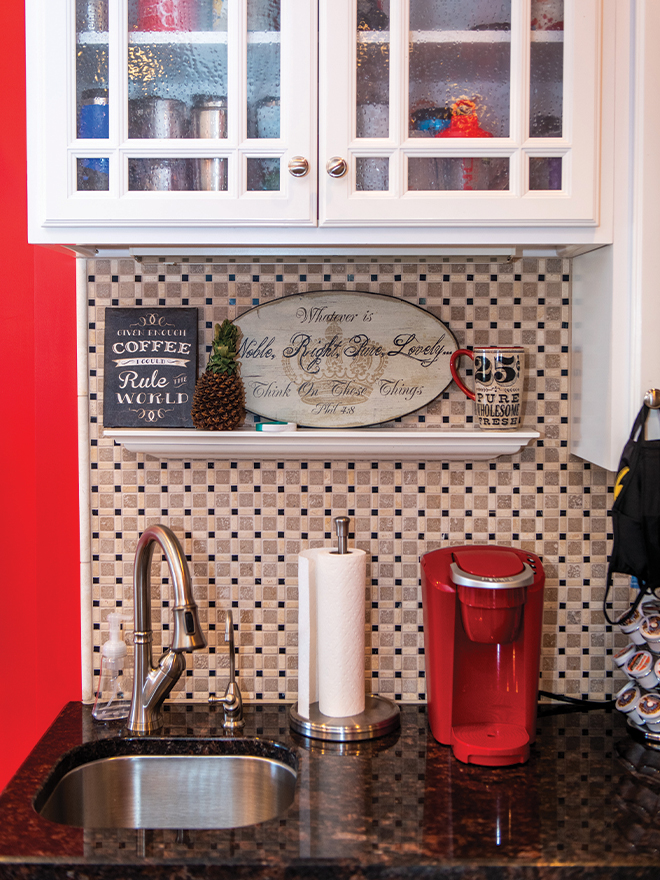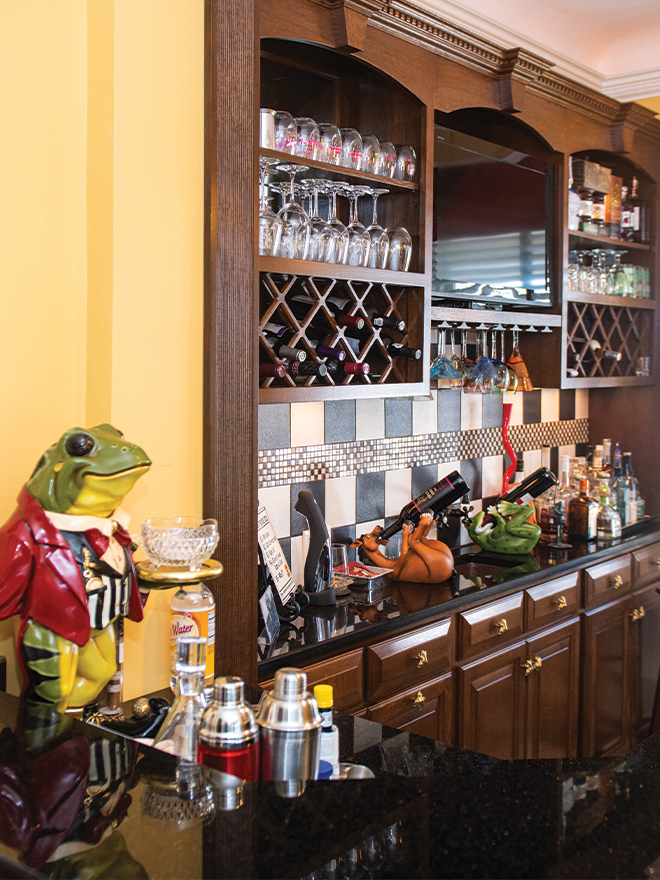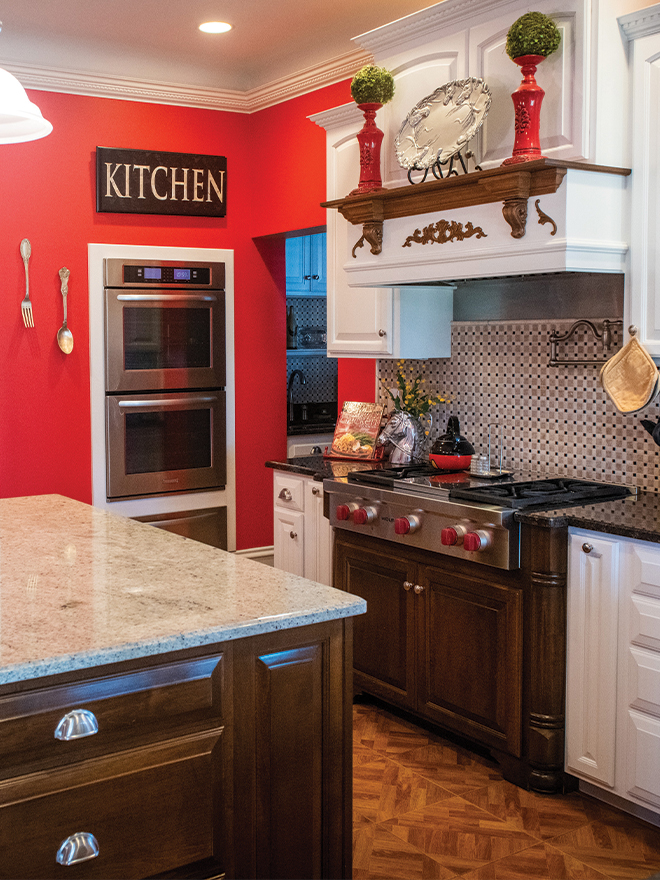 Join our list
Subscribe to our mailing list and get interesting stuff and updates to your email inbox.
Reader Interactions