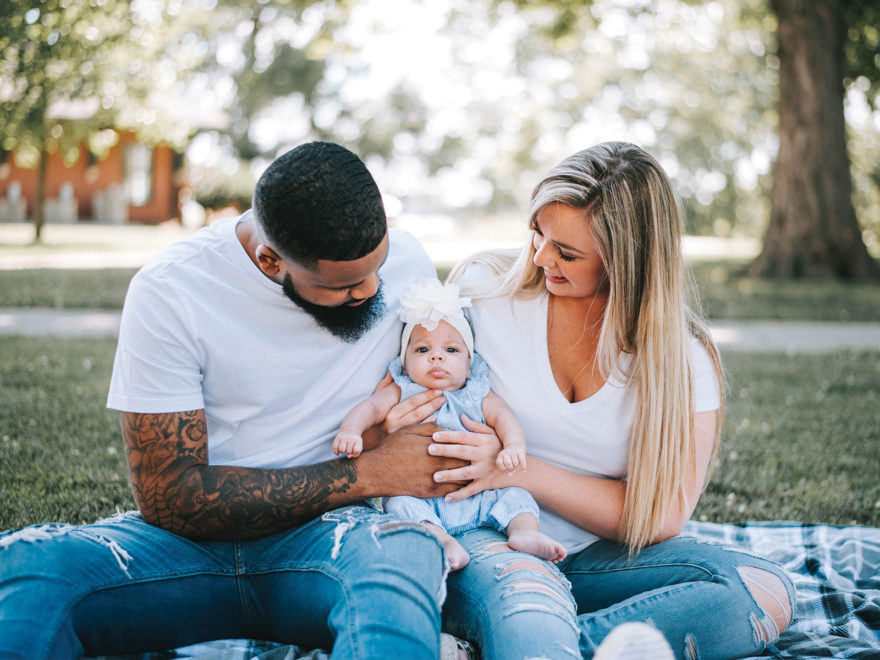 Photos By Chelsie McElfresh
Being a first-time parent is scary. Not knowing what to expect or how your life will change once your little bundle of joy arrives can be nerve-racking, but imagine those who are pregnant and giving birth during this pandemic? This opens a whole new door of emotions. For new parents Raley and Tory, they never saw Raley giving birth to their daughter, Journee, on the day when the hospital would go on lockdown. 
Both Raley and Tory grew up in Henderson County. Raley was born and raised in Spottsville, while Tory is originally from Michigan but moved to Henderson at a young age. The couple met through a mutual friend. Raley found out she was expecting in August 2019, with her due date being May 7, 2020. She and Tory could not wait to meet their sweet baby girl. 
Throughout the majority of Raley's pregnancy, she had no complications. At Journee's 20-week ultrasound, the baby was breech, but everything else looked perfect and there was plenty of time for her to turn. Raley didn't have morning sickness, other than experiencing nausea at the smell of shrimp, and her only craving was popsicles. 
An Unexpected Turn
Raley went for her 30-week checkup never expecting what was to come over the next two weeks. This checkup was the beginning of several complications she would face. Journee's fluid was low, her cord was around her neck, and she was still breech. The nurse asked Raley if she had been feeling Journee move because she scored a 2 out of 8 when testing her movements. They sent Raley straight to the hospital for a more in-depth evaluation and monitoring. She stayed for two days and was sent home. Two days later, she went back to the hospital because she was not feeling any movements. Again, she was kept at the hospital for two more days. They kept monitoring her in the hospital because Journee would score a little different each time they would check her. Raley was released the last time on a Sunday, and she went back to her OB Monday morning. Journee again failed her movement test and was told they would have to take the baby that day because she had failed too many. They also found that Raley's placenta was the size of someone who was 40-weeks along. Raley was only 32 weeks at the time. They called it a grade 3 placenta, in which her placenta was withering away. Due to all these complications, Journee was delivered by C-section at 2:01pm on Monday, March 16 weighing 3lbs and 15oz. She went straight to the NICU. The new mother didn't get to hold her, and only saw her for a couple of seconds. The entire C-section went great, but Raley was extremely sick during recovery. 
An Unforgettable Birth Experience
The day Raley gave birth is when Deaconess Henderson Hospital went on lockdown. She was able to have one support person and visitor, so Tory was able to be with her during the c-section and see Journee in the NICU. Raley's mom stayed with her that night but was later told she could only have one person with her beginning the next day. Her mom left the next morning, and Tory was able to come back after work. Together, they were able to go to the NICU and see Journee. However, they did not get to hold her for a couple days. Journee had oxygen and a feeding tube down her nose and wires on her chest. She was in an incubator because she had to learn to control her own temperature, and then she was able to move to a "big girl" crib. This little fighter had to stay on oxygen for about two weeks and then started working towards her bottle. She did great, learning within 2-3 days. Journee had to stay in the NICU for almost four weeks before she was able to come home.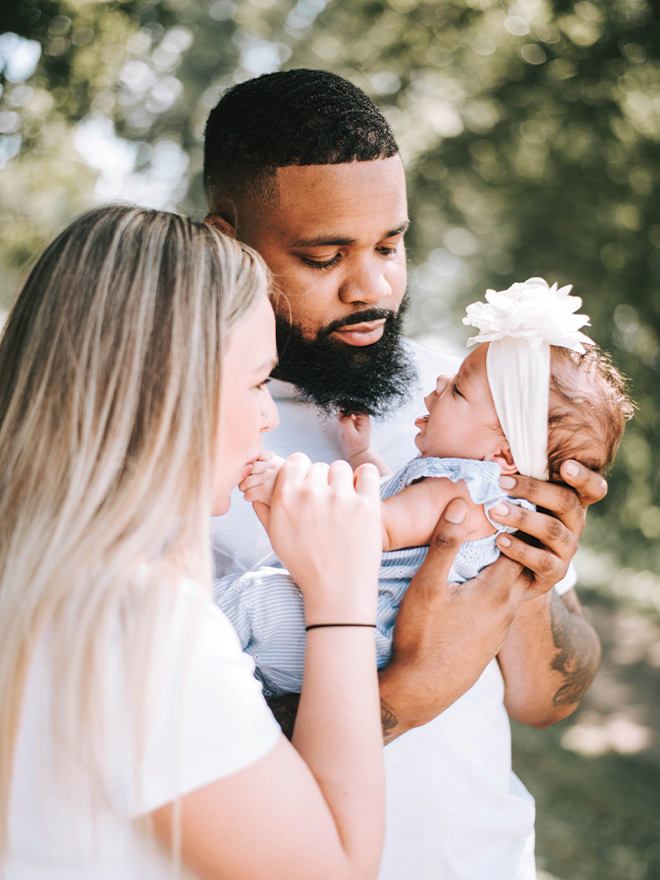 Raley gave birth on Monday and was discharged on Friday. Once discharged, only Raley could go back to the hospital to visit Journee, as the restrictions called for only one parent. Tory didn't get to see Journee for three weeks. The kind-hearted mother recalls, "It was definitely a tough situation. I wanted him to see how she was coming along. I had to FaceTime him and send pictures every single day." 
Typically, when a baby is in the NICU, the parents can come and go as they please. However, due to the pandemic, Raley could not leave the hospital once she arrived. She said, "I would stay 4-6 hours to visit and eat in the cafeteria. I wanted her to know who I was. I was with her every single day." She was so happy she was able to give Journee her first bottle, too. Raley also had to do parent care by herself, which typically involves both parents. 
The staff wore masks, but it was up to the patients/guests if they wanted to wear one because the virus was so new. Journee was in the hospital on St. Patrick's Day, and the NICU nurses made posters to put on her wall. "The NICU nurses were so great," Raley said. She would call the hospital all the time, and the staff was wonderful keeping her updated when she was not there. 
The postpartum hormones were very real for Raley the first few days she was home. The nurses encouraged her to pump breastmilk for Journee, which she was able to do for a week and half. At the time, they had to give Journee milk through the feeding tube in her nose. Recovering from the C-section and pumping every three hours was tough. "There were two days I cried all the time. It was terrible. I cried over everything," she said. She just kept hoping it would get better. "I felt empty and emotional. I wanted her out so bad, but then after she was out, it was worse with the pandemic going on."
A Family Reunited
Journee Turner was finally able to come home on Easter, which was April 12. Although Tory was able to see her after three weeks, he did not get to hold her until they brought her home. She was hooked up to so much in the NICU, he was scared to hold her. The moment Tory was finally able to hold his daughter, and he was so in love with her. Raley smiled and said, "She is a daddy's girl. Not a momma's girl at all. She just stares at him and stops crying." 
With their work schedules, it works out to where they both are able to be with her, without having to find childcare. Tory works days from 7-3, and Raley works seconds and goes in at 3. His mom comes to their house and sits with Journee until Tory gets home, and then he takes care of her. Raley loves that they still get to see each other all the time because he is up when she gets home. 
Journee's grandparents were so excited to finally meet their granddaughter, too. Raley explained how her mom was so upset not being able to go up to the hospital to see her first grandbaby. She said, "She cried and cried." This pandemic effected their entire family, but they knew Journee was where she needed to be, as she was being well cared for and gaining strength daily. 
The day Journee came home, she was visited by family who could not wait to meet her. However, Raley and Tory have kept Journee inside throughout this entire pandemic until recently. They not only wanted to keep her safe due to the virus, but they also wanted to ensure she continued to grow stronger and healthier each day. Journee had belly problems after they came home. Due to being premature, she was on a high calorie formula. They had to change her formula a couple of times, and they have finally found the one that works best for her. Once they found what worked, she was able to quickly gain weight. She is now exactly where she needs to be at 3-months-old, weighing in at 8lbs and 3oz now. 
Although Raley never thought she would have her baby girl at 32 weeks during a pandemic, she can offer words of encouragement to those who are expecting a baby or have a baby in the NICU. The first-time and proud mother said, "If there is a mom who will be delivering during this, you have to stay strong and work through it. It does end. It's not going to be forever. It's hard at first, especially with postpartum depression or if they are in the NICU, but it is something that is doable. You can get through it, and it will work out." Raley said she constantly had to remind herself that Journee had to be there. "I kept telling myself that she has problems that she has to work through before she can come home. I am glad they took care of her the way they did because without them I wouldn't have had my baby girl. I am just thankful they caught everything. If they wouldn't have caught everything, I could have lost her at 30 weeks." It has been a long road for Raley and Tory over the last few months, but through it all, they have been given a beautiful Journee. 
Join our list
Subscribe to our mailing list and get interesting stuff and updates to your email inbox.
Reader Interactions