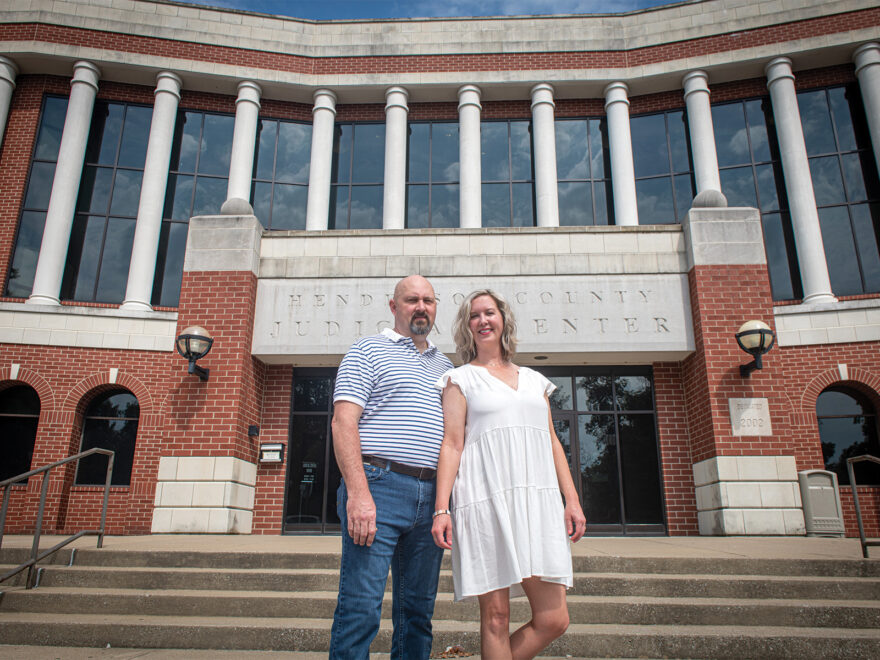 Helping Local Children in Their Time of Need
Photo by Darrin Phegley
When Brent and Bridget Houston moved to Henderson from Ballard County in 2017, the couple knew they wanted to get involved in an impactful way in their new community. The newcomers, who have 6 children, 3 grandchildren and another grandchild due in January, found CASA to be the perfect fit for their passions and desire to help.
The Importance of Volunteers
CASA, which stands for Court Appointed Special Advocates, has a mission which states that they "provide specially trained and supervised community volunteers to advocate for abused and neglected children in the courts, in schools, and in the community to help find safe, permanent, and loving homes." According to Amy Hawk, CASA's Volunteer Coordinator, Henderson has an abundance of cases and not enough volunteers to manage them, expressing that "we are in great need in Henderson for CASA volunteers." She reports that Henderson has witnessed a strong uptick in child abuse cases since the COVID-19 pandemic and quarantine began in this area in 2020. "We are finding children who are very severely abused. They have been quarantined with their abusers. Now they are coming into our care. We only have 7 volunteers. We'd like 100." Amy further highlights the dire need for volunteers by adding, "in 2019, Henderson had 352 children that came before the family court for abuse and neglect. That's a significant number of children. We are serving a very narrow part of that population due to lack of volunteers."
Finding a Calling
"None of the kids go to court," Bridget explains, "I go for them. I write a report to give the court updating them on how the child is doing. So, the judge gets a real life view of the child that isn't just coming from a social worker. I make recommendations on the court report. I will recommend if I think the child needs to see a therapist or have an educational assessment. Whatever I feel is in the best interest of the child is what I add to the report. I'm the voice for the child. I advocate for whatever they need."
Mrs. Houston becomes excited when we begin describing how she develops connections with the children explaining that it's a relatively small time commitment, but very meaningful. The couple tries to spend about an hour per week with the child or sibling group. They play games with them and get them comfortable with sharing their thoughts with one another. Once she has the child warmed up to her and at ease, she begins asking them how they feel about their foster care placement. She asks them if they have any concerns or any worries they'd like to talk about. They also talk about school. "I'm age appropriately honest about what's going on in court. I want them to understand as best they can. They feel so out of control. A lot of times, even as adults, if we understand what's going on it can sometimes make us less anxious. Understanding makes it a little better." The volunteer acknowledges that it's tough sometimes. The conversations can get heavy. The children have endured much trauma leading them to have complicated feelings. "It's terrible to take these kids out of the home with all the turmoil. They have no voice," her voice swells with passion as she continues, "They don't have a mom or a dad asking them if they are okay or asking them what they want. It's very rewarding to be that person for them."
How to Become a Volunteer
There are no educational requirements or certifications needed to become a CASA volunteer. The only requirement is that "you just have to have a heart for a child," says the volunteer coordinator. She further gave details on how the volunteer will be trained, "You have to be 21 or older. You will attend the 30-hour training. Some of the training is on zoom and some is in person. It's about a 5-week process. Then the court will appoint you to a case. We will support you with making recommendations to the court."
CASA understands that part of helping the child is helping their family. "Our intent is for the child to return to their home. We help get the family connected to parenting classes, mental health assistance; whatever is needed so that the family can be reunited," stated Hawk.
Brent has a full-time job. Bridget has multiple sclerosis. However, neither find the time commitment burdensome. "Sometimes we do our visits together. It's very easy to fit it in because you develop a relationship with those kids. You want to see them," gushed the community servant. "Being a child advocate and CASA volunteer gives you the opportunity to pour encouragement and resources into children and their families for life changing effects. It changes the course of that child's life. It's very rewarding."
In addition to court advocates, CASA also offers other options to volunteer that include sorting toys at Christmastime, serving at their annual events, taking brochures to display at places of employment, monetary donations and offering skill sets such as marketing and graphic design. Further information can be found by visiting www.MidwestCASA.org. 
Amanda Waggener is a blogger for the Huffington Post, author of No Grit No Pearl blog site and is a native of Henderson. She and her husband are the parents of two teenagers who they are raising with as much zeal as they can muster.
Join our list
Subscribe to our mailing list and get interesting stuff and updates to your email inbox.
Reader Interactions