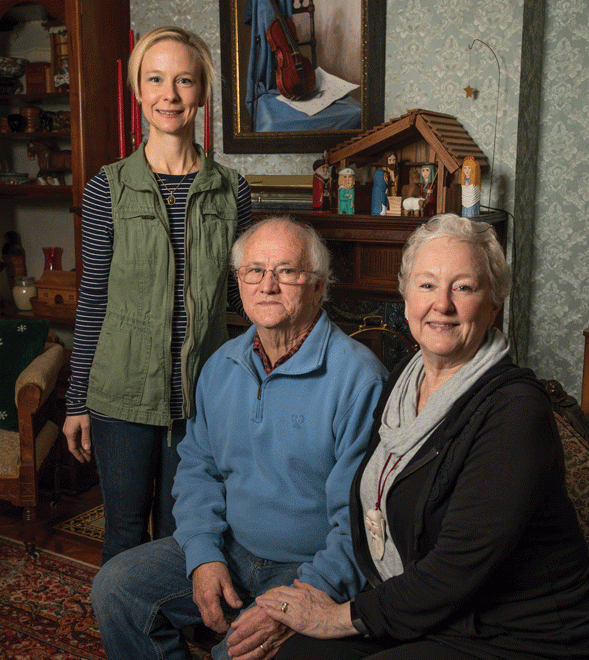 Local family shares talents with those in the community.
It's not very often you find a family who encompasses a variety of talent, but Alan and Cathe Hedgespeth and their younger daughter, Hallie Siewert, are one of those families. 
What started out as a hobby for each of them turned into so much more. Each have a degree in math. Alan is a retired math professor from Henderson Community College, and Cathe is a retired math teacher with the Henderson County school system. Hallie taught math for two years at Henderson County High School before she started down a new path with what would become a new career. 
Alan and Cathe will be married 46 years in April. They have two daughters, Garrett and Hallie. Garrett is the Executive Director of Corporate Systems for Tivity in Nashville, TN. Garrett and her husband met in Virginia when she was there for an internship, and they have one daughter. Hallie and her husband live in Niagara and have two sons. Alan is part of the Lions Club. They are all members of First United Methodist Church in Henderson. They have strong family values. Taking trips is something they do often, and Alan and Cathe have always stressed the importance of getting together for everyone's birthday. Family is everything. It's their foundation, and their businesses are just the icing on the cake.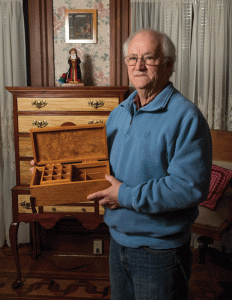 The Woodworker
Alan is originally from central Kentucky. He was the son of a Baptist minister, so he moved around quite a bit. Alan does not have any professional training in woodworking other than one class he took in the beginning. There isn't anyone in his immediate family who has been a woodworker either. He is self-taught. So how did he get started? It all began when Cathe's grandparents had some old beat up furniture in the attic. He went to the library and read about how to refinish it. It took practice but eventually became something he really enjoyed. Alan and Cathe would go to a lot of auctions to find pieces to refinish. He didn't start making things until 1985 but refinished a lot of pieces up to that point before his love for woodworking officially began. 
Alan said, "Mike McGrail and David Hatchett are soundboards for cabinet building." Mike and David both live in Henderson, and Alan has always gone to both for questions or help he might need with a piece of woodwork. "It's nice to have someone in town to help with woodworking," he said. 
Building furniture provided him with leftover wood. The leftover pieces are what got him started making other items such as toys, trucks and wooden boxes. He made both Garrett and Hallie pieces of furniture for their homes. 
Alan currently has work in the Kentucky Artisan Center in Berea, KY and Completely Kentucky in Frankfort, KY. He has participated in the Kentucky Craft Market for 15 years. He has also sold items in various places within the United States. 
In Henderson, he has toys at BB Rues Children's Boutique, stools at J'Petals and wooden boxes in different businesses around town. 
The Artist
Cathe taught at South Junior High, North Junior High, Old City High and Henderson County High School before she retired. People often ask her how she went from teaching math to painting. She explained how she has always been interested in art, but it wasn't until she took lessons with Chris Thomas, as a birthday present from her mother, that she truly found a passion for painting. Chris Thomas taught how she wanted to paint. He is one of the best in the country, and once she began, she only wanted to continue.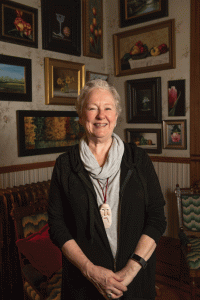 Cathe is part of a painting critique group here in Henderson. She also participates in the ArtHop each year. "Sometimes you sell, sometimes you don't," she said. She also participates in local art shows. She had two paintings in a recent show in Owensboro. "Mine isn't as consistent," she explained. "It isn't like everybody wants a painting like they want a cake or a toy," she said. 
The Baker
Hallie has always loved baking. She has baked since elementary school, but it wasn't until after she spent two years teaching math at Henderson County High School that her love of baking began to grow into so much more when she made the decision to stay home with her kids. 
Hallie is self-taught just like her dad. She took one class at JoAnn, but that is the only professional training she has ever had. She made her very first tier cake for her youngest son's 2nd birthday. Family and friends slowly began asking her to make cakes for them. Then it turned into people she didn't know asking if she could make cakes for them. She laughed and said, "The early ones I thought were good, but they weren't." It started out as something she would do on the side but eventually turned into a full-time career. 
It will be three years in January since HallieCakes opened. She explained how her math degree benefits her cake business because she uses math all the time when making her cakes. She said, "I am OCD. It must be perfect. I think about if I would be happy if I bought this for my own kid." 
Hallie not only uses her math degree, but she uses the talents of both of her parents when making her cakes. Her dad, Alan, has made different things for her if she needs to mold something. She will use wood he has put together, and her mom, Cathe, will draw stencils for some of her cakes. She laughed and said her sister, Garrett, says, "I will just be the organizer." Hallie would love for her sister to live here and take over her day-to-day scheduling because it is so time consuming with the bookwork. Hallie said her sister would be great at it if she ever decided to move back to Henderson someday. 
Hallie likes to work alone with no sound because she likes it quiet in order to concentrate. "There are so many layers to the cake that people don't understand, and if I miss a step then I have to sometimes start all over or it isn't how I want it to be," she said.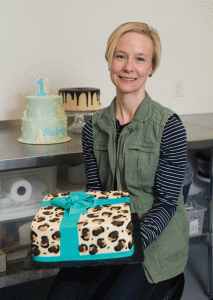 Hallie likes to have orders at least two weeks ahead so she can plan ideas out in her head. She also has two very active boys who play for a traveling soccer team, so she needs to make sure she has orders ahead of time. She bragged on her customers though. "My customers are really good about working around my kid's schedule with this being a weekend job." However, she has customers who want her to bake their cakes so much they have been willing to rearrange their schedule if she isn't available when they want her. She is blown away by the support of everyone in her community. 
Her husband is her delivery driver and helper for weddings. "Weddings are nerve-racking," she stated. "The buttercream designs are more simplistic, but the buttercream icing does not do well in heat. You have to get there right before the reception, so the icing doesn't melt with the barn or outside weddings," she said. 
People often ask her if she ever gets tired of baking cakes, and she doesn't because every cake is different. She enjoys the creativity and coming up with new ideas with each of her clients. Even for her family members, she wants every birthday cake to be unique and memorable. Her dad's last cake was monopoly because he plays it all the time with her two sons, and one time she did a framed picture of her mom's art for one of her birthday cakes. 
Hallie never imagined she would finish college to teach math and several years later start her own cake business. "No matter how big or small your hobby is just keep doing what you love because even if you don't make it into a business like I have I would still be doing it no matter if I was still just selling to one person or just family." 
From a Hobby to a Business
Alan, Cathe and Hallie have each taken something that was once a hobby and turned them into small businesses. Alan and Cathe have a small business license to sell their pieces of work while Hallie creates and bakes in a kitchen in her home-based business. 
Alan carves and takes care of the base coats while Cathe handles all the details. For example, at Christmas he carved Santas, and she painted the faces on each of them. Hallie takes a client's idea and molds it into the perfect cake for the occasion. 
It's amazing to see a family who is gifted with a variety of talents yet can utilize those talents to help one another. To each of them, they are just doing what they love. To those who purchase and see their work, they are sharing their talents, lifting someone up and inspiring others to do the same.  
Lyndi Mauk, editor of Henderson Family Magazine, was born and raised in the Bluegrass State. She is grateful to be going through life alongside her husband and best friend, Brandon, and being a mother to their little girl.
Join our list
Subscribe to our mailing list and get interesting stuff and updates to your email inbox.
Reader Interactions