"Girls wrestling is one of the fastest growing sports in the country right now, and it is really awesome that we are able to provide an opportunity for girls to show that they can compete and be successful in a traditionally male sport. Not everyone is good with a ball or wants to be a cheerleader, so wrestling is one of those sports that allow anyone to participate because it's you and your opponent on the mat and all you need is heart, discipline and will to win to have success in wrestling," Jermaine Poynter, Henderson County High School Head Wrestling Coach.
This is the wrestling team's 5th season as a sanctioned sport, and Coach Poynter has been the head coach since the start for both the boys and girls wrestling teams, along with the middle school team. "I wrestled in school and wanted to pass on my love of the sport to not only my kids but for others as well." Alongside Coach Poynter are four assistant coaches. Wrestling is a co-ed sport, so there has always been at least one girl on the wrestling team. "Schools are required to have equal amounts of sports for boys and girls," he said. 
Currently, the girls team consists of 9 girls and the boys team consists of 27 boys. Both teams practice 5 days a week, unless they have a wrestling competition. Depending on how many tournaments and how well they do, and if other teams have a wrestler in their weight class, they typically have between 15-40 matches a season. Wrestling season officially runs from October-February, but the team starts preseason conditioning in August/September.
Making History
On Tuesday, December 20, Henderson County High School hosted its 1st Annual Lady Colonel Wrestling Invitational with 10 teams being present alongside HCHS including: McCreary Central, Union County, Fort Campbell, Clarksville HS (TN) , McCracken County, South Warren, Warren Central, Boonville, Bullitt Central and Bullitt East. McCreary Central finished 1st place with Fort Campbell in 2nd place. Henderson County finished 5th place in the tournament. 
The tournament was Henderson County High School's first ever all-girl tournament. "I look to continue to grow this tournament in the future as well as grow the number of girls participating on the Lady Colonels," said Coach Poynter. 
The following Lady Colonel Wrestlers placed in the tournament: Naomi Santiago (165lbs) 1st place with a 3-0 record on the day. All three wins were by way of pin; Sydney Chambers (107lbs) 3rd place with a 1-2 record on the day. One win came by way of pin; Kaizley Dunn (145lbs) 2nd place with a 1-2 record on the day. One win by way of pin; Evie Estes (185lbs) 3rd place with a 2-1 record on the day. Two wins by way of pin and Bradleigh Stokes (235lbs) 1st place.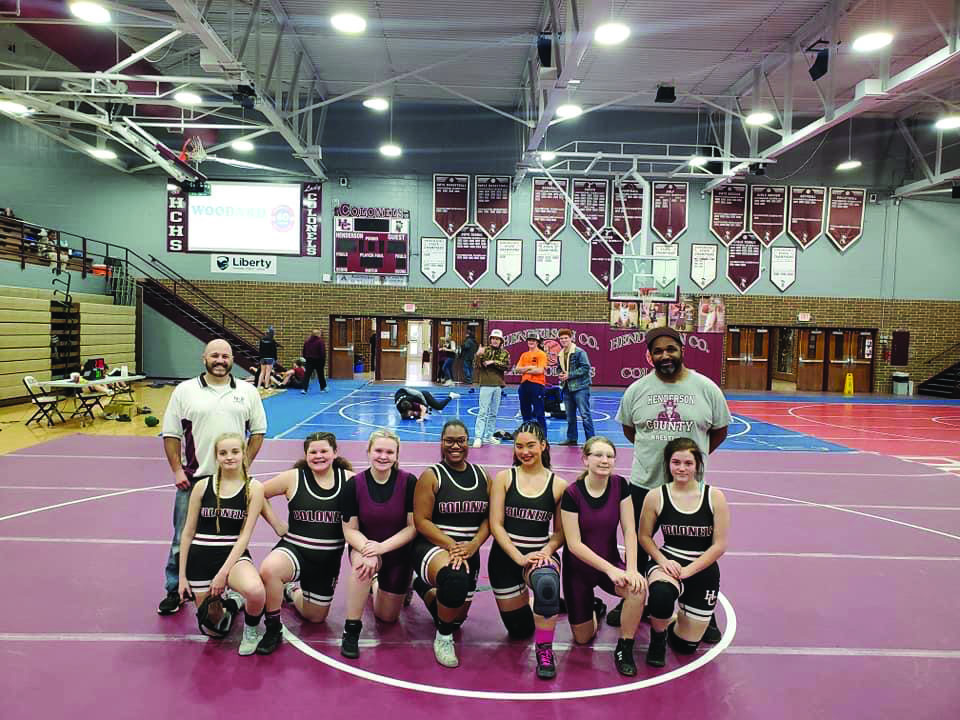 Naomi Santiago was voted most outstanding wrestler of the tournament by the coaches. Naomi explained her interest to try wrestling "was the desire to try something new and thinking it was WWE." Naomi encourages other girls to give wrestling a try. "It doesn't matter what anybody has to say. The only thing that matters is what is in your head. I've gotten told that I'm doing a male sport and that I could never be as good as any of the boys, but I never let that get to me. You should never be scared to try something or of people's opinion. Society will always want you to do what they want but it's fun and cool to be different." She really enjoys being able to show others what she is able to do on her own. "In other sports, you have a team but in wrestling you fight your own battles. We are still together as a team, but it's more individual. It teaches you to stand on your own and not worry about other people having your back. You fight on your own. If you lose it's on you, and if you win it's on you." 
Although the Lady Colonels have competed in other all-girl tournaments at Evansville Reitz Girls Invitational, Taylor County Ladies Cardinal Clash and Fort Campbell Girls Invitational, it was important to Coach Poynter for them to host a tournament locally. "I already host other tournaments, so when I started the girls' team, I wanted to give them a chance to showcase their talents and compete in a local tournament at their own school."
More Than Just a Sport
Coach Poynter explains how wrestling can teach many life skills his players will be able to carry into their futures. "Wrestling can teach them discipline, build self-confidence and esteem while teaching them the value of family and teamwork. But most importantly, it will teach them to never give up and to always keep fighting when things get tough."
Coach Poynter hopes wrestling at Henderson County High School continues to grow for both boys and girls, and they become just as competitive as some of the powerhouse teams in our area, such as Union County.  
Join our list
Subscribe to our mailing list and get interesting stuff and updates to your email inbox.
Reader Interactions