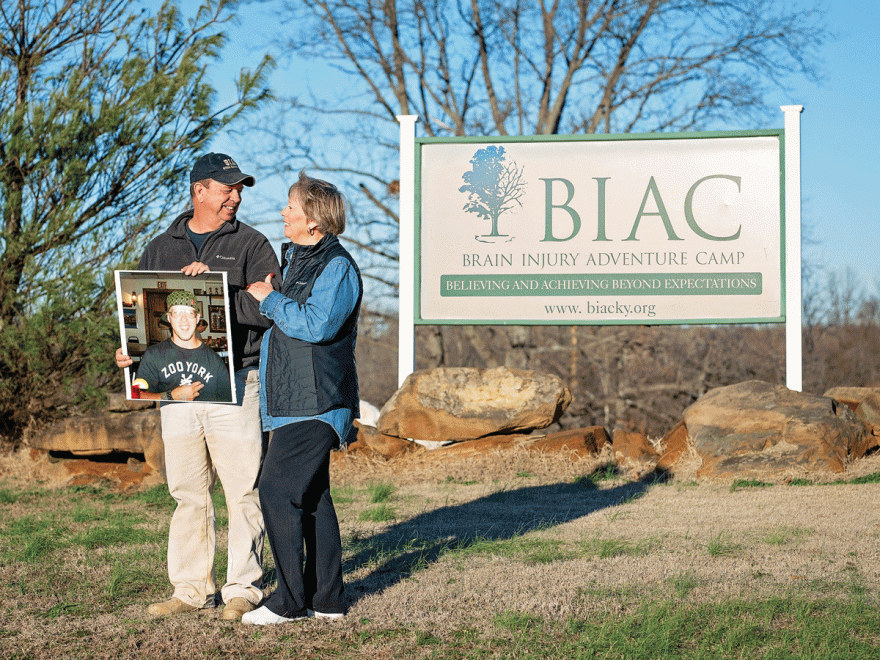 A young man's life was turned upside down after a tragic accident, but his accident only made him stronger. 
A Passion for Snowboarding 
From skateboards to unicycles, TK was always up for a challenge. TK Johns loved learning new things. Even as a little boy, the Henderson native spent much of his time looking for an adventure. His parents, Tim and Cindi Johns, and his sister, Kelli, would go with their church to Paoli Peaks to ski when TK was about 12-years-old. He was a fast learner and soon, both he and his dad, began giving skiing lessons there. "He decided he was a better snowboarder than he was a skier, which he was. He was excellent in that," says Tim. Part of what made TK so great in the field was his positive attitude and encouraging spirit he shared with his students. "I remember one time I was going to try to learn how to snowboard. He kept telling me I was doing fine. I finally told him, 'Would you quit saying that? I suck at this!'" His father began laughing. "I was face down every three feet, and he was trying to tell me I was doing fine."
TK was 16-years-old when he started teaching snowboarding. At that time, snowboarding was new at most resorts. Many resorts wouldn't even allow snowboarders on their mountains. After high school graduation, TK attended USI for a while in hopes of becoming an art professor, but the lure of the snowy mountains was too great. He put his college plan on hold for a while and went to Colorado to learn more about his passion of snowboarding. 
The young adventure-seeker moved to Breckenridge, CO for the winter in 2003. "He got a job at a ski shop out there. He was trying to get into the extreme games. The slopes had just opened in November. He was there perfecting his craft," his father says with a deepening sadness in his voice. "Like any other ski bum out there, he was on the slopes after work. He had only been there about two weeks when the accident happened. He was in a coma for a long time. They didn't know if he'd live." TK sustained a brain injury. At only 24-years-old, he was wheelchair bound, but grateful to be alive. "About 80% of his cerebellum was sheared." After months of rehab, he was strong enough to come back to Henderson with his family.
Never Giving Up 
There were few things in life that TK Johns couldn't turn into an adventure; including the wheelchair he was confined to following injuries he sustained from the accident. "He didn't make things easy on us," admits his father Tim, who retired early to care for his son. "The whole time, after he was injured, even up until the day before he died, he was determined to walk," Tim recalls. "He would take two or three steps before losing his balance. He would fall and knock stuff over, but he kept trying. He had a drive to try and try until he got it right."
Having a traumatic brain injury (TBI), TK spent most of his time with his caretaker parents. Looking for opportunities that would accommodate his new disabilities, TK sent his dad back to Breckenridge, CO, to check out a brain injury camp there. Tim enthusiastically reported back how the people with TBI there at the camp did everything he knew TK would love; rafting, rock climbing and other various outdoor activities. It was enough to convince the young explorer to check it out for himself. The next time, TK joined his dad and loved every minute of it. After several visits, the two desired to have something similar in their hometown and began dreaming about how that could happen.
The Brain Injury Adventure Camp
Henderson Presbyterian Church, who offered the family 42 acres, allowed the Johns to fulfill their dream of beginning a camp for local people with TBI. The Brain Injury Adventure Camp was formed and is thriving. "It was a big social scene for TK," Tim expressed. "People with TBI spend about 90% of their time with their caretakers. This let him get out and be with people. It let him feel like he was doing something important. It was a source of freedom for him." 
Indeed, "doing something important" was exactly what he was doing. The Brain Injury Adventure Camp (BIAC) has hosted hundreds of people with special needs, youth camps, bereavement camps, weddings and reunions, to name a few. What began as a tragic accident had turned into motivation to give back to the community by creating a safe place "to have a good time."
Keeping His Memory Alive
TK's life ended in the same way it began, surrounded by family and covered in love. He had been out to eat with his family the night of February 10, 2018. The evening felt quite normal. "We had just bought a jet ski on Friday. We were talking about our plans for the summer," Tim's voice cracks as he recalls. "He died in his sleep." 
When asked how he would like his son to be remembered, Tim proudly stated, "He loved everybody that he was around. He didn't understand why people had ill feelings towards things. He always felt there should be more love." For his doting family and friends, 39 years was not enough time with TK, but his legacy lives on. "The camp will move forward," his tearful, but resolute father said, "I don't think that will ever change. We will keep doing what TK wanted."
For information about Brain Injury Adventure Camp please visit biacky.org.  
Amanda Waggener is a blogger for the Huffington Post, author of No Grit No Pearl blog site and is a native of Henderson. She and her husband are the parents of two teenagers who they are raising with as much zeal as they can muster.
Join our list
Subscribe to our mailing list and get interesting stuff and updates to your email inbox.
Reader Interactions