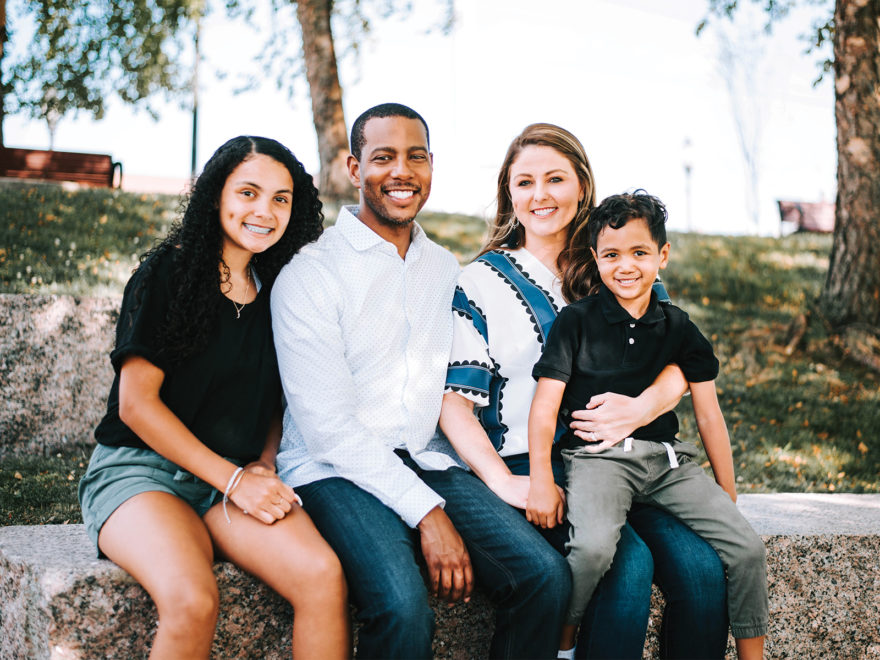 Photos by Chelsie McElfresh
The Curlin's Experience
George Floyd's death on May 25 spawned a swift, national public response to the issue of racism in this country. Floyd, an African American man, was killed by a police officer in Minneapolis who knelt on his neck until he died. The event kickstarted large protests and rioting, causing businesses to board up their windows and mayors from many large cities to initiate nightly curfews. Henderson is often privileged in that it doesn't usually see local impact from national events. It's easy to look at our town and see how it thrives and how our community bands together. However, racism isn't just a big-city problem. 
David Curlin, who is one of only 2 African American attorneys in Henderson, recalls a time when he represented two juveniles who were caught with marijuana at a school. "The white juvenile was basically given a slap on the wrist. The African American juvenile was charged with a felony; trafficking within 1,000 feet of a school. The only difference was the discretion of the police officer." When David pointed out the unfairness to the prosecutor, the white juvenile was upgraded to a felony. "I can see how race affects charging of crimes."
Mr. Curlin's mother attended Attucks School in Hopkinsville, KY. Attucks was the first public school for black students in the area. Amanda Curlin, David's wife and a social worker adds, "It would be irresponsible for us to say that racism doesn't still exist in Henderson. Only a couple of generations ago schools were segregated. Those people who were in favor of segregation are still alive." Being a white woman, married to a black man and mother of two biracial children, Cadence and David Jr., Amanda has a diverse perspective on how she has experienced racism. Once when she was working at North Middle School, she had a white student notice a Curlin family photo on her desk. "She said it was against the Bible for a black person and a white person to be together," Amanda describes. "I had to tell her that's not what my Bible says and just leave it at that." Another example she recalls is of an evening years ago when she was a teenager aimlessly cruising around town one night with friends, as teenagers are known to do. She was pulled over by a police officer who asked, "if my parents knew I was driving around with a bunch of black kids." Mrs. Curlin continues, "I told him I wondered how they would feel if they knew you were questioning me about that and pulling me over for that specific reason." The officer panicked. "That was my white privilege. I was able to challenge him, and he backed down from me. If I were a black woman, I wouldn't have had that advantage."
Both parents acknowledge concern they have for their son and daughter regarding race relations.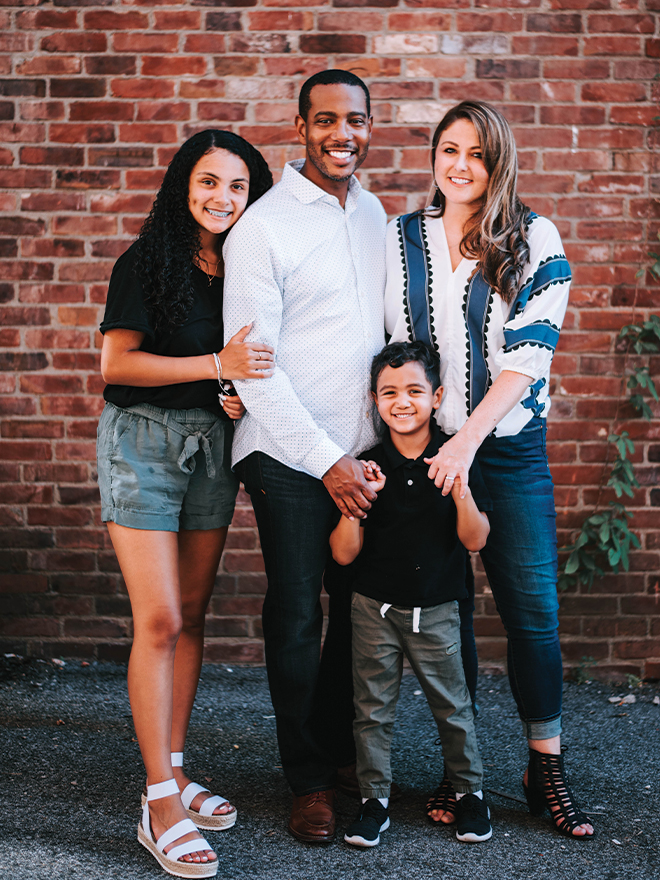 Advocating For Positive Change
The most notable way in recent weeks that people have risen up against racism is by protesting. Henderson has been host to protests this summer, which has been greeted and welcomed by some and condemned by others. The Curlin family are in favor of protesting. "Many people don't like having those difficult conversations because it makes them feel uncomfortable. Protest are segue to those conversations. I believe any kind of protest that brings light to issues causing those discussions to happen is good," expressed David. 
June 6 was a hot Saturday afternoon in Henderson when a large crowd of protesters, many holding signs marked "Black Lives Matter" and quotes from famous civil rights activists, marched the streets of downtown. The protest was reported as being peaceful and garnered much attention in local media. Amanda is quick to point out that they are not anti-police with these efforts. "People think Black Lives Matter (BLM) is exclusive. That if you support BLM, it means you must be against police officers. That's not necessarily the case. It's just a matter of acknowledging there is racism in the criminal justice system, and it needs to be addressed," she confirmed. David agreed adding, "I do not think all cops are bad. It's easier to see racism when it's right out in the open. With the example of the police officer kneeling on the person's neck, that's cut and dry racism. Seeing that then assuming all cops are dirty isn't what this is about. There needs to be dialog about it though. Better policing and acknowledging of racism will help everybody in the long run."
A Community Banding Together
Despite the disturbing images on social media and the grim reporting on the news stations, there is much reason to be hopeful. "Unfortunately, many people live in a bubble where they don't interact much with minorities, so they don't see the ongoing battles that monitories have. They don't understand the advantages they have naturally built into the system," David asserts. One way to help change some perspective and to better represent the ideas of all Hendersonians is to have more diverse opinions heard. "More people of color need to be asked to the decision-making table. They need their voices heard so you don't have unintended consequences that result in one race being affected in a detrimental way." David elaborates by adding, "Once you're caught in the eco chamber of four white males making all the decisions then the outcome is not what you hoped it would be. The most important thing is to get more diverse voices heard. If there were more people of color on different boards in town then I think that would help." David confessed that he is usually the only African American on the various boards he sits on in Henderson, expressing that it is exhausting for him and the short list of other African Americans who sit on boards to be the only ones to represent the black community. 
Another way to progress towards racial equality is to start at home. "White people need to speak up and call out racism when they see it. If your family member says something that is racist, and you don't speak up they assume you agree with them. Small steps like that would help move things in a positive direction," Amanda says, adding, "I see that it gets better with every generation. Kids disagree with their parents when confronted with their racism. Interracial relationships aren't taboo anymore."
Stepping outside of comfort zones to get to know minorities and build relationships with them, asking for their opinions and to join local boards, peaceful protests, calling out racism and setting good examples for the upcoming generation will position this community towards peace and fairness. Working together, we can make Henderson a safe place for everyone to call home. 
Join our list
Subscribe to our mailing list and get interesting stuff and updates to your email inbox.
Reader Interactions