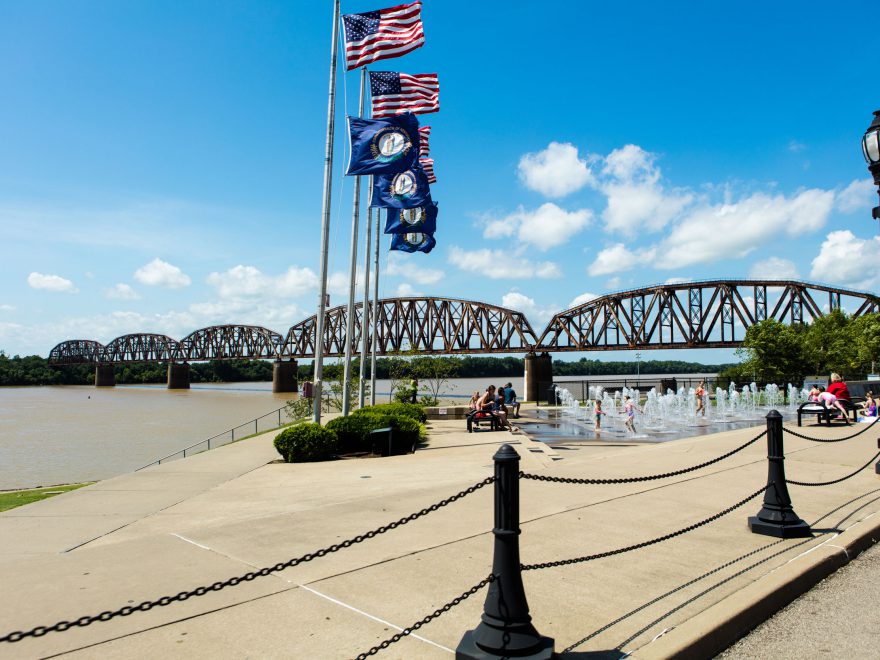 Dearest Hendersonians,
You have your own name! How cool is that?! And your own spot along the river to call your Old Kentucky Home. You have reasons to be proud of your place in our state and in this region of the country.
Let's acquaint ourselves a bit. I started a state braggart promotion outfit called Map Dot, Kentucky three years ago; I wanted to see what every single point on the map in Kentucky looked like and if it was worth boasting about. It was my thought that I couldn't rightly call myself an expert traveler without visiting my own state first. So I plopped out my map, then plopped myself down on all 120 court squares and hundreds of downtowns, big and small, across Kentucky. I noticed as I wandered from Paducah to Pikeville that the quaint, quiet, livable town centers I imagined were sadly few and far between. I came across towns sputtering to find a sense of place after an industry loss or other tragedy. Empty storefronts and tired, cracked sidewalks without a heartbeat. No life. A story of the same old, same old.
Henderson has smitten me as different in my journeys. You've always seemed to be tucked in the shadows of Evansville and Owensboro, but are coming into your own as a sought-after place to lay roots and raise a family. You are actually living that flag-waving American dream that to many, is still just that. Several things contribute to your progress. The attractiveness and outright spread of your downtown riverfront. My gosh, what wide streets you have! Purpose built, I understand, to prevent a fire from spreading. It kept your turn of the century business district intact to the envy of much of Kentucky.
And your local shops! From the iconic Simon's Shoes, on down the kempt sidewalks, there are no shortage of eclectic, fun stores to poke a head into. Then, dining options abound to satisfy a variety of tastes. Again, the envy of most downtowns I've seen. But the real catch of my grin is the living options available. A day doesn't have to end by driving away from the new riverfront bustle of festivals and concerts. Over 40 lofts downtown? Not even our largest Kentucky cities are ready to claim that yet. Smile, because you've become the most go-getting, run what you brung, make something happen, progressive place I've come across in 120 counties of travel.
It's my hope that good, solid industry, both blue and white collar, continues to locate to Henderson. That you're able to raise families where your children never have to leave the area to find something better. That you continue to be the squeaky wheel that's heard, and that you never once take for granted the honor of being a Hendersonian. If only because of the cool name.
Sincerely, Cory Ramsey
Map Dot, Kentucky
Join our list
Subscribe to our mailing list and get interesting stuff and updates to your email inbox.
Reader Interactions