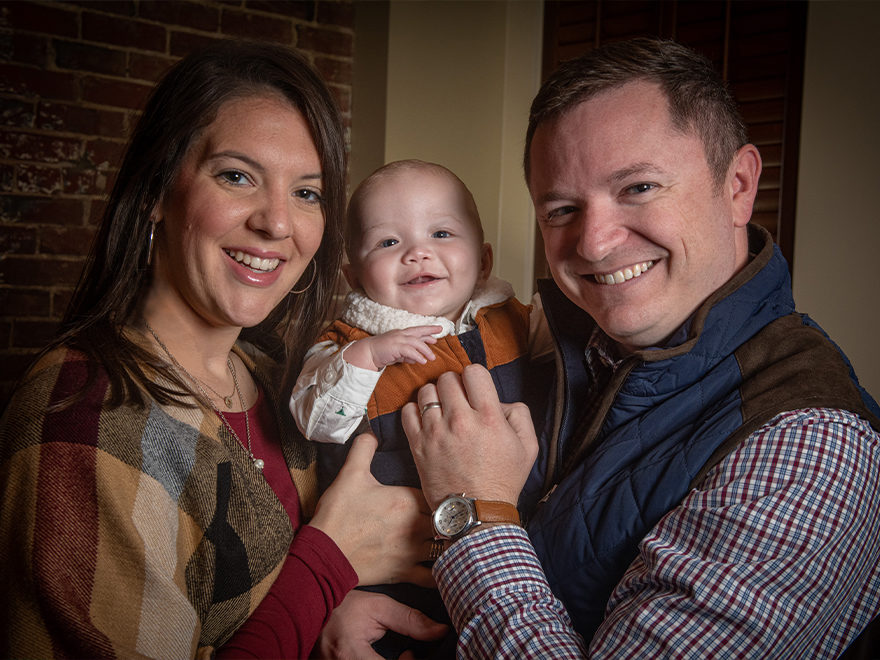 The Sutton's Unanticipated Journey to Becoming a Family of Three
Five-month-old Drew Michael is a tiny ball of energy as his parents, Andy and Morgan Sutton, sit at a table in a local café to chat about him.  Interrupting the chat along the way, it was almost as if the baby was aware he was the subject of conversation and had things to add. The young couple, and first time parents, concedes that adjusting to the new little one has been challenging.  Most expectant parents have nine months to prepare for the family expansion with a biological child and sometimes years to anticipate an adoption. The Suttons only had two weeks.   
A Surprise Phone Call
"He was born on Thursday, May 2, and we got the call on Sunday," shares Morgan.  The biological grandparents and friends of the Suttons, Mike and Shawn Royster, had taken custody of their newborn grandson, who was born with methamphetamine in his system.  Already raising another grandchild, the couple felt it best to seek out suitable adoptive parents for the infant in hopes of avoiding placing him in foster care. 
"It was a Sunday afternoon," recalls Morgan, "I got a call from Shawn and she pretty much asked me what I was doing for the next 18 years, then immediately asked if we would be interested in adopting her grandson."  Morgan, shocked by the unexpected offer, told Shawn she'd need to pray about this and discuss with her husband.  "It's not like deciding to get a puppy," she giggled.
"We had talked about adopting, maybe after we had our own kids, but it was still a far-off dream," Morgan expressed.  The couple reached out to a friend, who has personal experience with being a foster mom and adopting children.  Their friend offered some words of wisdom. "God didn't bring this baby into your life out of nowhere for you to say no." After serious discussions, lots of prayer and consulting their friend, Andy and Morgan knew what to do.  This baby was intended to be their son.
Party of Three
They welcomed their new son into their home on May 17 and were awarded custody on June 13.  The biological mother has been fully cooperative in the process as the adoption continues through the courts.  Until the adoption is final, Morgan and Andy stay in contact with the biological grandparents and adhere to the social worker visits.  
Having meth in the tiny body of a newborn does pose a special set of challenges with providing care.  The drug caused nerve damage, which creates unpleasant side effects.  "He has fits," says Morgan.  She points out a bruise on the cheek of the rambunctious baby, explaining how he pulled a toy down, hitting himself in the face with it during one of his episodes.  "We sometimes sit in a dark room; no lights or sounds.  We have sat like that for three hours straight trying to rock him and console him," she says as she looks at the baby with a somber look on her face.  However, as evident with the couple's positive disposition she finds the silver lining by adding, "His pediatrician said that this is very common in addict babies and that he may grow out of it. As he grows we will see if any other issues develop, such as being behind in milestones. So far, he's not behind at all. He's good."
It Takes A Village
Originally given another name at birth, the couple immediately gave him a new name once the decision was made that they would adopt him.  They named him Drew Michael.  "Drew after his dad and Michael after his biological grandfather," the new mom smiles as she reports.  The parents want Drew to grow up knowing the truth of his adoption.  They want him to know both his adoptive and biological families.  "The more people who love him, the better.  It takes a village," she notes.  They are even open to Drew having a relationship with his biological mother when she is healthy and stable enough to be in his life. 
"We've talked some.  I think we want him to know her.  If she cleans up, we don't want to penalize her for her past mistakes," the father explains while bouncing the baby on his knee. "People can change.  That's what we are supposed to do."  
As the holidays approach, the couple has already decided on how they will blend the families. Morgan expanded on the details of Christmas by adding, "We will do like we always do.  We will go to my side of the family.  We will go to Andy's side of the family.  If Drew's biological family invites us to their celebration then absolutely we would be willing to be a part of that, too." The family wants to live as transparent as possible in effort to prevent any shocking revelations to cause Drew emotional pain as he gets older.  "We'll tell him everything," she continues. "I think any kid who gets adopted is going to have questions.  We will tell him what we can as it becomes age appropriate for him."
The adoptive extended family has welcomed Drew with the same enthusiasm as Morgan and Andy have.  Grandparents, aunts, uncles, cousins and even great-grandparents have celebrated the addition of the new little one.  "My grandparents are still alive.  We went over there to tell them that we were going to adopt a baby.  We had him with us so while she (Morgan) was getting him out of the vehicle. I went in there and told them 'Oh, by the way, he's here!'" Andy laughs as he shares his surprised grandmother's reaction. "Grandma, I'll never forget, said that she always has prayed to live long enough to see her great grandchildren and now she finally has."  He chuckled as he told her not to go anywhere and that she still needed to hang around for a long time.  
The Suttons don't plan on Drew always being an only child.  Morgan eventually wants a large family, both biological and adoptive. Andy jokes with her and told her "you want a basketball team!"  However, with the surprise and speedy adoption of Drew, they acknowledge they are trusting God as to when these plans will come to fruition.  "It's funny how God works; his timing," says Andy.
Hope for the Future
As the couple continues to pass feisty little Drew back and forth between the two of them, they begin sharing their hopes and dreams for his future.  Morgan immediately becomes teary-eyed as she expresses her dreams for him.  "I hope when he grows up that he knows we love him.  I hope he knows that we gave him the best life that we could.  I hope he can see how God provided for him and gave him a chance.  That he knows his story is a story of God's protection, provision and timing." 
Andy echoes the sentiment with a solemn-toned, "Whatever he does, I hope he is solid in his faith.  Whatever profession he chooses, I hope he loves what he does and can support his family.  I want him to love life."
The new family of three is grateful for all the encouragement, not only from their family and friends, but also from the community.  They want to thank the people of Henderson, noting, "The love that people pour over us and him has been overwhelming."  
Amanda Waggener is a blogger for the Huffington Post, author of No Grit No Pearl blog site and is a native of Henderson. She and her husband are the parents of two teenagers who they are raising with as much zeal as they can muster.
Join our list
Subscribe to our mailing list and get interesting stuff and updates to your email inbox.