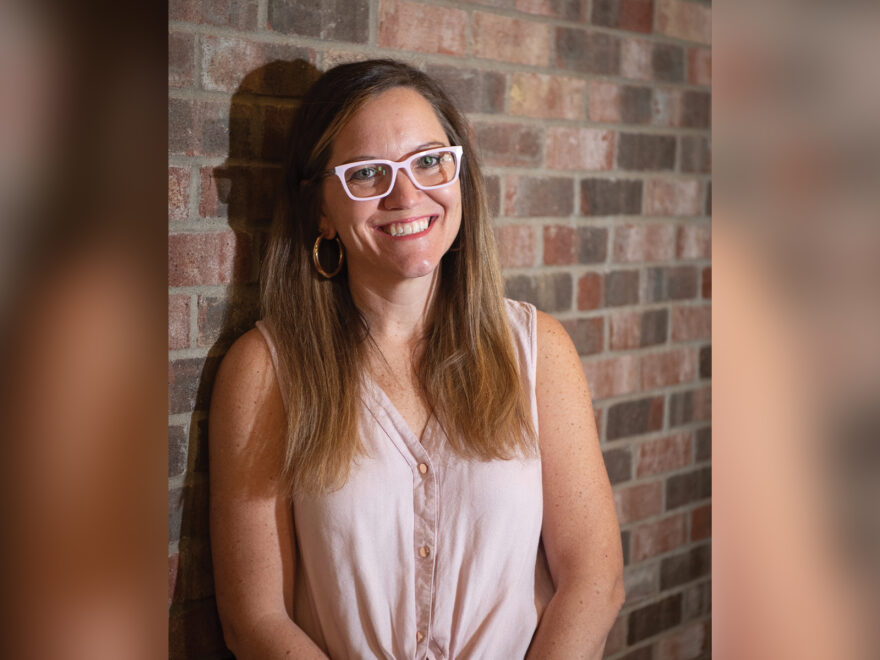 Photo by Darrin Phegley
The Journey

 
of Motherhood
"The biggest thing I have discovered is I love them all equally but individually. They are their own person," said Heather Hensley, mother of six.   
Heather has been married to her husband, Chad, going on 25 years in May. He was her only boyfriend, the only guy she has ever been on a date with. Chad recently surprised her with an all time bucket list dream vacation – Tahiti! Heather could not be more excited! Although this will be a big anniversary trip, they have always dated and had time away together. "We don't get a week, but we definitely take little trips and big trips. It is important to renew and refresh as husband and wife."  They have truly had a fairytale love story. 
Heather graduated from the University of Southern Indiana, after attending college to become an occupational therapist. She owns her own pediatric occupational therapy practice where she offers home-based services for children birth-3 years with special needs. Heather is also a certified health coach. She loves helping others get their life back from a health perspective.  Heather was blessed with an amazing mom and two amazing grandmas who showed her how to love and how to serve and be a part of their family and community. 
The Beginning of Motherhood  
Heather and Chad had been married about 4 years when their first child, Mitchell, was born. It wasn't until he was delivered they found out he had down syndrome. "That was hard. Hard on a young couple to be expecting your first baby. Finding out was difficult, but we managed down that road. He brings us so much joy and pleasure in life," she boasted, as she smiled looking over at Mitchell. Twenty months later, they welcomed their daughter, Katelyn. She had a smooth delivery, and she was a healthy baby girl. Both Chad and Heather thought they were done having kids and their family was complete. One day, however, Heather had a tug at her heart they should consider being foster parents. She laughed as she recalled having a whole speech prepared for Chad on why they should foster. They had a spare bedroom that wasn't being used and a loving home. She said, "I feel like we should think about foster parenting." Before she could continue, Chad's immediate response was, "Okay. Call them!" They went through all the classes to become foster parents. "Our goal wasn't adoption. We felt like we had love to give and could help children in need." Everything quickly changed when their very first placement, a 12-month-old baby boy, came to live with them. He was brought in with a wet diaper and a sippy cup, she recalls. This baby boy, now 14, was their first adopted child, Bradley. 
"The journey of foster parenting is very emotionally draining because so much of it is out of your control. You don't know what life is going to bring. What the next phone call is going to mean. Just being able to go into it knowing all you can do is take care of them when they are in your home, love them for all their worth and sometimes you have to let them go and sometimes you get to keep them." After Bradley, they fostered a few others who went back home, but then they decided not to foster anymore because it was so hard when the children had to leave. "It's really difficult to take care of a child and be their sole provider and not take on a mom role so it's really hard to let go when that time comes," she explained. 
Heather's husband, Chad, is a pastor and there were some circumstances in which they wanted to open their home back up to the foster care system. It didn't go as they thought, but then they received a call about a 3-year-old little girl who needed a place to go for just a little bit. A little bit turned into forever, as they completed their second adoption, welcoming their daughter, Grace, into their family. Fast forward six months later, the Hensley's received a call saying they had 16-year-old twins who needed somewhere to go. Heather and Chad knew these girls. "We love them, and we want to take care of them and now we are a family with 6 children. We have kids in college all the way down to 3rd grade. It's been a ride!" the blessed and proud mother said. 
The day we signed the adoption papers was scary. "Can you love a child the same way? Can you biologically have a child and adopt a child and love them the same? And the answer is emphatically, yes! The day we signed those adoption papers, and the day they took on our name, it is like we had them. There is no difference to us, and that was something I never imagined being the journey. I believe in God, and God adopted us into his family. He loves us, and I think my children have taught me so much about what real love looks like and really is and is lived out everyday."
Six Beautiful Children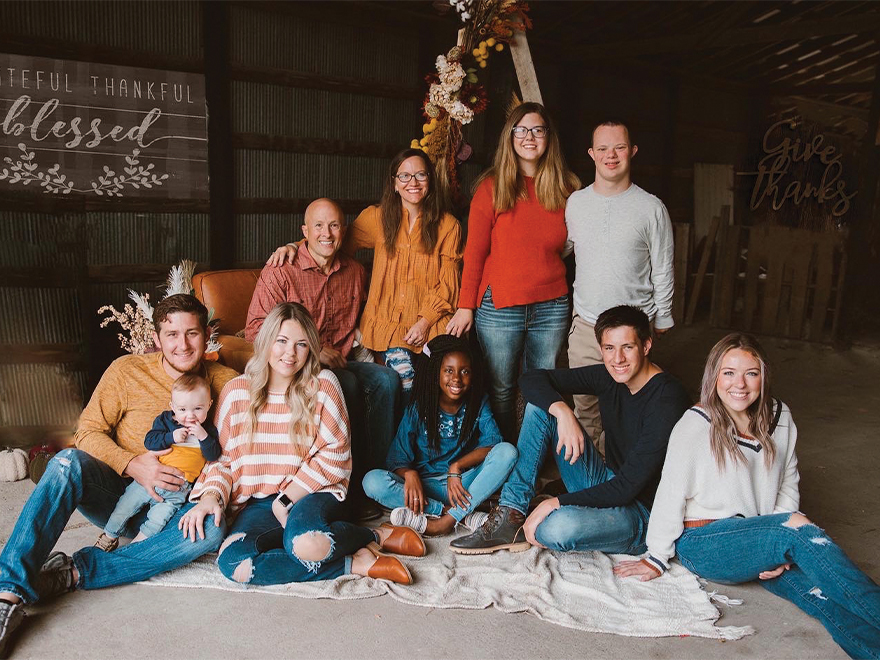 Courtney and Whitney are twins and are 21-years-old. Courtney is older by one minute. "She is so kind-hearted, easy going and loves life. She is going to school to be a counselor and works at a daycare in Evansville. She recently became a dog mom. She is beautiful inside and out and really finding her way in life." 
Whitney is the second born twin. She made Heather and Chad grandparents this year, and that has been an amazing journey for them. "I love spoiling and getting to send him home," Heather said, laughing. "She is very driven and hardworking. She is going to college and majoring in business and works while raising a son. She is a very determined young woman."
"Mitchell is 20, and brings so much joy to our life!" He keeps them laughing all the time. "He loves basketball and power rangers. He loves to sing, sing in church and get his Bible and preach sermons and help his dad with Bible studies." He graduated this past year, but they are still trying to figure out his next steps but waiting on covid to get better first.
Katelyn is 18 and a freshman in college. "She could rule the world. She is extremely determined, self-motivated, independent and strong-willed. She is working at Busy Bees as a daycare teacher and going to school to be a child life specialist through first earning her degree in elementary education. 
Bradley is 14 and 6'3. He is a freshman in high school. "He is a kind-hearted person, and he would give you the shirt off his back. He is so loving and thoughtful of other people. He is a boy and challenges us, but is an amazing young man."
Grace is 9. "She is super athletic, so she dominates on the soccer field and basketball court. She laughs and smiles and brings so much joy to the world. You can't be around Grace without smiling because she is going to be smiling. She is just precious." 
"We love all of our children, and they are also unique and different. Who knew. You raise them all in the same house, yet they are all so different. You have to treat them differently. Sometimes navigating that is tricky. Just because it worked for this one doesn't mean it is going to work for the other," stated Heather. 
Facing the Hardships of Motherhood
"Hands down my Christian faith is always number one in my life. If it wasn't for that foundation, it would crumble." Although Heather has been beyond blessed with a big, beautiful family, it doesn't mean she hasn't faced hardships and trials during her walk through motherhood. 
From their first born having an unexpected disability to three years ago one of their daughters being diagnosed with a brain tumor to car wrecks and college and life decisions, Heather has experienced all the things that come with being a mom and going through life. Heather said, "Never in your life do you think a doctor is going to call and tell you your daughter has a brain tumor. First off, your life immediately stops in its tracks. It was hard. It was the scariest time of our life. But I never questioned my faith." It was a really difficult time trying to balance everything they went through with their daughter, Katelyn, who at the time was 14 when she was diagnosed. They had to spend six solid weeks at the Cincinnati Children's Hospital and another 30 days after Katelyn's surgery, so she and Chad traded out each week so one could be home to take care of their other children. 
Katelyn's tumor was found after she had attended the State Future Farmers of America Convention that summer and noticed her hand wouldn't stop twitching. Several days after she had returned home, they were outside when Heather asked Katelyn to hand her something. Katelyn said, "I don't think I can. My hand won't stop twitching." Heather knew enough to know the jerk in Katelyn's hand wasn't normal. They weren't able to see her family doctor, but she was able to get in the next day with another doctor who spent the entire day with her. Heather said, "In my mind I went through muscular sclerosis or pinched nerves in her neck." A brain MRI was taken, and the next day he called Heather and told her she needed to put Katelyn in the car and drive her straight to Cincinnati Children's Hospital. As the emotions began to rise, Heather teared up and said, "Within an hour, we had loaded our car and were driving off." 
They found out the tumor was not operable because it was located in a very dangerous place. For six weeks, Katelyn went through proton radiation. It seemed to be working but then her tumor swelled. It wasn't spreading, but it was giving her daughter problems. The doctors put Katelyn on massive steroids, and she gained 80 lbs. She also was given a type of chemotherapy. Everything settled down, but her next MRI report was not good. This time, they were told they had to operate. Katelyn would probably have permanent damage, but they didn't know to what level. The surgeon was the head of neurology at Cincinnati Children's Hospital, and he also brought in another head of neurology from another children's hospital. Heather explained it was so overwhelming to know the magnitude of what was happening. As a mother, it was so incredibly difficult to watch her daughter go through. It is never something you want or imagine your child facing, and there is only so much you can do because so much is out of your control. Most of the tumor was removed, but Katelyn can no longer use her left hand, and she walks with a little bit of a limp. The little piece left they will continue to monitor. 
The strength her daughter has shown through her trial is simply amazing. The proud mother, smiling, said, "Katelyn has handled this all so incredibly well, and I do think some of it is her dad and I lived it out in front of her. It was how we responded. She has stayed so positive and driven and put so much work to getting back as far as she can go. It's amazing!"
Outside of the challenges Heather has faced as a mother in regards to the health of two of her children, she has experienced having three drivers so far, who have all had car wrecks. "When they are infants they keep you awake all night by necessity, but with older kids I still lose a lot of sleep worrying and praying." She laughed saying, "Teenagers come with their own set of challenges and blessings." Heather explained it can be tricky sometimes balancing because as they get older, you have to shift the role you play in their life as their mother. She explained, "The definition of mom starts to shift from I am in charge of everything to I am here to support you and offer advice, fix you dinner but no longer be involved in the everyday decisions. And, as a mom, that's hard to let go of."
Life Outside of Motherhood
Heather is able to set her own work schedule, so she usually sees patients Tuesdays—Thursdays and keeps Mondays and Fridays open to do things at home. Outside of working, she likes to read, take walks in the sun and do mission work. They have been to Russia, the Philippines and Jamaica for missions. Currently, they are working with Dawson Springs, KY and have adopted a 21-year-old man who just became a father last month. They are trying to help him get on his feet and walk that walk with him. 
The Current Season of Motherhood
Heather is really enjoying this season of motherhood. It's busy but fun. It is rare for them to all be together at one time because of everyone's schedules with work, school, extracurricular activities and church. "A lot of our life revolves around whatever activity our kids are involved with at the time," she said. However, they make time for one another. The older kids will come over for dinner, and they plan trips and whoever is able to come will come. Although Heather wears many hats as a mother and has six beautiful children she is trying to raise, she said she couldn't do it without support. Her husband and parents have been absolutely amazing throughout her journey as a mother. 
"I love being a mom. It's one of my greatest experiences!" 
Join our list
Subscribe to our mailing list and get interesting stuff and updates to your email inbox.
Reader Interactions