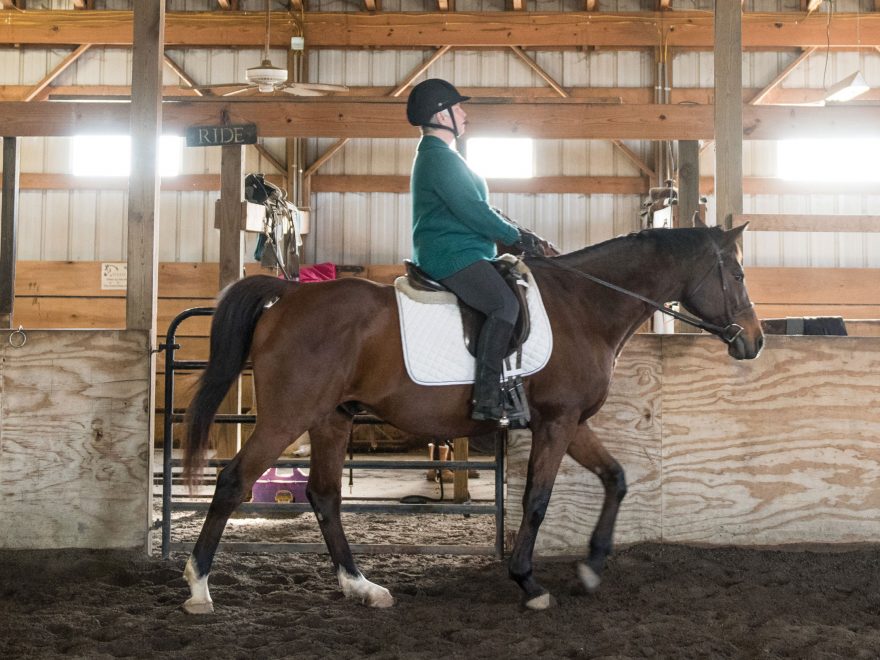 Susan Nance developed a love for horseback riding in her 20's, but by the time she turned 45, she was completely blind. Nance's disability left her wondering if she would ever ride a horse again, but from her disability, a new idea was born in Henderson County.
"It was a hard adjustment to lose my sight, especially as an adult," she said. "I was used to driving and being independent."
After moving from Kentucky to Texas for college, Nance led trail rides on horseback and raised thoroughbred horses for seven years.
"That's where I got a real handle on working with horses," she said. "I had a very good first instructor, and I think to this day that is the only reason I can sit on a horse without falling off. She was very accomplished and strict about proper riding."
Horses became an everyday part of Nance's life, but her sight began to worsen, and she was diagnosed with the genetic disorder familial exudative vitreoretinopathy or FEVR.
"It's not very common," Nance said. "I was hoping I would keep one eye working, but it wasn't meant to be."
Once she completely lost her sight, Nance went to a rehabilitation center for the blind, a place she describes as "blind boot camp."
"As you can imagine, I was so stunned and so scared," she said. "I stayed there for about three months. It was very difficult, and still to this day I'm not very good at braille."
In 2004, Nance moved back to Henderson after her husband passed away. It was around that time when she met Stacy Denton, one of the owners of Blue Moon Stables.
"I looked all over for a place to ride," said Nance. "I wanted to keep riding because it was a mental and physical piece of me. It is so important to me because it was something I did when I could see. When you lose everything you can do, you finally think at least I can do this one thing, not like I used to but I can still ride."
According to Nance, Denton had never worked with a blind rider or any disabled rider before Nance walked through her doors. Even with her lack of experience, Denton undertook the challenge of taking on a blind rider.
"She was glad I could at least sit on the horse and not fall off," said Nance with a laugh. "She probably didn't have any idea what to expect. I told her about my background with horses, and that made her feel a lot better."
Denton and Nance worked together with Denton helping direct Nance around the arena as she rode. From her experience with Nance, Denton formed the idea for a nonprofit therapy riding program in 2015 that is today known as Healing Reins.
"(Nance) is one of my inspirations," said Denton. "She is on a fixed income and wants to ride, but Blue Moon is for profit. She helped me come up with the idea and inspired me to create a nonprofit for therapy riding. In this area, there are other barns with therapeutic lessons, but I wanted to make ours more accessible and affordable. With Healing Reins we try to give people a rhythm in their lives with the program."
Healing Reins offers horse therapy for those with special cognitive needs, such as autism, cerebral palsy, and anxiety disorders. According to Denton, Healing Reins has about 20 riders with a variety of needs, but is not prepared to offer services for children with severe physical disabilities at this time.
"From my background, I've found there is a different side of ourselves that connects with an animal, and there's something special about getting people to reach out and use animals," said Denton. "Allowing individuals to connect with animals gives them a potential and helps it come out. It brings something out of a person that others might not have seen before, and horses help to do that."
Therapeutic riding through Healing Reins offers a combination of speech, physical, and relationship-building therapy which builds balance, coordination, flexibility, core muscle strength, self-esteem, and self-confidence, according to their website.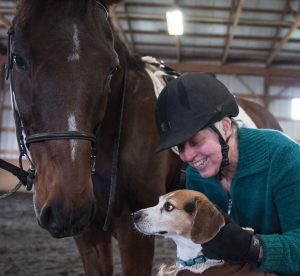 However, therapeutic riding differs from Hippotherapy in that Hippotherapy is physical or occupational therapy, which is approved by a physician and implemented by a team that includes a licensed therapist. Therapeutic riding, on the other hand, is recreational horseback riding lessons adapted to individuals with disabilities.
Healing Reins is operated through two stables: Blue Moon Stables run by Denton, her husband Chad, and their daughter Melissa, and Rolling Hills Equestrian Center run by Peggy and Bill Fidler.
"It's unique to have the two barns working together," said Denton. "This is a nice push for the industry and area. We're able to make something big happen together and help it grow. Collaboration is a big part of our mission and is huge for recognition."
As a nonprofit, the therapeutic riding program depends on donations and volunteers. Kali Basham has been riding at Blue Moon for a little more than a year and has dedicated some of her time to volunteer with Healing Reins. She is currently working toward her Professional Association of Therapeutic Horsemanship or PATH certification.
"My passion for horses and what they've done for me made me want to volunteer with Healing Reins," said Basham. "I want to give back and help it be successful. I also wanted to help those with disabilities to do what they want. Happiness isn't about what you get. It's about what you receive. It's hard to put into words what horses do for people. It's magic. They challenge you, and it's a unique relationship between horse and rider."
Healing Reins has a mission to assist individuals with special needs in meeting their full potential through interaction with horses and hopes to continue furthering that mission for the future.
"Horses can give people this sense of freedom," said Nance. "They don't judge you by how you look or what you do. They judge you by how you behave towards them and by how you handle them. It's so liberating."
Join our list
Subscribe to our mailing list and get interesting stuff and updates to your email inbox.