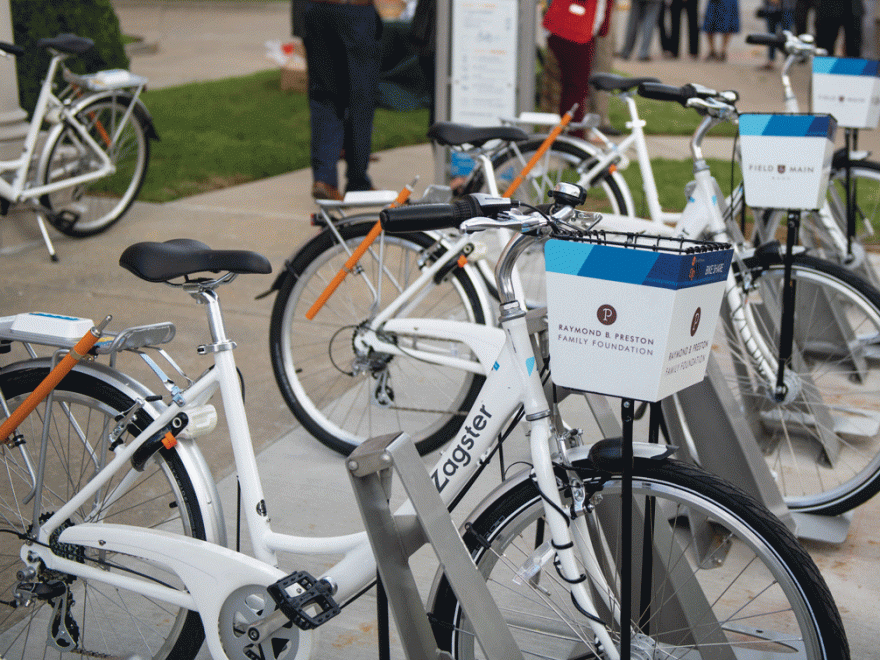 Henderson and Evansville pedal together with the Upgrade Bike Share Program.
On Wednesday, October 3, Henderson County launched the "Upgrade Bike Share Program" in conjunction with the Evansville Trails Coalition, a nonprofit organization focused on advocating trails, educating an active and healthy lifestyle and providing maps and routes for both bicyclists and pedestrians. The ETC formed in 2009 with the launch of the "Upgrade Bike Share Program" in 2016. The Executive Director of the Evansville Trails Coalition, Lorie Van Hook, said, "We have over 7,000 rides and over 3,100 active members. For such a young program, we are really growing."
Under the ETC umbrella, Henderson was given the opportunity to offer this program, providing three bike stations within the community where Henderson residents may checkout a bike. Whether riding for a leisurely stroll, or taking advantage of a second option of transportation, this program is offered year round for community members to use. 
Van Hook stated, "This is like a dream come true for us because the bike share program is for everyone. Giving the opportunity for ETC to extend to Henderson pulls us together as a regional community."
How It Began
Fellows of Henderson Leadership Initiative, Abby Dixon, Will Monsour and Courtney Vowels, are the reason this program was launched in our community. "HLI was a catalyst to make this happen," Van Hook explained. 
In early 2017, Abby, Will and Courtney took a passion and began making it a reality. There was extensive research put into this idea. They knew it was a program offered in many cities, but it took a lot of time narrowing down options of how the program would fit best within our city. After months of work, it was decided the best option would be partnering with ETC's existing program to allow the neighboring cities of Henderson and Evansville to connect, giving opportunities for members of both cities to utilize the same service. This means any member of Zagster, the bike share program used by ETC, can take advantage of bikes in both Henderson and Evansville. This opens a growth of opportunity to bring tourism into our community, not only from across the river, but from the entire Tri-State area. Families and couples can make a day of riding around a city they have never visited before, stop and shop at places they have never been or eat at restaurants they may have never heard of. The hope is for residents of Henderson County to stop and enjoy the beauty of our small town of Henderson, Kentucky. 
Before anything could be done, however, they needed the money to make it happen. Fundraising was a priority. "We are really fortunate, I can't reiterate that enough, to live in a community where local leadership is excited to try new things and support new ideas. The City of Henderson, the Preston Family Foundation and Field and Main Bank are the three sponsors for the program that allowed us to reach our goal to have three different bike stations," Abby exclaimed. These sponsors funded the program 100%.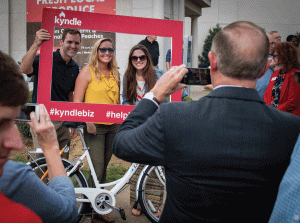 How It Works 
The process to checkout a bike is very easy. If you have a smartphone, you may download the Zagster app, or you may go online to zagster.com to setup your account. It takes about three minutes to sign-up. After you are signed-up, your information is saved so each time you check out a bike the process will only take about 30 seconds. Instructions are provided at each station. The bike lock system works via Bluetooth on your phone. The app knows which station you are at with the location finder on your phone. You stand at the station, it will show you which bikes are available, and you match up the number on your screen with the number on the back of the bike. This unlocks the bike. It costs $3/hour with unlimited riding. Your payment information will be charged every hour until the bike is checked back in. All the money made will go directly back to Henderson to be used for trails improvements or developments in the future.  
What makes this program even more convenient is members may checkout a bike at one station but check it back in at another. Therefore, it does not have to be a "round-trip" experience. Each station has five bikes, but more spaces are available if bikes aren't returned to where they were originally checked out. Members will find bike stations at Atkinson Park, Second and Main and on-site at Audubon Kids Zone. 
"The bikes are intended for individuals 18 years and up," explained Abby. "The thought behind this is that bikes for kids are so much more accessible whereas adult bikes are a lot bigger. We hope that instead of sending kids off to ride their bikes, it becomes a family activity," she said.  Van Hook said from ETC's experience thus far, parents will haul children's bikes to different locations and rent theirs. "There are different ways communities use bike share," Van Hook said. Everyone is very interested to see how Henderson and Evansville's communities differ, and the unique ways in which this program is utilized. 
A local maintenance person will also be available to handle damaged bikes, or the moving of bikes if one station does not have any available. This is known as "rebalancing the stations." ETC handles all insurance and costs associated with them because they have the contract with the vendor, Zagster. Bikes are covered under insurance. Evansville Trails Coalition runs the program, but Abby, Will and Courtney are all local advisors for the program, giving them access to see what locations have the most activity, how many times a bike has been checked out, etc. They will be able to make this program what the community needs. Zagster provides data allowing them the flexibility to make any necessary changes as the program is being introduced and continues to grow. 
What the Future Holds
"What we hope is that we have folks that get out and slow down a little bit from behind the windshield, stop in at our local businesses and enjoy our community. Long-term we hope it improves connectivity between our neighborhoods. We would love to see more bike and pedestrian options for traveling through our community, and we are already talking about where good locations are for stations four, five and six," Abby said. Our community is very aware of the fact of new bridges being built in a different location as part of I-69. Once this project is complete, ETC's next dream and hope would be to turn one of the old bridges into a bike network for Evansville and Henderson to utilize, bridging two communities together.   
Lyndi Mauk, editor of Henderson Family Magazine, was born and raised in the Bluegrass State. She is grateful to be going through life alongside her husband and best friend, Brandon, and being a mother to their little girl.
Join our list
Subscribe to our mailing list and get interesting stuff and updates to your email inbox.
Reader Interactions