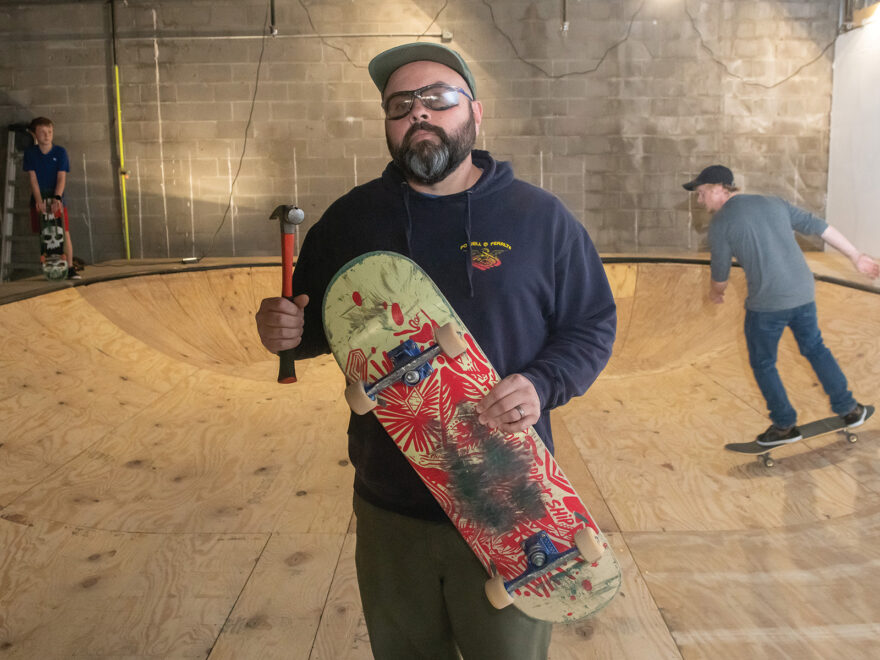 A New Non-Profit Revives Passion for the Sport
Photo by Darrin Phegley
Teens like Xander Pruitt trying out tricks in an indoor skate park alongside nine-year-old Ty Hudnall and seven-year-old Reid Phelps is what this new non-profit is all about. Pruitt started skateboarding two and a half years ago. After watching his dad, Pruitt decided to try the sport for himself.  "It teaches you a lot of life lessons," said Pruitt. "You kind of have to take more risks when you're skateboarding and like don't try to get mad at everything. Just be more chill."
Filling the Gap for Skateboard Enthusiasts 
Taking risks is not only a life lesson Pruitt puts into practice but it's how the non-profit "Gift Skateboarding" started in June of this year.  Executive Director Matt Glick has been skateboarding the majority of his life and decided to open Cure Skate Shop inside The Elm Consignments in May of 2020 in downtown Henderson.  "The primary focus was to expand the local skate community," said Glick. "I know there were a lot of kids in the area that started skating, especially at that point in time, because there was nothing else to do." After talking with customers and families, Cure transitioned to a non-profit to provide safe and accessible spaces and programs centered around skateboarding. 
In order to achieve that mission, Glick needed a new home – "Free indoor skate park which will be open to the public," said Glick. "Free group lessons periodically, typically once a week. We will also offer paid private lessons."
The organization also plans on continuing a tradition that started with Cure that will live up to its name, gifting skateboards to children and families. "We are putting together an application process on that now so that people even on a national level can apply for gear that they need that they can't quite afford," said Glick.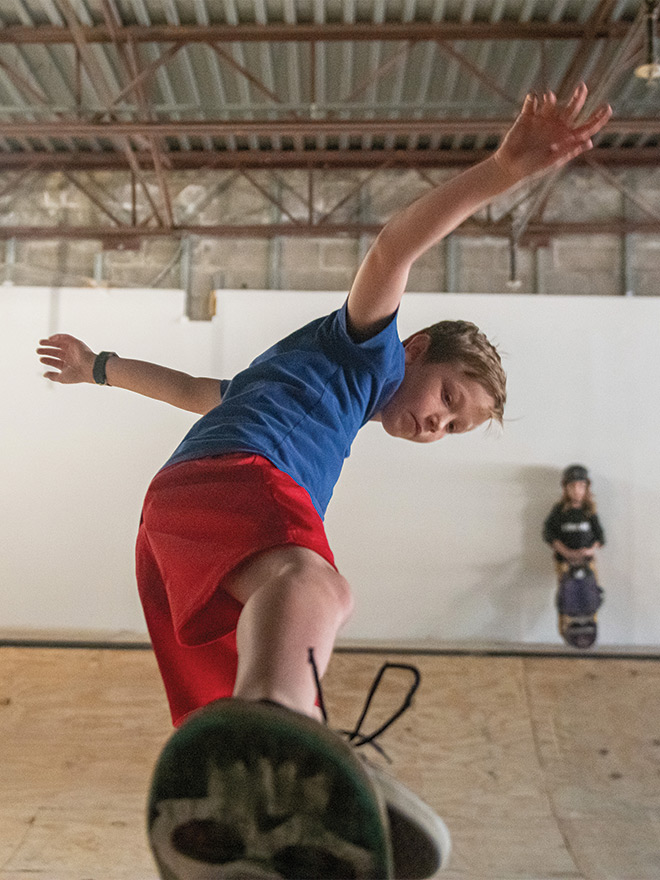 The Indoor Skate Park 
Glick remembers growing up in Henderson in the late 80's skateboarding, relying on his parents to build ramps for him and his friends to use to learn new skills. "This was before we had any public skate parks," said Glick. "And at that point in time you felt like an outlaw skateboarding anywhere other than your backyard."
When Gift Skateboarding entered the design phase of the indoor park, Glick along with a few fellow skateboarders, wanted to create a space for all skill levels to learn. The indoor park includes a street set with two levels of stair sets, as well as, a 40 foot wide bank ramp and a half pipe. 
The goal is not only to teach students but also provide a safe arena to grow as individuals. "It builds determination," said Glick. "You become really self-reliant. There is a sense of community around skateboarding. It teaches you to fail. 90% of skateboarding is falling down. You learn really quickly that failing at something is just a step on the ladder to succeeding with it." 
The Gift of Community 
Even though Gift Skateboarding focuses on the skateboarder, the organization is a family affair.  Parents are a part of each lesson and offer encouragement to not only their child but the others that are using the park. "One person will be trying to land a trick and everyone is trying to offer them advice and ways to tweak certain tricks," said parent Kara Hudnall.  "And whenever that person does finally land that trick you see how everyone in the whole room is excited for them." 
Kara Hudnall has watched her nine-year-old son, Ty, tackle the sport for the past year and a half. "He's learned that if he puts in the practice and has the determination, and he puts in the hard work that he can learn these tricks and achieve these goals. That's something that can go beyond skateboarding and implement in their everyday life." said Hudnall.
After studying YouTube videos, Ty decided to try skateboarding. "I like it when you are really focused on a trick and you finally land it," said Ty Hudnall. "But don't be scared to fall down." A current goal: landing a kickflip. 
For other parents like Jamie Phelps, Gift Skateboarding offers a safe environment to pass his love of the sport to his young son, Reid. Reid started skateboarding in December of 2021. 
"This is a great tool for building confidence," said Phelps. "This place is very important for a lot of kids. It's an outlet for a lot of the kids here. So much encouragement." 
Gift Skateboarding is located at 2480 US 41 N, Suite 170. It will be open noon-8pm Sunday-Thursday and noon to 10pm Friday and Saturday.  
Gretchen Ross is a local journalist who currently lives in Newburgh. She loves theatre, running, volunteering, and shopping things small town. 
Join our list
Subscribe to our mailing list and get interesting stuff and updates to your email inbox.
Reader Interactions