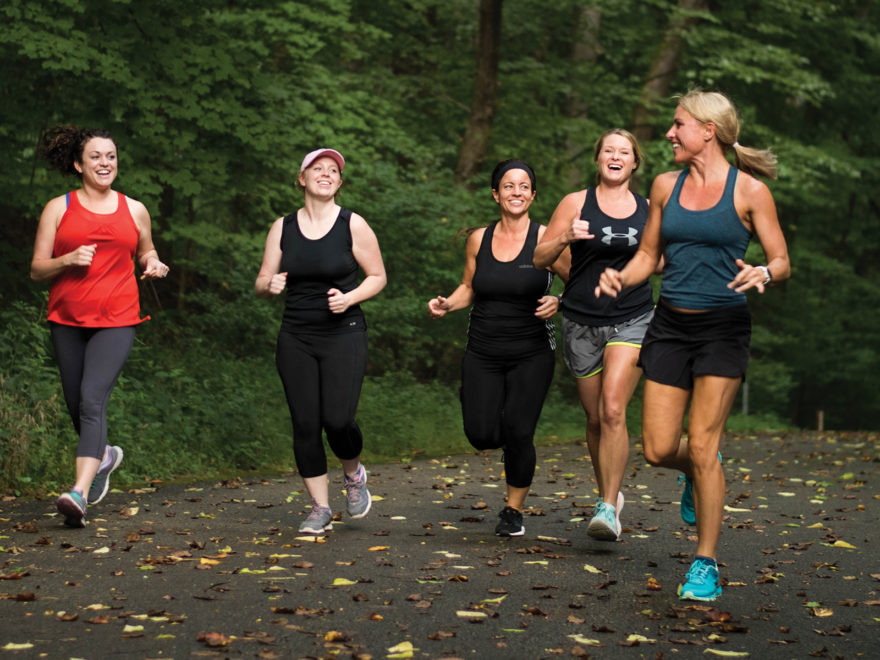 Photo by Chelsie McElfresh
Running has been part of Lindsay Locasto's life for the past 10 years. She has completed half marathons, the Chicago Marathon in 2016 and numerous 5Ks in the local area. She has also been a yoga instructor for the past 11 years. Lindsay, who is the Executive Director of the Downtown Henderson Partnership, has really taken up running in the last year, especially when the pandemic began. For years, Lindsay has been a solo runner, and when COVID hit, she found a group to run with. She said, "I always thought I wanted that time alone, but what I found was running with a group held me accountable and encouraged me to be a better runner." She was introduced to new friendships she would not have found otherwise. Now it's lonely to run by herself, and she is so thankful she found her running group.
 What is Trail Sisters? 
While visiting her mom in Nashville one weekend, Lindsay wanted to find a run she could join during her stay. This is when she came across Trail Sisters. Although she wasn't able to run with the Nashville group that weekend, she researched more about this organization and what it stood for. Lindsay was extremely drawn to their mission, which is focused on bringing a community of women together through running. It's main focus is to increase women's participation and opportunity in trail running through inspiration, education and empowerment. 
After Lindsay's experience finding her own group of women to run with, she knew this would be an amazing philosophy to bring to the tri-state area. All women are welcome, regardless of their experience level. The organization has a no-drop policy, meaning no runner will be left behind. The group runs together. Lindsay stated, "It's about creating a local community to run in a place they feel safe and secure while being in a workout environment where they don't feel insecure. It is something that women of all different athletic abilities and backgrounds can come together and do for fun. It's not to race but to fellowship and be around other women." Lindsay requested an application to begin a chapter here in Henderson and was notified within 10 days of the approval for the Henderson chapter. 
Joining Trail Sisters Henderson
The Trail Sisters group meets once a week to run, and currently meets on Wednesdays from 5:45-6:45pm at John James Audubon State Park. The groups first run took place on August 12 and will continue meeting until the time changes. Joining the group is free. The runs are all beginner level, and it will be specified in the events posted on the Trail Sisters Henderson FB page if an upcoming run will not be beginner level. Runners will be able to maintain social distancing while out on the trails. Individuals may wear a mask, but it is not required since everyone will be outside. The first run had a small but mighty group, and Lindsay's hope is the group will build over time as women learn more about the organization and hears what it brings to our community. 
It was important to Lindsay to find a time that would work for everyone to hopefully come after work. Moms can even bring their kids out to the trails if they want, too. Audubon will continue to be the home base for their runs as of now, but she will look at other locations around the tri-state area as the group grows in numbers. 
The Trail Sister's website has a Henderson community link to find information about upcoming runs and events, but Lindsay will also post information on her personal FB page and the Henderson Tourist Commission's community calendar.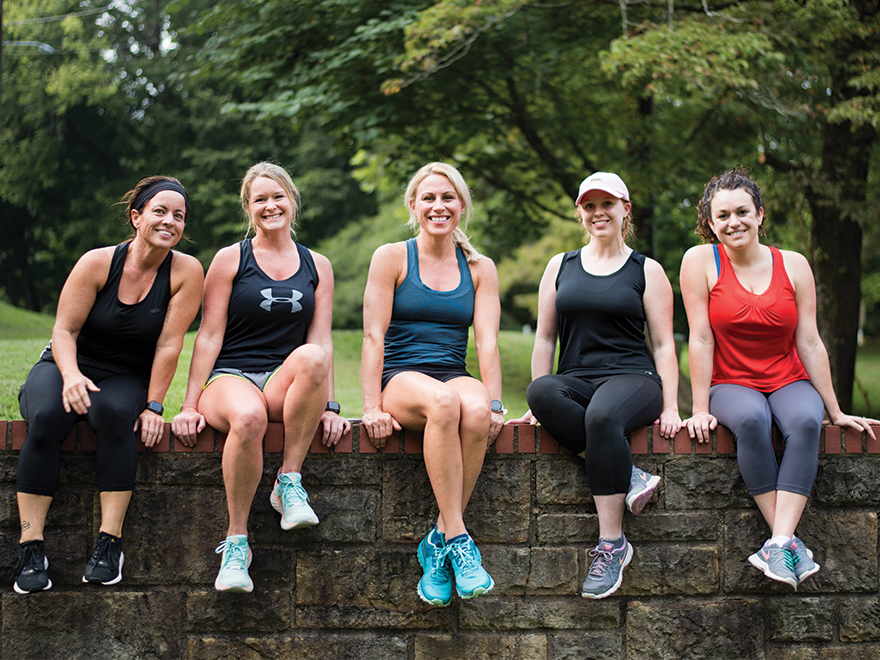 Everything In Between
The Trail Sisters online platform is every runners dream. It allows women to tell their own stories on their online journal to inspire and motivate each other. Discussion groups have been added and are made for new groups, like Henderson, to see what has worked best and what hasn't by offering tips and advice for new groups starting out.  
Trail Sisters has partnered with national brands, such as Under Armor and other outdoor lifestyle brands, to help get word out and sell their merchandise. Their website has a link where members can shop their store for all of their running needs. 
Headed out-of-town? No problem. Members can find a listing of all the local chapters within the country and where group runs are held in those locations. Lindsay said, "When traveling, you know you have a group of women to run with and will probably feel a little safer with the strangers you are surrounding yourself with." 
They offer races and retreats each year for their members to participate in. Lindsay expressed her interest in possibly taking our local group out to participate in some of these, based on how well people respond to the group. "Having a group of women to go and do something like that together makes it that much better," she said. However, all of the races and retreats are located out west because there are many more trails. 
What to Expect
When women arrive at Audubon for the trail run, they can always expect to do stretching before and after their run. Lindsay recommends wearing comfortable running shoes that have good support, light clothing, bug spray, maybe a hat and sunglasses. 
The runner said, "The good thing about the trails, especially in hot summer months, is it's cooler in the shade with tree coverage. It's not as hot as if you were to be running out on the pavement. With trail running, it's also a nice change with scenery and easier on your joints because you aren't continually pounding your feet on the pavement. It's a totally different experience than being out on the road because you are paying attention to things that are around you, such as the tree roots, and more aware of nature."
Lindsay is very excited about bringing this new organization to the women of Henderson. "I hope it will provide other women the feeling I had when I started running with a group. The feeling of new friendship and camaraderie, and a place to go where you feel comfortable and encouraged. When I was by myself, I didn't have that. I want others to feel that great feeling I had. That's what really made me want to do this. The empowerment I had of running with others, especially other women in this case."
Not only will women have a group to run with, but friendships will be formed. The former solo runner stated, "I do think the friendships that you make and form from running together becomes group therapy because you begin to share and reflect on your day. You begin to form a bond." Lindsay is hopeful this group of women will form friendships that go outside of the trails where they can come together and go out for lunch and coffee. 
Lindsay expressed how she doesn't want women choosing not to join the run out of fear, especially if they are beginners. She knows as a woman herself that we tend to have insecurities and can put worry in our minds. She doesn't want anyone to have the mindset that they will hold others from going faster or further. "This group is about forming a community. We are there for fun. Nobody is out there training for a race. It is for a community first and fellowship first and running is an added benefit. We want everyone to come and try it out. I would hate for someone not to come because they fear they will hold others back. That isn't what this group is about," the excited group leader stated. "Everyone is welcome!" 
For Lindsay, Trail Sisters was a good way to link community involvement. It was about getting people within our community involved with a smaller community in a new and different way, and she is excited to see where this adventure takes the Henderson Chapter of Trail Sisters.
Join our list
Subscribe to our mailing list and get interesting stuff and updates to your email inbox.
Reader Interactions