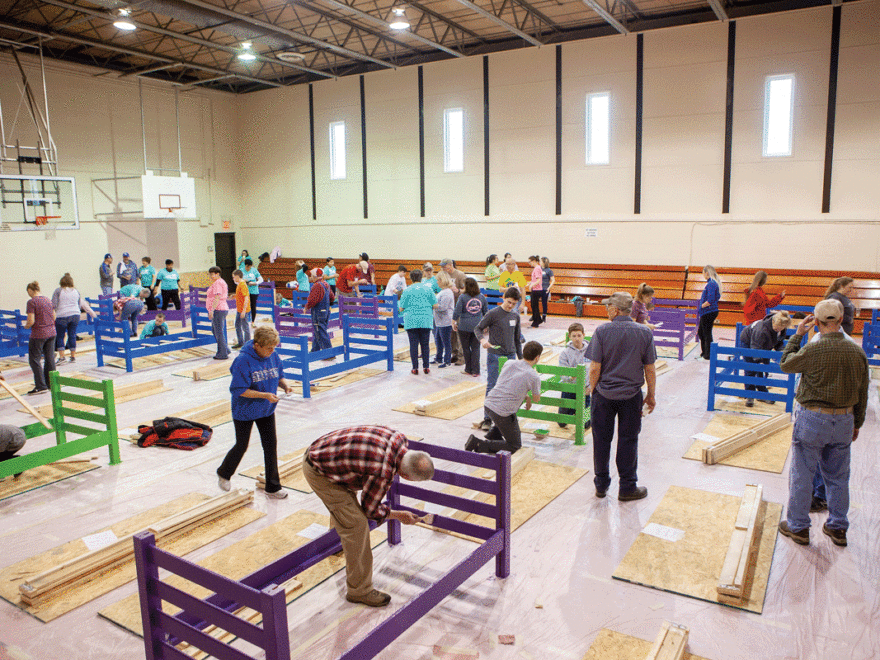 The Build-A-Bed project has provided children in our community a warm and comfortable place to sleep at night.
The first year I was involved with Build-a-Bed, I helped deliver a bed to a home. I met a young lady; we will call her Susie.  Susie was 6 or 7 years old and lived with her grandmother. I carried a bed through a doorway after a volunteer announced our presence.  We wound through a small house, navigating a kitchen table in the center of a tiny kitchen, finally emerging in what was supposed to be a supply room. We placed the small twin bed in the room. Susie was shy when we walked in and clutched her teddy bear. Our volunteer group left for a moment to grab a mattress, basket of sheets, a pillow, and a sweet dreams basket. We placed the mattress and showed Susie her new teddy bear. She dropped her old teddy and gave me a hug around my knee, it was as far as she could reach. She smiled. I smiled. Our group still had four more deliveries that day.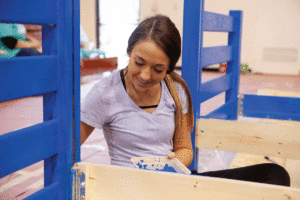 Every night in Henderson there's a child that may fall asleep on a sofa, share a bed with a sibling, or may not know where they will sleep at all.  For the fourth year in a row, a growing group of volunteers have helped alleviate this problem.  To date, Build-a-Bed has provided 160 children in Henderson with beds and there are requests for more.
Build-a-Bed promotes healthy bedtime rituals and improves the quality of sleep for school age children to create more opportunities for a lifetime of success.
History
The Build-a-Bed project began in 2009 when two Kentucky AmeriCorps Programs, Success Corps and FRYSC Corps, built 57 beds for children in their service region in Eastern Kentucky. By 2010, the founding groups and Morehead State University spearheaded a massive statewide build where 557 beds were built and distributed to P-12 students across Kentucky.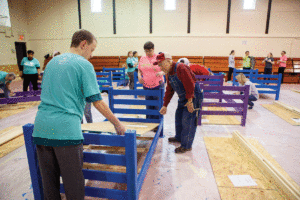 In 2015, Megan Mortis (an AmeriCorps alumni member and at the time Executive Director at the Volunteer and Information Center) learned about this program at a Kentucky Serve State Commission meeting. She told her mom, Virginia, about the program.  Virginia worked at the Thelma B. Johnson Early Learning Center. She had been on numerous home visits and recognized a need for this program in Henderson. Together, they planned to help alleviate sleep insecurity by building beds for those in need.  With the support of Volunteer and Information Center's board of directors, they partnered with the community to start Henderson's first Build-a-Bed Day. The first in Western Kentucky.
Community Support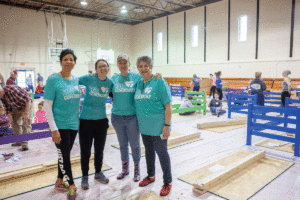 Habitat for Humanity was the first community partner identified for this project, and they were thrilled to be a part of this program. Fred Lauver from the Habitat Thursday Crew, and Britney Smith, Habitat for Humanity Executive Director, have been instrumental in organizing the project, preparing the materials, and guiding the volunteers through the build. Habitat for Humanity is essential to the success of the program.
Over the past few years, volunteer groups and organizations have joined in on the Build-a-Bed efforts including the Housing Authority of Henderson, Audubon Kids Zone, University of Kentucky Extension office, Audubon Metals, Henderson Community College, the Thelma B. Johnson Early Learning Center, The Preston Foundation, Henderson Leadership Initiative, Early Childhood Council, The Leo Club, Henderson County Football and Baseball teams, the Henderson Fire Department, and that just names a few.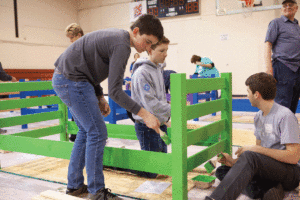 There has also been an increase in the number of volunteers for this project. This is a unique volunteer opportunity because children are invited to volunteer alongside their parents. There has also been an increase in volunteers who have once received a bed through this program for their child and now want to pay it forward.
The Gifts of Build-A-Bed
Build-a-Bed provides a child with a bed, mattress, and a sweet dreams basket with sheets, comforter, blanket, stuffed animal, toiletries, nightlight, and book.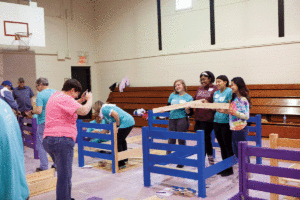 On February 23, over 100 volunteers spent the day helping meet this basic essential need for a child in Henderson. The Volunteer and Information Center plans to continue this outreach program with growth opportunities in the future. If you would like to donate or volunteer for the event next year, you can contact the Volunteer and Information Center at 270-831-2273.
Thanks to a group of dedicated individuals, Susie still sleeps in a bed.
In the future, when the bed is moved or the mattress flipped, Susie will find written messages on the boards that support her mattress.  "You are loved."  "You can succeed."  "Dreaming is believing." And many others signed by the many hands that volunteered to help build that bed.
Since Virginia's passing, in honor of her, Megan and I always sign a bed, "Sweet dreams from Gigi's Kids." Because every child deserves a good night's sleep.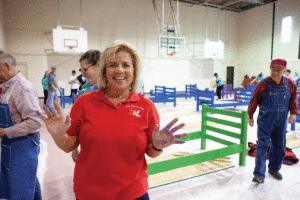 A.J. Casey owns his own video production business, AJKC, and aspires to be a filmmaker. He co-hosts Jam in Henderson on WSON. He is married to his lovely and talented wife, Megan Mortis.
Join our list
Subscribe to our mailing list and get interesting stuff and updates to your email inbox.
Reader Interactions