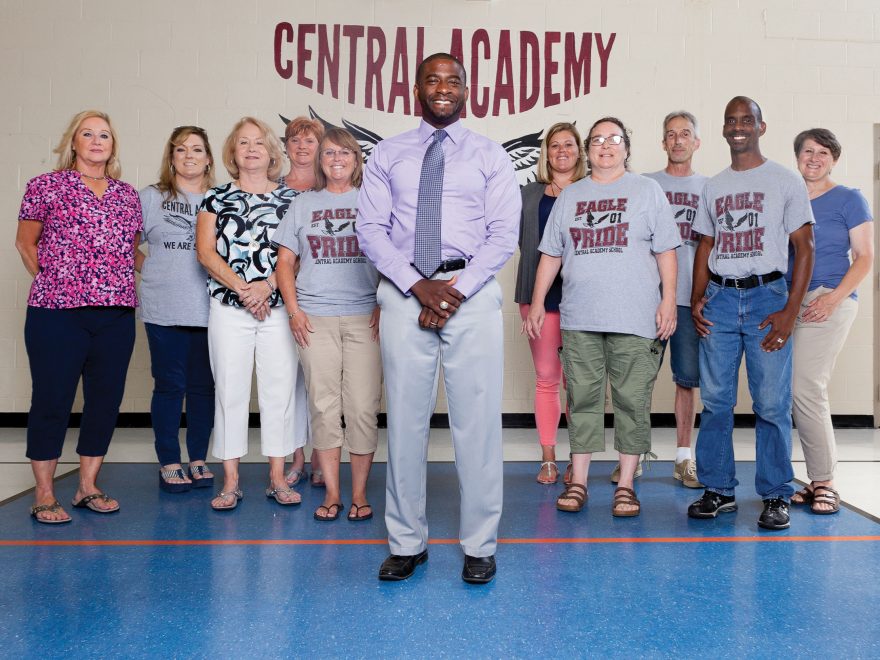 Anthony Black is principal of Central Academy School (CAS).  He served as a beloved teacher at Jefferson Elementary for fifteen years, before taking on the role of chief administrator of Central.  Anthony says that "being principal of middle and high school kids hasn't changed my view much; the kids are just the little ones I had at Jefferson grown up."
Mr. Black credits his love of teaching and education back to a moment he experienced as a student and intern at Murray State University. During his freshman year, he tried his hand at law, computer programming, and finally, as an intern at a local elementary school, where he had an epiphany.  "I went there my sophomore year, and those kids changed my life, I knew at that moment that this is what I wanted to do.  I wanted to make an impact on young kids' lives," Anthony recalls.  "The same way my fifth-grade teacher, Mrs. Fraily, made an impact on me; she would tell me that I can be anything I wanted in life."
Throughout the halls of Central Academy, Mr. Black can be seen high-fiving his students for an accomplishment achieved or extending the compassionate yet disciplined attention of a father as well.  A compassionate, disciplined approach is one that has served Mr. Black and his staff well.  During a recent fundraiser for the upcoming year's need for uniforms, Mr. Black and his staff devoted their time, goods, and energy to make a seamless financial transition for the parents of their students.   Leading by example is one motto CAS takes to heart.  "If I tell you to go and do, I'll be right there with you.   That's the difference between a boss and a leader, I believe," says Anthony.  "The staff, more than anyone, has helped me become a better principal. They have shown me there's something deeper with our kids than just what's on the surface."  He truly views his staff as a team, and subsequently building camaraderie is important to the success of CAS.
Mr. Black acknowledges the challenges and difficulties ascribed to him and the Central staff.  However, he points to the positive impact of parental support and accountability measures that aid the growth of his students.  "School Superintendent, (Marganna) Stanley, has brought every principal in the school district on one page. It's no longer one school against another; it's how can we make these kids – Henderson County's kids – better."
Mr. Black devotes much of his time and effort in building up the morale of a generation that many have given up on. "As cliché as it may sound, people don't care how much you know until they know how much you care. A student can smell a fake a mile away, especially our kids. They've been through so much and disappointed so often in life; they can tell if you are not genuine."
Staying involved with the kids to make that impact he discusses so often helps Mr. Black and his team positively transform the culture of CAS, and that is why building the next generation of leaders is his nature.
Join our list
Subscribe to our mailing list and get interesting stuff and updates to your email inbox.