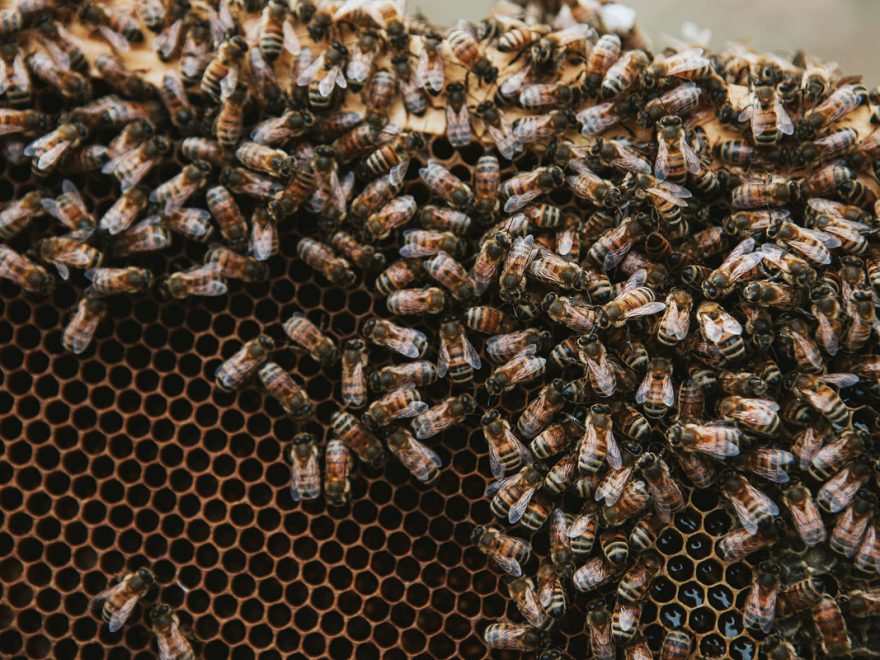 Go to the bee, and learn how diligent she is, and what a noble work she produces, whose labors kings and private men use for their use, she is desired and honored by all, and though weak in strength she values wisdom and prevails. 
— Proverbs 6:8 [Septuagint]
For more than a decade, bees have been dying at record numbers. Industrialized farming is destroying their habitat, and diseases, pests, predators, and parasites are becoming more difficult to control. Parasitic mites are considered the most serious threat to honey bees and extensive research is currently being conducted to find a solution. The varroa destructor is visible to the naked eye and can be found on the adult bees and in the brood cells. Strong colonies can usually withstand the damage, but it can easily result in complete destruction of a weaker colony. The tracheal mite, on the other hand, is not visible. It is a microscopic internal parasite that reproduces and lives within the breathing tubes of adult honey bees. The tracheal mite causes flight muscles to atrophy leaving a bee unable to fly or accurately control their body temperature.
Importance of Bees
Bees are truly amazing, complex and sophisticated living things. They are responsible for pollinating almost 75% of the world's food crops and producing one of the highest demanding commodities on the planet ­— honey.
Honey consumption continues to rise as more food manufacturers are using it as a natural sweetener in their products. Shop wisely though, because many jars of honey are only a fraction of what they should be. Honey can be diluted from its pure state with other syrup fillers resulting in a much cheaper product. That's why it is important to buy and eat local honey from trustworthy beekeepers to ensure quality.
Betsy and Paul Stone began their beekeeping adventure in 2001, when they realized bees would be needed to help pollinate the 35 fruit trees they'd planted. Betsy explains, "All spring and summer the bees gather the nectar from thousands of plants, pollinating as they go. Spring is a busy time for bees; the queen starts laying as soon as the maples start blooming. When the willow trees start sprouting green, the bees start collecting nectar and gathering pollen."
"They're working something all the time. You can cut poplar wood in the spring and they will be all over it collecting moisture from it. The best tasting honey comes from the wood in the creek beds, the yellow tulip popular, and blackberries." Paul adds.
Being a Beekeeper
Beekeeping is the practice of managing honey bee colonies to attain desired objectives, and the practice has continued for thousands of years. Beekeepers strive to raise healthy colonies for an increased population of honey bees and honey yields. Pollination and the production of other products the hive provides is important to many, and there is great enjoyment in caring for such a unique and interesting insect.
Paul was fascinated with bees all his life, and when he got close to retirement he decided to get a couple hives. Before that first summer was over, he'd added on four more hives. They had agreed not to go over 10 hives, but by the second year they had 12. Then, three years later they had 190.
In 2002, Paul and Betsy established Stone Hill Honey and took beekeeping to a new level. They started having monthly meetings at their house and giving presentations at Audubon Park. They loved sharing their experiences and teaching others about beekeeping. Paul gave presentations on everything from the beginner beekeeper to queen rearing, and Betsy gave presentations on the history and biological aspects of the bee. They even achieved state beekeeper of the year in 2008 and 2012.
Betsy says, "Beekeeping gets in your blood and it's addictive. Once you get it in your system you can't get rid of it, and you naturally want to share your experiences with others."
Larry Stone, Paul's brother got into beekeeping about 12 years ago. He started out with two hives then went to 10. After he retired he added on 20 more. He claims to be a hobbyist and doesn't plan on getting any larger than he already is. "It takes time to work hives. Two to four is pretty easy to work, but once you get past 10 it gets a lot more involved. You really have to watch them and make adjustments to the hives when necessary for the health of them all," Larry explains.
Any beekeeper will say beekeeping is a lot of self-education. Books on the subject contain good guidelines but actually doing it is the best educator. There is something new to be learned each time a hive is opened. Larry adds, "It is unreal just how much there is to beekeeping, and one of the most important aspects is connecting and really understanding the personality, genetics, and make up of each bee colony."
Bee School
Betsy and Paul are the original founders of the Audubon Beekeepers Association (ABA), and they held the first bee school at their honey house. Betsy recalls, "Everyone told us we wouldn't get an interest in it. We thought we'd have about 20-25 people. Well, we ended up with 77 people. Every year the attendance grows, and it's now held at the county extension office."
The ABA school is always held on the first Saturday in March. Rita, Larry's wife, explains, "The school has something for everyone, regardless of your age. We have kids that come and many who are not interested in beekeeping come for beyond the hive classes Betsy added many years ago. They include candle making, education on bee friendly plants and trees, cooking with honey, and essential oils."
Larry says more people are interested in the environment now, and it's important for them to also be educated about the dangers bees face and how beneficial they are to us. "The school is so great, because it includes classes from the beginner to the advanced beekeeper. Kent Williams will be teaching the advanced classes on diseases and parasites, and I believe no one around is any smarter than him. He's worked for two major queen rearing companies and he's one of two licensed master beekeepers in the state. Kent is also having a bee school April 5-7 and it will be a hands on field trip. I highly recommend going to it if you are interested in beekeeping." Larry adds.
In 2012, some health issues arose, and Paul passed the honeycomb to Larry. Larry is now the president of the ABA, and he can be reached at 270-339-7245 or email [email protected]. Those interested in the association or the school are encouraged to visit the Audubon Beekeeper Association website and Facebook page.
Paul and Betsy are still busy as bees, even though they are no longer involved with the association or the school. They continue to work 75 hives and raise 16 acres of produce. Honey, soap, and produce will be sold from 8 a.m. to 3 p.m., Monday through Saturday starting in May at their honey house located at 6005 Hatchett Mill Road in Spottsville. Their honey and produce can also be found in Sureway and D&M grocery stores.
Join our list
Subscribe to our mailing list and get interesting stuff and updates to your email inbox.