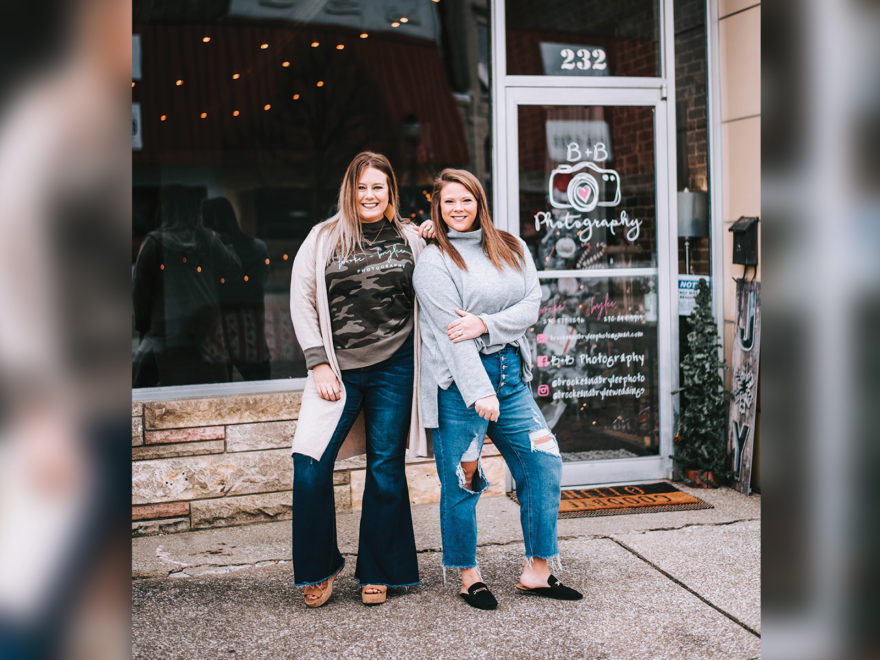 Photos by Chelsie McElfresh
Chasing your dreams can be scary. It takes strength and determination, and for Brooke Hallmark and Brylee Cannon, turning their passion for photography into a full-time business came with much more stress than they could have ever imagined due to the pandemic. Their decision to take a leap of faith was made exactly two weeks before we were put on lockdown in March, and it has taken them on the ride of their life ever since.
The Women Behind the Camera
Brooke was born and raised in Henderson County, and she bought her first digital camera when she was a senior in high school. She would drive around with her friends and have them model for photos just for fun. Right out of high school, she started taking photos as a hobby. Although she had grown to love the camera and built such a strong passion for it, she didn't see herself making a future as a photographer. Between going to school to earn her degree in Early Childhood Education and working, she wasn't able to dedicate the time to taking photos as she would like, so she pushed her passion to the side. She was blessed to work at Busy Bees and then left the education field to work with Farm Bureau for five years before picking her camera back up in 2017 and hasn't put it down since. 
Brylee was born and raised in Henderson County. She is married to Brandon, and they have two kids, Bronsen and Brynlie. Brylee was introduced to photography through Brooke. Brylee had worked in the banking industry since she was 21, and her passion for photography came about when Brooke asked if she would be interested in assisting her with photoshoots back in 2018. Brooke would take photos of Brylee's little girl, such as holiday minis, in exchange for helping Brooke with her sessions, such as holding her reflector, helping with poses, etc. Brooke taught Brylee everything she needed to know about the photography business, and she not only came to love it, but she had a natural talent being behind the camera. She had found her true calling, too. 
The Start of B+B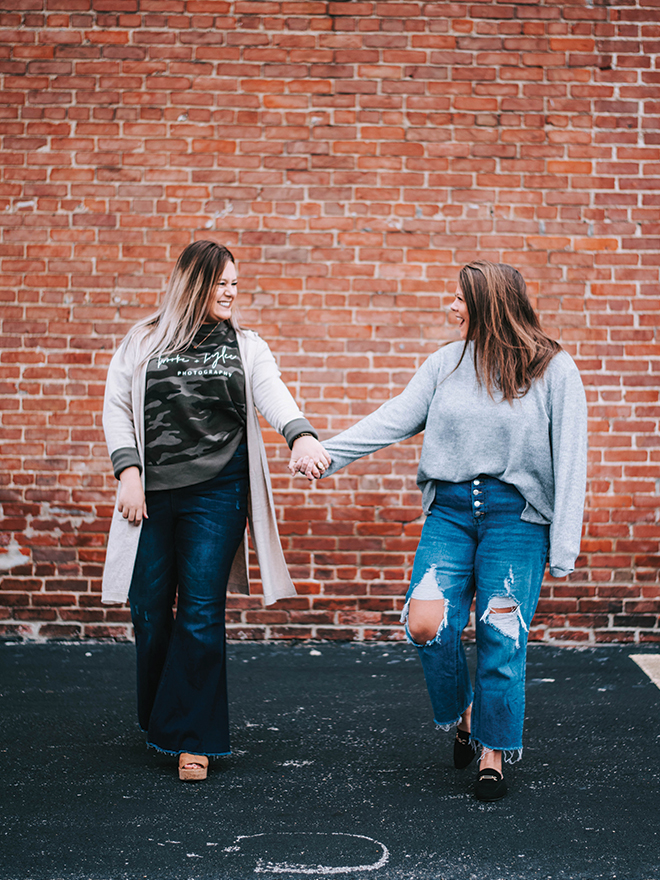 Brooke and Brylee met eight years ago through Brylee's husband, Brandon. He was in the same friend group as Brooke. They instantly formed a friendship and became best friends. They are very similar, yet very different. 
After Brylee started assisting Brooke with photoshoots in 2018, her grandmother passed away. Brylee was given money. She used this money to purchase her own camera, computer and other equipment she needed to come alongside Brooke, and they officially became B+B Photography in 2018. 
Brooke and Brylee split sessions, but they take on engagements and weddings together. It was hard for both of them in the beginning with their work schedules. Although they had officially started their own business, it was something they did alongside their regular 8-5 full-time jobs. 
Time for a Change 
Brooke had recently went through a tough year in her personal life and said she was going to focus on herself. She said, "I wasn't my happy, bubbly self. I said in 2020 I was going to work on myself. I was going to sink or swim, and I took the risk." In March 2020, Brooke stepped away from her full-time job with Farm Bureau to focus on B+B Photography full-time. Brylee chuckled and said, "And we are swimming." 
It takes strength and courage to start a business, making that business your only income. Brooke had no idea a pandemic was about to rock our world. She left her full-time job, had one full week of focusing on the photography business, went to Disney on vacation for a week and came back to the state being on lockdown. In October, Brylee made the decision to leave her full-time job, too. Brylee would edit on breaks at work, but their photography business had become very busy. Brooke needed her help, and if she wasn't at work, they could be getting so much accomplished with their business. It just so happened Brylee hit the second wave of lockdowns, but despite the challenges they have faced the last nine months, they feel very blessed. 
Growing a Business During a Pandemic
At the beginning of the pandemic, they had to cancel a lot of minis. "That was a huge loss for us," Brylee stated. From Easter minis being cancelled, to weddings, to their fresh-48 birth packages, Brooke and Brylee's business truly saw loss after loss with income. Clients are still having to cancel or push back shoots due to them or someone they know becoming sick with the virus or being exposed and having to quarantine. However, even though this year they have faced many challenges as entrepreneurs, they have still managed to grow B+B. "I still feel like we have been doing well," Brooke said. "People are still getting married, having babies and doing all these things. Their lives are still going on. We protect ourselves and our clients and follow all protocols by sanitizing between sessions." 
Brooke and Brylee had been using a studio space in downtown Henderson. It was an old, abandoned loft above a building downtown. It was beautiful with the  floor to ceiling windows, but it came with its challenges. There was no heating or air, running water or a bathroom for them or their clients to use. It also had stairs, which was difficult with many of their clients having children. Their next goal was to get a new studio space. Brooke was walking downtown one afternoon and happened to see a rental sign. It was a space Nibby Priest and Greg Gibson and had up for rent. Brooke reached out to Nibby. He gave them a monthly rent price and the rest is history. Brooke and Brylee had their official grand opening of B+B Photography's new studio in November. "We are thriving with the studio and blessed that we found that spot."
They were able to put new flooring in the studio, with new lighting, too. Brooke said her boyfriend, Tanner Martin, doesn't get enough credit. He did all the work in their new studio for them. "He is the handyman for B+B and doesn't hesitate to do anything and is such a good supporter," the grateful photographer said. Brooke has also started making bracelets to sell at their studio. She has a setup in their storefront with bracelets and headbands. Tanner's daughter, Hadley, likes to make things, so she is helping to make the jewelry. Brooke is teaching her how to save money to buy more merchandise. "I would love to have a store with boutique items," Brooke said. They also have B+B merchandise their clients can purchase as well. 
Dreaming Ahead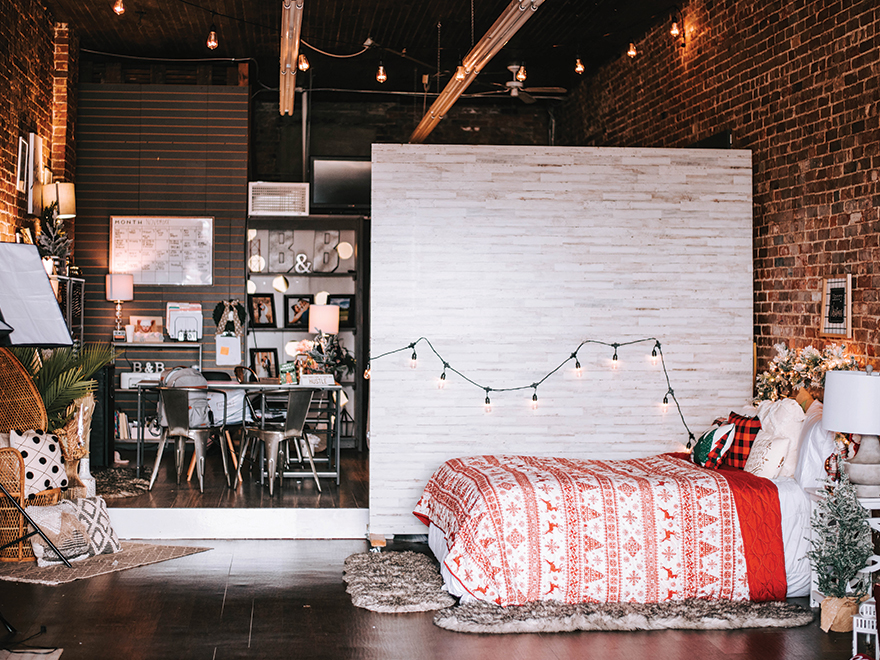 The two photographers laughed and joked saying Brooke is the dreamer and Brylee just goes with it. But in all reality, the two have such big plans and dreams for the future of their business. "We still aren't where we want to be," stated Brylee. Brooke's dream has always been to be a wedding photographer. "I really want to get more into the wedding field and wedding planning, but with COVID, it isn't the easiest." They both want to continue to grow in their work. "It isn't anywhere where I want it to be. I want us to better our education and our work," explained the longtime photographer. 
B+B has so many ideas they want to pursue, but they are doing the best they can right now with the pandemic. Photography is truly their passion. They have met so many amazing clients throughout their journey and many of those clients have become friends. Brooke smiled as she said, "I am all about the memories. I am a big time memory lover." Sometimes photoshoots with kids don't always go as planned, and that's okay. "You are going to look back and want to remember how they really were," Brooke said. Brylee recalled a recent photoshoot with a little boy who wanted his Woody toy in all the family pictures. They absolutely love capturing those moments. 
"I say it all the time, I am so thankful for Brylee. She has helped me so much," the ambitious photographer said holding back tears. "This year has been one of the worst years for people, but I would honestly say its been one of my best. I have accomplished so much with my dreams. I am much happier, and I am living my dream. I could cry thinking about it," said Brooke. Brylee added, "People say you shouldn't go in business together, but it has been great." 
Brooke and Brylee are blessed to be where they are, despite the challenging year they have faced. Although they had many cancellations throughout this year, they have been able to offer more shoots than ever as more and more have learned of their work and business. They know if they can do it anyone can. They want to encourage those within our community who might be on the fence about starting their own business during such a difficult time to take that leap. "Run with it." Do whatever your little heart desires," Brylee said. These two photographers did, and they haven't looked back since. 
Their new studio address is 233 N. Main Street in downtown Henderson. Interested in scheduling a session? Follow and message them on Facebook, or give them a call at 270-844-3913.
Join our list
Subscribe to our mailing list and get interesting stuff and updates to your email inbox.
Reader Interactions