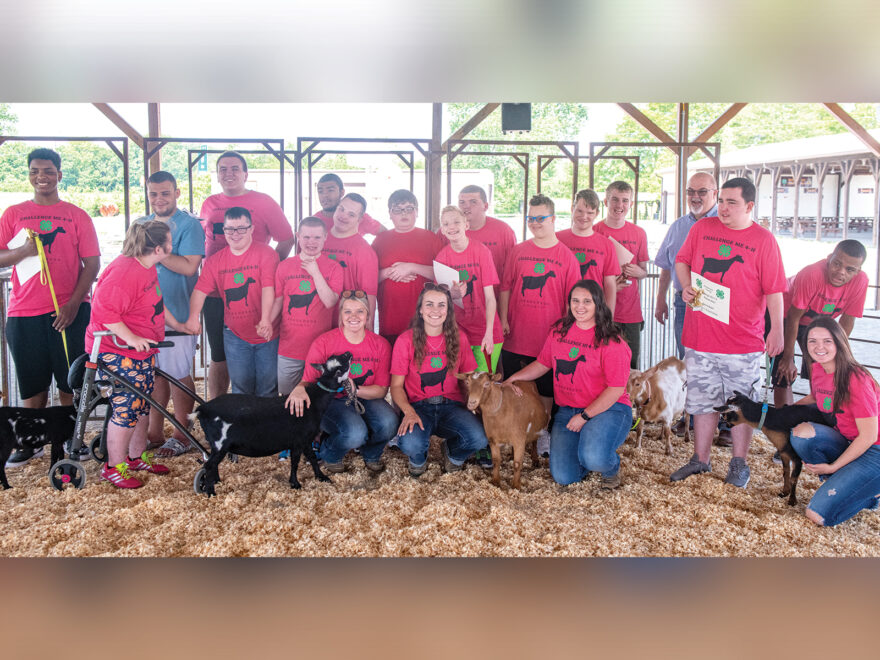 Photos by Darrin Phegley
Ella Fourqurean began her career with the University of Kentucky's 4-H program in January 2020. "It's been a learning curve," stated Ella, remembering back to how everything soon changed once covid hit a couple months later. Ella grew up on a farm in Gracey, KY where her family raised livestock, predominantly cattle. She showed pigs growing up while her brother showed goats. After graduating in 2013 from Trigg County High School, Ella continued her education at Murray State University where she earned her Bachelors in Animal Science and her Masters in Agriculture. During her time at MSU, she was the head Student Herdsman at the swine farm at Murray State. They raised show pigs for kids across the country by going to sales in states such as Oklahoma, Indiana and Texas and would also host online sales for states as far as Colorado and as far south as Mississippi and Georgia. 
During Ella's last semester of graduate school, her and her classmates were asked to provide pigs for a program called "Challenge Me 4-H." "This is one of my all-time favorite programs in which I've been a part since I started teaching in 1993!" exclaimed Dr. Kimberly Bellah, Associate Professor of Agricultural Education at Murray State University.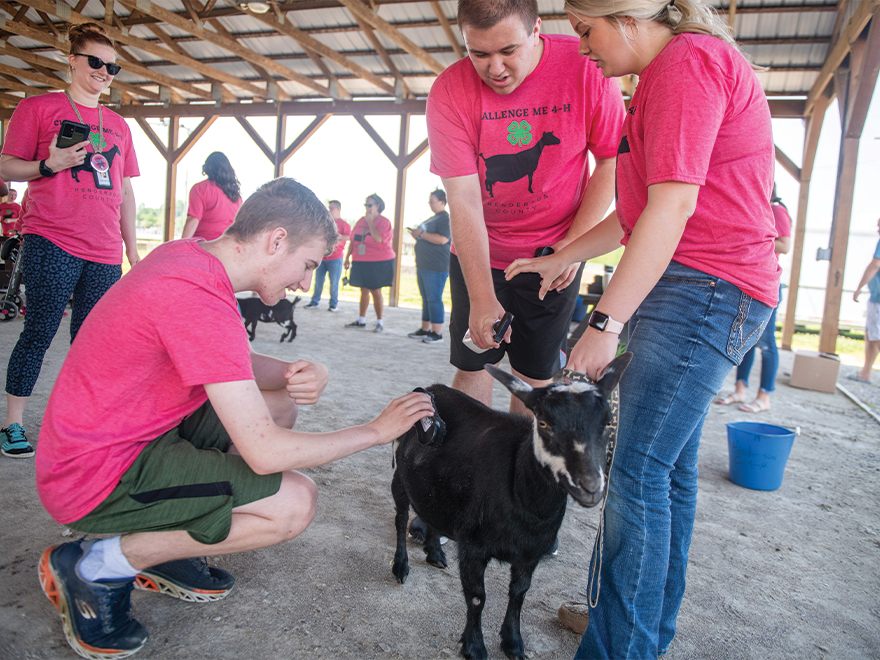 The program itself was started by Jonathan Sink, who was a 4-H member at the time, and he wanted to form a program where special education students could thrive in an environment with livestock. Through different grants they received, they were able to host the first ever "Challenge Me 4-H" program in Spring 2019 and Ella had a front row seat. 
Dr. Bellah explained, "With the total program of agricultural education including classroom and laboratory experiences, leadership development through the FFA, and experiential learning through Supervised Agricultural Experiences, we know that agricultural education serves all students in a variety of ways. Our classes are filled with learners who are all gifted and talented in some way or another, but not always in the ways that traditional academics measure giftedness. However, agricultural teachers work diligently to provide an inclusive space for all students in their classes. When it comes to the Supervised Agricultural Experience and FFA aspects, though, we do not see as much participation from students with moderate to severe learning differences. Most often that is because those agricultural teachers lack the confidence and efficacy in themselves to provide experiences for these students. In short, they may be afraid that they will place their learners who are differently abled into unsafe situations – physically and emotionally. So, the agricultural teachers may believe they are 'helping' the students by allowing them a pass from these expectations of the program."
The Program Layout
"Challenge Me 4-H" is a 3-week program in which high school special education students work alongside college "buddies" to show livestock. They meet one day a week for two hours. The first week they are introduced to their buddies—Murray State Agricultural students. The students get to know the college students, play games and get introduced to the livestock. The second week is all hands-on, where the special education students have the opportunity to wash the livestock. The third week is the livestock show where the students show their livestock and are judged just as any livestock show would be. 
When Ella was part of this program in its first year, the special education students came from Trigg County High School to the Expo Center at Murray. The grad students were then teamed up with students from the high school, ranging from Freshman to Seniors. Pigs were used for the program, and Ella was able to be a judge for the show. "I tell everybody all the time I really didn't feel like I was in the moment at that time." As much as she enjoyed participating with her classmates, she felt as though she was in such a time of busyness with school projects and thinking about her future when she graduated in a few short months that she didn't take it all in. Ella recalls a student who hid under the table and wouldn't come out during the first week back in 2019. With the biggest grin, Ella said, "By the last week, he was laying beside the pigs!" 
"We began the Challenge Me program in 2019 for two reasons: one, to provide opportunities for students with differing learning abilities to interact with and learn how to care for livestock in a (mock) competitive situation; and, two, to assist my Murray State University agricultural education preservice teachers in building their own confidence that these students can participate. They can engage. They are capable and able. We may need to make modifications and we may need to spend more time supervising, but that is one of the key words of that component of the agricultural education model: Supervised Agricultural Experiences. When my students see what these students can and will do, it provides them a level of confidence in themselves and for their future students—all students—that propels them into their careers as future agricultural educators. This program is as much for the future of agricultural teachers as it is for the present of the students with differing learning abilities," expressed the enthusiastic professor. 
Bringing a New Program to Henderson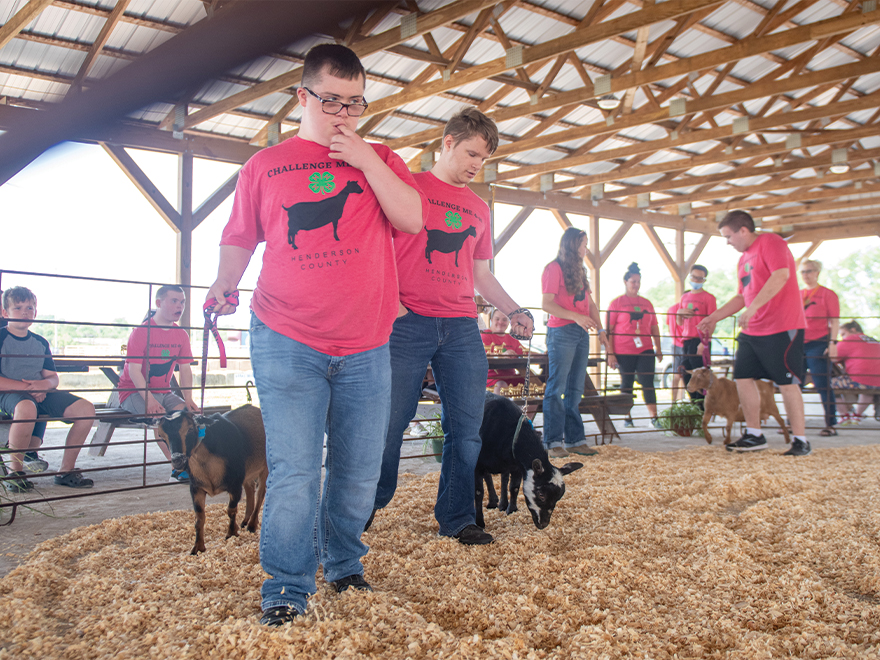 When Ella started as an agent in January 2020, she was told she would want to have a program that is hers. Livestock is the area she works with, and she already worked with the high school's special education students during the months of September-May. Every month the students will come over and do an activity. Within 4-H, there are seven core areas and within those areas the youth development agents try to provide different programs relating to science, technology, etc. 
"I was trying to brainstorm what I should do to bring a unique program here, and it honestly didn't hit me until we were sitting here in a meeting with the livestock committee that is part of the fair board," Ella explained. "They have a group of special needs kids coming out to the livestock show at the fair, and it hit me like the broad side of a building." Ella thought, "We could do a show!" That night she started putting pieces together and contacting people and everything fell into place.
Unfortunately, they did not have pigs to show but Ella approached Heather Fehd and her daughter, Montana, and asked if she could use their dairy goats. JT Payne was generous enough to let them use part of his greenhouse at the high school. Murray students came to the high school for the first two meetings on Friday, April 29 and Friday, May 6. The students met their MSU buddies for the first time and were introduced to the goats during the first meeting. During the second meeting, the students used dry shampoo to have hands-on experience to get to know the goats. They also made goats out of a larger version of tinker toys and were able to mimic walking the goats around to perform a mock show. Their official show was held on Friday, May 13. 
They were able to provide the students with t-shirts, trophies, back numbers and brushes. There was a show ring and they put plants down to make everything pretty around the show area. The students helped get the goats ready, and they wanted to help take everything down. They packed gates, shoveled, etc. Each student was able to go home with a framed picture of themselves with a goat. There were about 20 special education students who participated and around five Murray State students. After the show, the "Build-A-Sandwich" food truck supplied food and lunch for the students to have a picnic. A percent of all their sales goes to autism groups.
There was only one judge, Terry Burkes—a nationally known judge. He has judged at all the big Texas shows and across the country, and he used to work with the Kentucky Department of Agriculture. Ella said Terry's smile was so big watching these students show their goats. 
McCallister ("Mac") Killian, who participated in both the 2019 and the 2022 programs, said, "The Challenge Me Program has made such an immeasurable impact on my life! In 2019, I had the pleasure of seeing the students have their ah ha moment! This year I felt the same way when the students were showing their goats. I also was truly amazed with the students' ability to work with the livestock. Prior to this experience, I honestly wouldn't think the amount of independent care of livestock could be given from a person with special needs. These students were so excited and loving of all the livestock; it was truly an amazing experience that I hope I can continue to be a part of in my future career!"
The Future of Challenge Me 4-H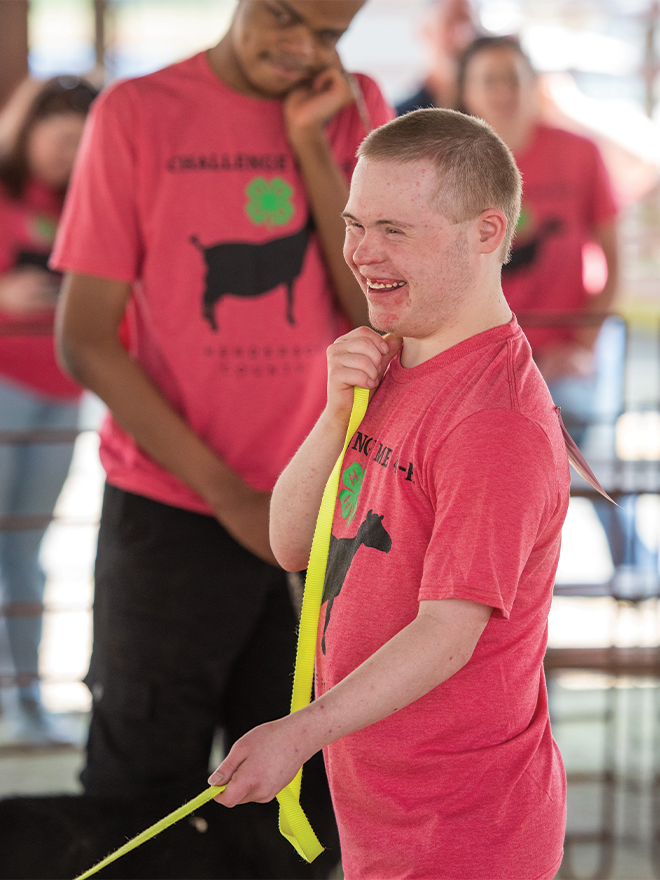 Murray State will remain as the partner for the "Challenge Me 4-H" program here in Henderson County. Next year, they have it worked out to where it will be an assignment within Dr. Bellah's agricultural class at Murray State. Murray State students need a certain amount of hours outside of the classroom, so it's an opportunity for Murray's students to get that part of their curriculum while assisting our students here at Henderson County High School. 
The show was open to the public, but next year Ella would like to make the event bigger with more community involvement. She would love to see sponsors for t-shirts and other materials. Ella would also like to find pigs to add to their show alongside the goats. 
This program will take place the same time each year—end of April into beginning of May. Although it is unique in Henderson as of now, Ella would like to see it in other offices throughout Kentucky. Since she was at Murray State when the program began, that is really how it was able to come to life here in Henderson County. 
Ella was so happy with how smoothly this first year went. There were no hiccups. Everyone had a smile on their face. Ella explained, "We had one student, Christopher. His dad came, and he was so excited. He wanted to introduce his dad to everyone. The spotlight was on them, and it was their show!" It was touching for all to see. 
"What I enjoyed most was seeing their faces—seeing the looks on their faces when they went out into the show ring for the first time. You could see they were so excited to go out there. One student looked at the judge and said he would be first that day. They were just so confident," exclaimed the 4-H agent. 
When Ella was in college, she was also on the Team Purebred Junior Board for two years from 2016-2018 where she served as the national President from 2017-2018. Kids across the country apply to be on these boards. You interview and give a speech. Ella had a friend who was on the board, and she helped work a weekend with her in Mississippi. Her friend encouraged her to apply. Within those two years, she traveled to shows all around the country. "I knew when I did that, I wanted to be within youth development of some type. I just didn't know what that looked like," Ella said.  
When Ella came off the board, she was in graduate school and her last two semesters were headed her way. The job opening for her current position popped up after she graduated. She applied, and the rest is history.  "It has been a blessing. I am so glad that I am here and able to bring a program like this to Henderson!"  
Join our list
Subscribe to our mailing list and get interesting stuff and updates to your email inbox.
Reader Interactions