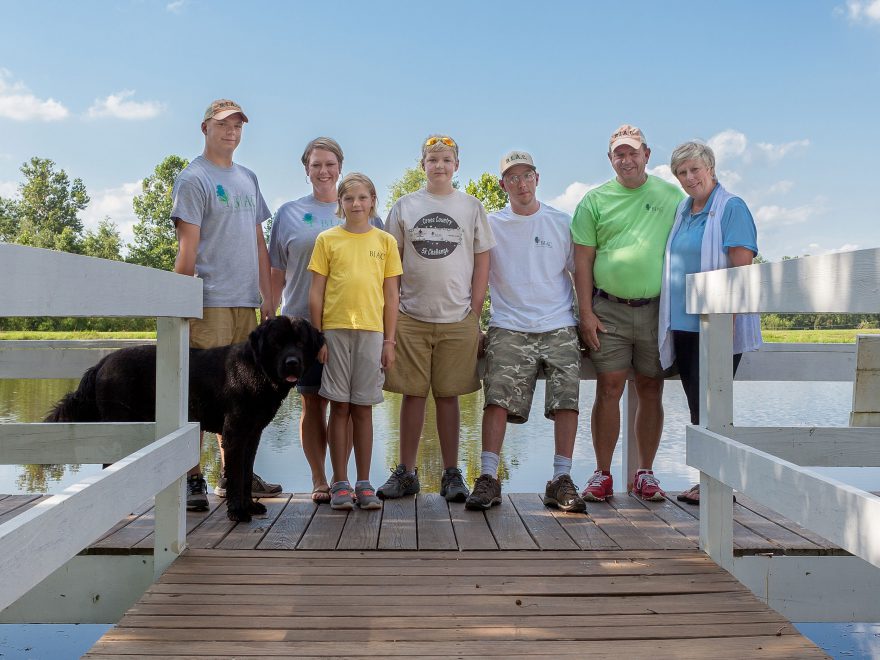 When Tim Johns saw his son T.K. for the first time after his snowboarding accident, he said that's when the "traumatic shock set in." An aspiring professional snowboarder and skateboarder, T.K. flew to Breckenridge, Colorado, to pursue his dream when he suffered a brain injury in 2003.
Johns and his wife, Cindi, alternated shifts in Colorado while T.K. remained in a coma. A month after his accident, the parents were approached and asked if they were ready to let their son go. The family chose not to give up on their son, and today, now more than a decade later, as T.K. is relearning how to walk, they still keep fighting for him.
In 2009, Johns founded the Brain Injury Adventure Camp (BIAC) located at 2001 Northern Star Way in rural Robards, Kentucky in Henderson County. The BIAC outdoor education center is open to all types of individuals and offers ziplining, a low- and high-ropes course, trikes, hiking trails, arts and music, fishing, and more. The 42-acre property has served as a venue for birthday parties, weddings, picnics, summer camps, family reunions, team-building activities for schools and corporations, and many other events.
"You are making people happy who deserve to be happy," says Johns, who is retired from Alcan Aluminum. "It is changing the culture of the 'normal' kids that these special needs kids like to have fun, too. People with special needs aren't aliens. We try to educate kids and encourage families to bring their children out here to see."
The BIAC leases its 42 acres through the Presbyterian Church of Henderson in a contract Johns says he doesn't plan to renegotiate — $10 for a century. As Johns explored avenues for T.K. to grow physically and mentally, he discovered an adventure camp for brain injuries in Colorado and began volunteering several times a year. When the church learned why he was traveling, his preacher, John Guthrie, asked, "Why don't you start a camp here?"
But when Johns took over the property, he says he didn't know what he was getting himself into. The land was an overgrown, abandoned farm with hidden ponds.
"It was all briers, saplings, and trees," says Johns. "This house – they wanted me to tear it down from the ice storm damage … a lot of volunteers came out and we started hacking away."
The center is completely run by volunteers and relies on donations and grants for support. The organization also generates income through hosting events and team-building activities for the community. An online calendar with the BIAC's latest events is actively updated on its website.
"People think this place is only for special needs," says Johns. "That is a small percentage of what we do here. We do these other things to support that. This is here for everyone. We are always improving. We have an a la carte. You tell us what you want to do and we will design the camp around it."
Johns continuously strives to improve the BIAC every day and is constructing a new lodge through the help of volunteers that will sleep 32 people. The building is expected to be completed in September. In addition to improving the facilities, the BIAC's biggest priority is safety. All of its equipment is top-of-the-line and is way ahead of state procedures, says Johns.
"The courses here challenge people mentally and physically," he says. "The things that we take for granted like being outside, smelling the air, and looking at the sky are what they can do here."
While the center challenges, it also doesn't place an obstacle in its participants' path that they can't conquer. Johns says the BIAC's motto is "believing and achieving beyond your expectations," whether it is completing the high-ropes course or making friends as a special needs student.
Johns says one of the hardest aspects T.K. has had to face as a special needs individual is seeing his social circle shrink drastically, but the BIAC gives him an outlet to socialize with others.
"If you see someone with a disability, say 'hi' to them," encourages Johns. "You'll get the biggest smile from them because they are often starved for socialization."
For more information about the Brain Injury Adventure Camp, call 270-827-4135 or email [email protected]
Join our list
Subscribe to our mailing list and get interesting stuff and updates to your email inbox.
Reader Interactions