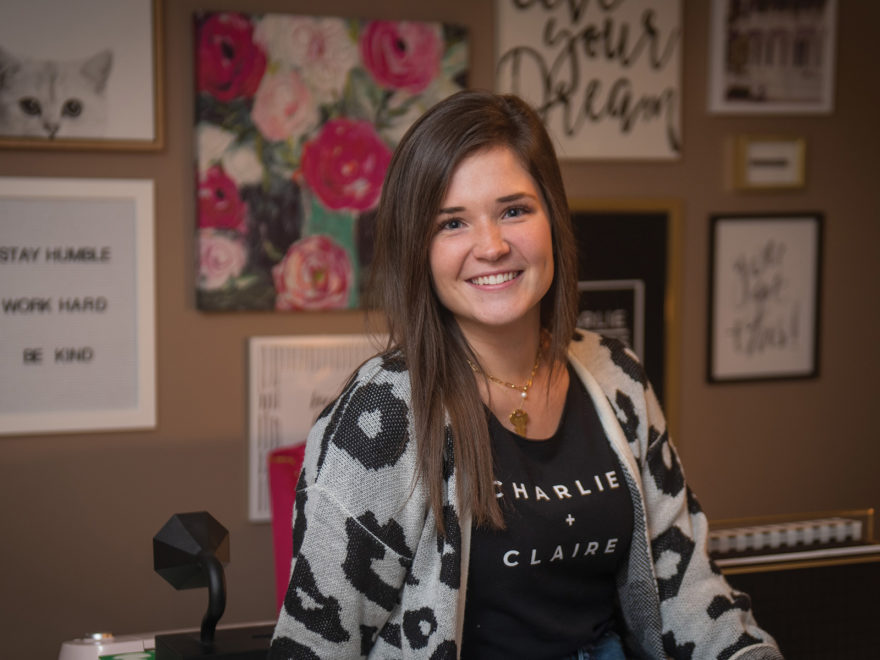 Madelyn Pressley is your average teenage girl. She was born and raised in Henderson County. Currently a senior at Henderson County High School, Maddy plans to attend the University of Kentucky next fall where she will be majoring in Human Health Sciences. She is the senior class president, a student ambassador, a member of both the student council and the bowling team, plays the flute in the band and was on the varsity swim team for several years. "It is a lot to juggle sometimes," she said. 
She won Distinguished Young Women of Henderson County in 2019, which is a scholarship program for young women. The program consists of an interview, talent, self-expression, which is answering a question on stage, and a fitness routine. All of this is done within three hours, and the winner goes to state. Maddy is so grateful she was given this opportunity. "It was an awesome experience." 
The Beginning of Something New
Although Maddy stays busy as a high school student and being heavily involved in a variety of extracurriculars at HCHS and within the community, she still managed to find time a couple years ago to start a new hobby, making custom bottles. Her business, Charlie+Claire's, started the summer of 2018 when Maddy was a sophomore. She started putting stickers on bottles with names, sports, etc. She would make them at no cost for friends and family as a side gig because it was fun and enjoyable. Once others started seeing her finished products, she was having community members request to purchase them. She started selling them on her mom's Facebook page and after much success, she said, "Mom, I think I could make t-shirts." Her mom was supportive and bought her a heat press and all the materials she needed. She made her first t-shirt the weekend before Easter. It was a monogrammed t-shirt, and Maddy chuckled thinking back to that moment saying, "I thought it was the coolest thing ever." As her love for making t-shirts grew, she stopped making bottles. 
A Growing Business
Maddy had no idea her business would grow the way it has within the last two years. "Now it's become a full-time business," she explained. "It's my life basically just because it takes so much time and effort, but it's really rewarding." 
So, where did her business name come from? Maddy signed up for a vendor fair two years ago when she was only making bottles. She didn't want to arrive without having a business name, so she started the process of filing for an LLC. "My cat's name is Charlie, and my middle name is Claire. I put it together and thought that wasn't too bad. Then I thought maybe I needed to change it. I went back and forth but after filing an LLC there was no turning back," the young entrepreneur stated.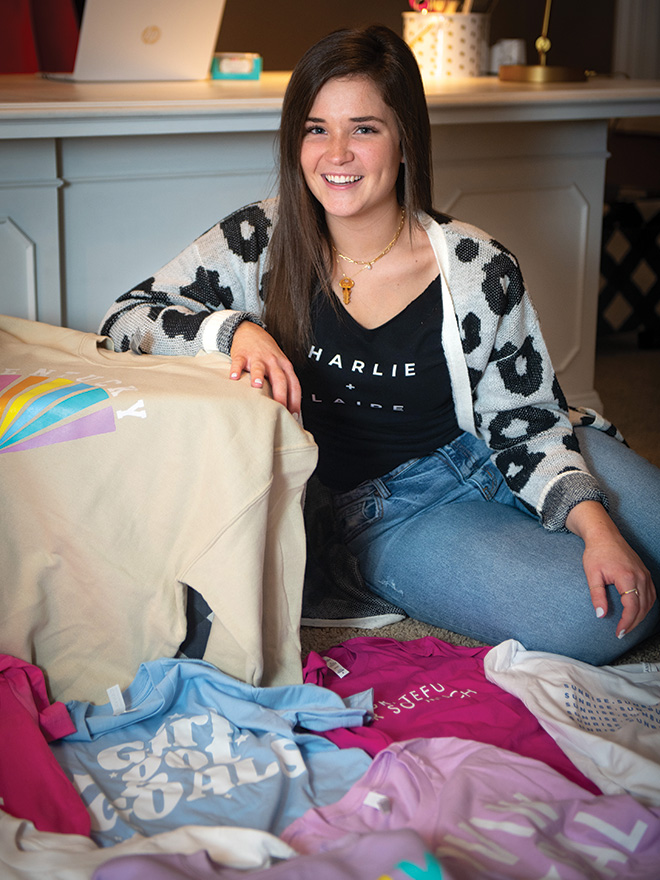 In the beginning, Maddy was making her t-shirts out of her kitchen. Eventually, she realized she needed her own office space to run her home-based business because her materials were everywhere. Her mom surprised her with an office in one of their spare bedrooms, and it was an exciting new addition for both, a working space for daughter and a clean kitchen for mom. Maddy spends most of her time in her office. When it comes to designing, printing the tees and shipping, she can stay organized and keep her business materials separate.
She comes up with her own designs, but she also takes custom orders, too. She has made shirts from sizes preemie to 6x. Maddy will make her designs online and then uses the heat press to make the shirts once she receives the screen print. 
In the beginning, it was scary putting herself out there when introducing her new business to friends at school and the community. Once she was all in to give this a try with t-shirts, she posted a picture on social media. She then had her friends wear them. She laughed stating, "We had a photoshoot in my backyard." That's when sales really started to pick up for her. Then her mom's friend helped spread the word about her shirts. "It was a group effort. Instagram and Facebook helped, too," she said. 
Recently, Maddy has started wholesaling. Tip Top Design Company here in Henderson is now carrying her shirts as of December 2019. When she has a new shirt going to Tip Top, she will send them pictures of the shirt for them to advertise to let customers know they will be receiving a new shirt from Charlie+Claire's before it hits the store. Then she will also advertise on her page. This makes for a great working partnership between the two companies, as they are both leading current and new customers to each other's stores. She is in the process of working with other boutiques outside of Kentucky to get her shirts in their stores, too. She has also recently started making jewelry by working with another company on Instagram and makes keychains every now and then. Hats are what she hopes will be her next product. 
At first, Maddy didn't ship and would only meet in Henderson for pick-ups. Now, she ships or meets local customers. When customers place an order on her website, they have an option of how they would like to receive their order. 
The Best of Both Worlds
Maddy is looking forward to starting a new chapter once she begins college at UK this fall, but she plans to continue her business while away at college. It is thriving. She has put too much into it now to push it to the side. 
"I can't stop now. I don't want to have to have another job. I literally love it." 
Maddy's mother has been by her side from the beginning. She explained how they discussed how to make her business work while she is away at college. They discussed her getting an apartment her first year and working out of a room in the apartment, but she really wants the college dorm experience. Therefore, they have decided she will be coming home every two weeks and having everything shipped to her house here in Henderson. Her mom is going to ship for her once she has the orders made. "It is going to be teamwork," the excited teen stated. She has already started sending things to bloggers in Lexington, along with different people she knows in Lexington, in hopes doors will open for her to work with businesses up there, too. 
"I have had a lot of help. My mom and dad are super supportive and have really guided me. If it had just been me alone, I would have probably had a hard time. My family owns a daycare and my grandpa owns a car lot. "It's kind of cool because my family's daycare gets their shirts from me." Her late grandmother was the founder of the well-known daycare, Busy Bees Educare. This is a family of entrepreneurs, and Maddy has proven herself to anyone who had doubts that the entrepreneurial gene runs in her blood. 
Maddy is excited to see what the future holds for her. She loves what she does, but she is also passionate about her career path once she begins college, too. "There is one side that says I need to keep going and the other side of me that says I need to do what I have always said I wanted to do." She has always planned to go to medical school but didn't really know what area she would like to specialize in. Then her brother and little cousin were both diagnosed with Type 1 diabetes. This has put her family around a lot of endocrinologists, which has sparked a lot of interest. If there is one thing Maddy is certain of, it is that she has no regrets. To those who are young but have a passion for something, Maddy says, "Go for it!" 
Madelyn Pressely's journey to owning her own business is one that many teens can look up to. She works 30-40 hours a week, but she doesn't feel like she is working at all because she loves what she does. Owning a store of her own someday would be a dream come true, but college comes first. "I feel like I could have the best of both worlds. If I am an endocrinologist, then I can save up and buy my own store and pay someone else to run it," she said enthusiastically. "It sounds crazy, but it could happen." 
There is no doubt Maddy will go far, and the Henderson community looks forward to seeing where her business takes her!
Join our list
Subscribe to our mailing list and get interesting stuff and updates to your email inbox.
Reader Interactions