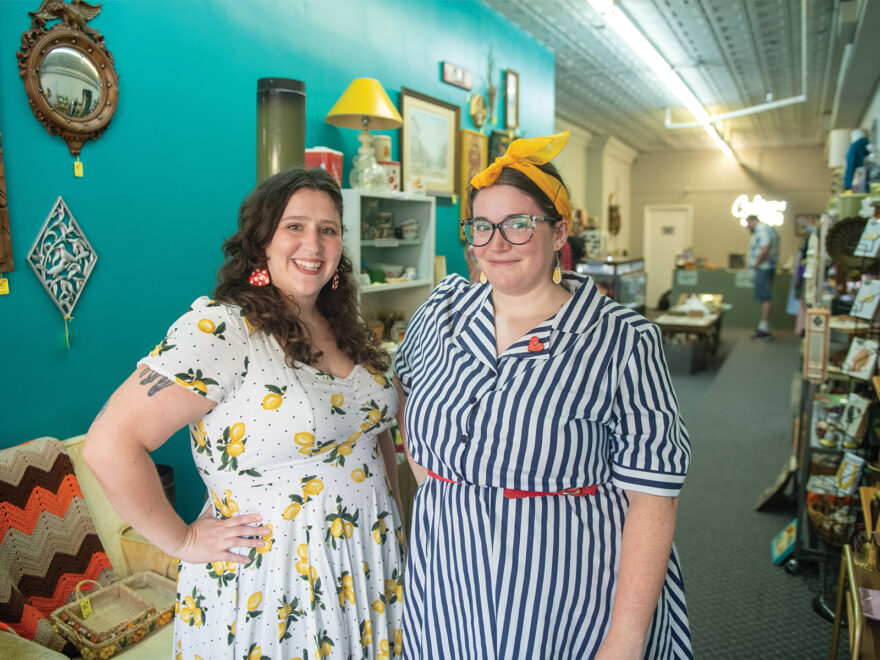 Photos by Darrin Phegley
Corkscrew stands out from the moment you open the door complete with a skeleton to greet customers. "We sell taxidermy, wet specimens," said Jasmine Elzy, co-owner of Corkscrew Curiosities.  "We have a wet specimen of a two headed pig, fossils, natural history."
A Thrifty Family
The cousins' love of vintage finds dates back to when they were little girls growing up in Henderson. "We've all been pretty close,'' said Jasmine Elzy.  "Kyla and I are very similar in our interests in vintage and weird things. We are basically clones of each other."
The two credit their grandmother,  Anna Jane Stanley, also known as "Nana" for showing them the importance of spending time together. "We've always been a thrifty family growing up," said Elzy. "Our nana would take us on the weekends. I remember holding the newspaper in the passenger seat trying to find addresses and signs, and we would get donuts from Golden Glaze." Those weekend adventures to garage sales and antiquing became a treasure hunt. The kids searched for toys, while Stanley kept an eye out for jewelry and glassware. "She picked up what caught her eye—what looked interesting," said Elzy. "She had a good sense of what was something—certain items like silver and gold and coins." It was that keen eye that Ford believes the two inherited from their grandmother, along with Stanley's business sense. "She had an eye for stuff people loved," said Kyla Ford. "But she told me do not open a restaurant." 
The Entrepreneurship

 

Continues
A few doors down from Corkscrew Curiosities at the corner of Main and 1st Streets, sits the storefront of Stanley's former restaurant: Corkscrew Deli. Stanley worked at the deli before buying the business and was a fixture of the restaurant for close to two decades before she sold it. "It very much consumed her life, " said Elzy. "She was a single mother. Raising kids and running a business—it's hard, hard work. It was swimming upstream as she described it. She loved it and loved her customers."
Mimicking her grandmother's entrepreneurial spirit, Jasmine worked not only in graphic design but for a tax office. Kyla worked in emergency dispatch and at USI before stepping away to pursue Corkscrew full-time. After a Facebook conversation, the cousins decided in July of 2020 to open an online shop through ETSY. "We both had so much stuff in our basements and things we had been collecting," said Ford. "We started with what we already owned." 
The pandemic motivated both Jasmine and Kyla to make the jump to become full-time business owners. "Working for ourselves is more fulfilling," said Elzy. "It brings more joy to our lives. By the fall of 2020, the two had a space to sell their antiques and vintage products at The Elms Consignments.
Opening Their Doors
After almost two years, the cousins decided to take a leap and move to their current location on North Main in August 2022. An endeavor they believe would make their grandmother proud. "She would be so obsessed," said Ford.  "She would be here all the time. She would love that we're downtown now."
Walking through the store, influences of Stanley stand out. Copies of old editions of the Henderson Gleaner are for sale along with soap left over from Hotel Soaper. Coffee tins, velvet paintings and old VHS movies are on display against the teal painted walls.  If you're in the market for an embalming machine from the 1930's, you're in luck. 
"We are reusing things people would look over and showing them what it can look like in a modern time," said Elzy. As the two sell items, their goal is to source them ethically. "Stay accessible to everyone who walks through the door," said Ford.  "We want to have something everyone can buy. Not just people investing in their collection. We love the cute, kitschy bright antiques."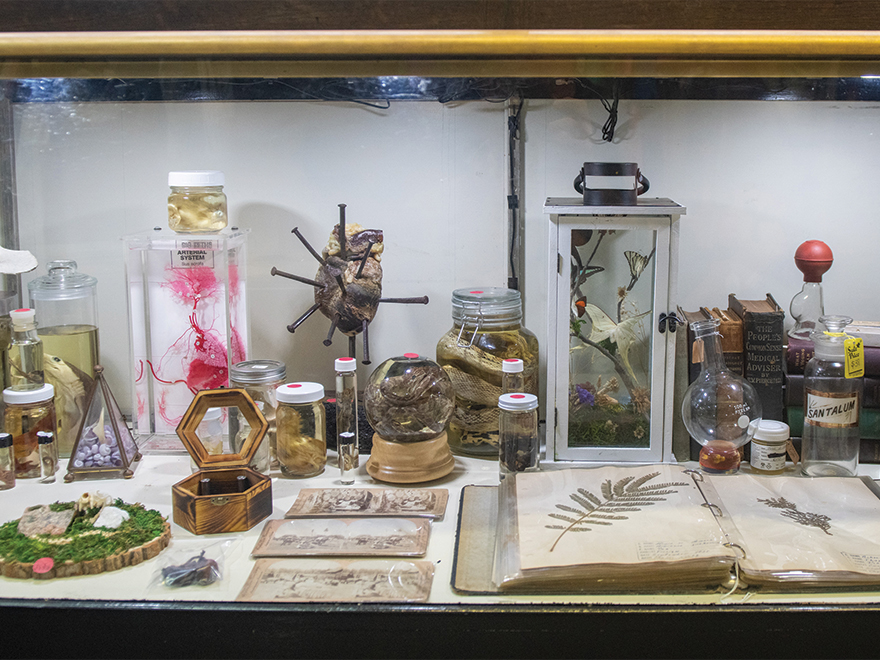 A favorite of Ford's? An antique cooling table. "It unfolds so the undertaker can take it into the house where he would display the body and they would put these giant ice blocks underneath them to keep the body cold for display," said Ford. 
The store plans on hosting pop-up events and markets during the holiday season. The two also feature companies that create handmade cards and jewelry. Elzy even designs earrings made from green uranium glass that glows under a black light; another endeavor they think would make their grandmother proud.
"We want to offer a warm, welcoming, hometown feel." 
You can find Corkscrew Curiosites at 111 N. Main Street in downtown Henderson. Opened Tuesday – Saturday from 10am – 5pm, they are ready to help you with all your vintage, antique, oddities and handmade needs.  
Join our list
Subscribe to our mailing list and get interesting stuff and updates to your email inbox.
Reader Interactions