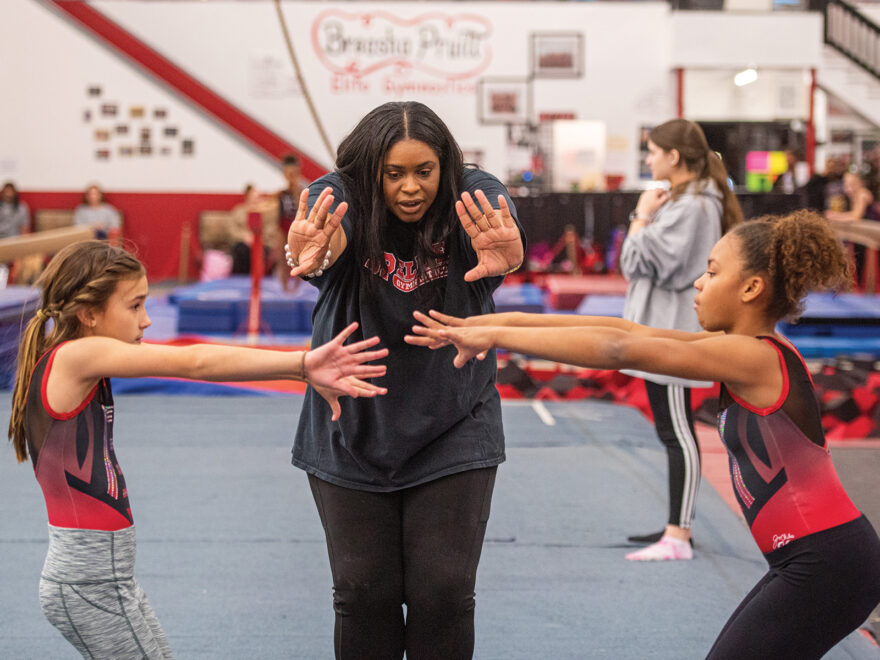 Photos by Darrin Phegley
Channeling Energy
Charlotte Smoot knew she had found the perfect place for her granddaughter, Nevaeh Carpenter, to channel her "flipping all over the place" into a skill she could hone after only one class at BP Elite Gymnastics. The gym, located on St Joseph Avenue in Evansville, is owned and operated by Henderson native Breasha Pruitt. Breasha is an accomplished gymnast and is now teaching area youngsters her unique talent. Nevaeh began training at BP when she was only six years old. "It's amazing how much she has matured and learned since going to Breasha," Charlotte smiles and beams as she speaks about her granddaughter's progress, "You should see all her medals and trophies. She absolutely loves it."
Learning from Experience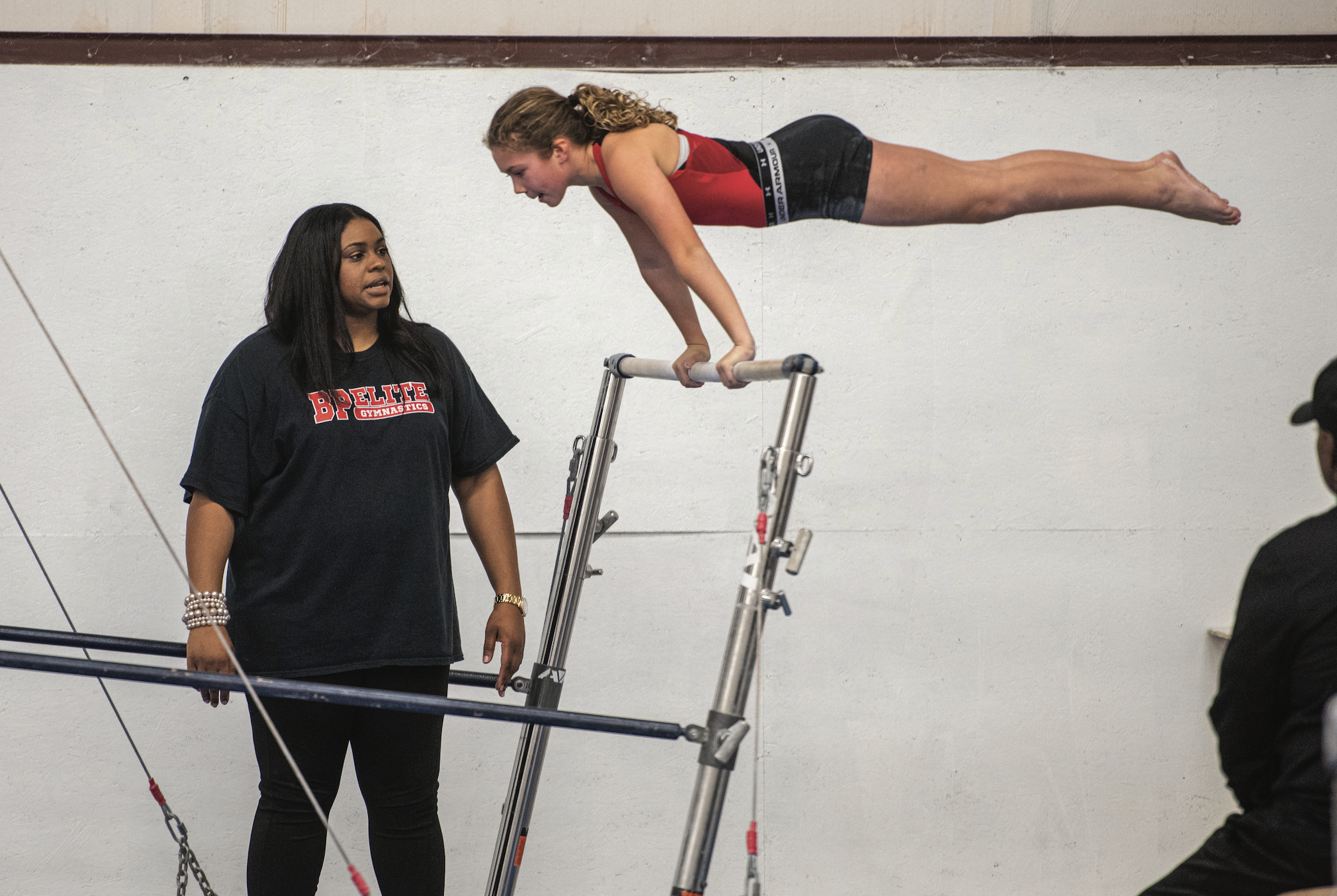 Teaching her young students how to do a cartwheel and walk on a beam is only part of the goals Breasha has for each student. "Building relationships with my athletes is one of my top priorities. These children are still children. This is a learning journey for them. I want them to understand sportsmanship," the decorated athlete expands, "I'm a coach who believes in you even if you fall off the beam or are having a bad day." Breasha admits that when she was a child, her coaches were stressful and too hard on her at times. Not always having desirable influence from the coaches she had as a child led to her passion for giving her athletes a different and more positive experience. "I think they learn to respect other people, be more caring and understanding. It really grows and matures them," Charlotte adds.
It was no surprise that when applications for Positive Coaching Alliance's National Coach of the Year were being accepted, Charlotte sat down to pen an entry on Breasha's behalf. The organization's website describes its mission as "changing the culture of youth sport, so every child has access to a positive youth sports experience regardless of their social or economic status." There were 1000 applicants from all sports, men and women, from all 50 states. Charlotte's nomination letter and personal experience, coupled with Breasha's extensive resume, helped push her to the top of the nominees for consideration. Breasha graduated from Henderson County High School in 2002. In 2003, she was the 3rd place NCAA team champion. She has two proclamations from Henderson and has been inducted into the Henderson County Sports Hall of Fame and the Indiana Sports Hall of Fame. She is a Kentucky Colonel and was presented the honor by Governor Andy Beshear. During her career, before starting BP Elite Gymnastics, she was a two-time Elite National Team member, 4th on bars, 4th on vault, and 9th all-around nationally. The skills learned through her vast experience were passed down to her students, resulting in BP Elite Gymnastics having seven regional champions, one national qualifier, 18 state champion titles, and one athlete who is a back-to-back regional champion. 
Surprise!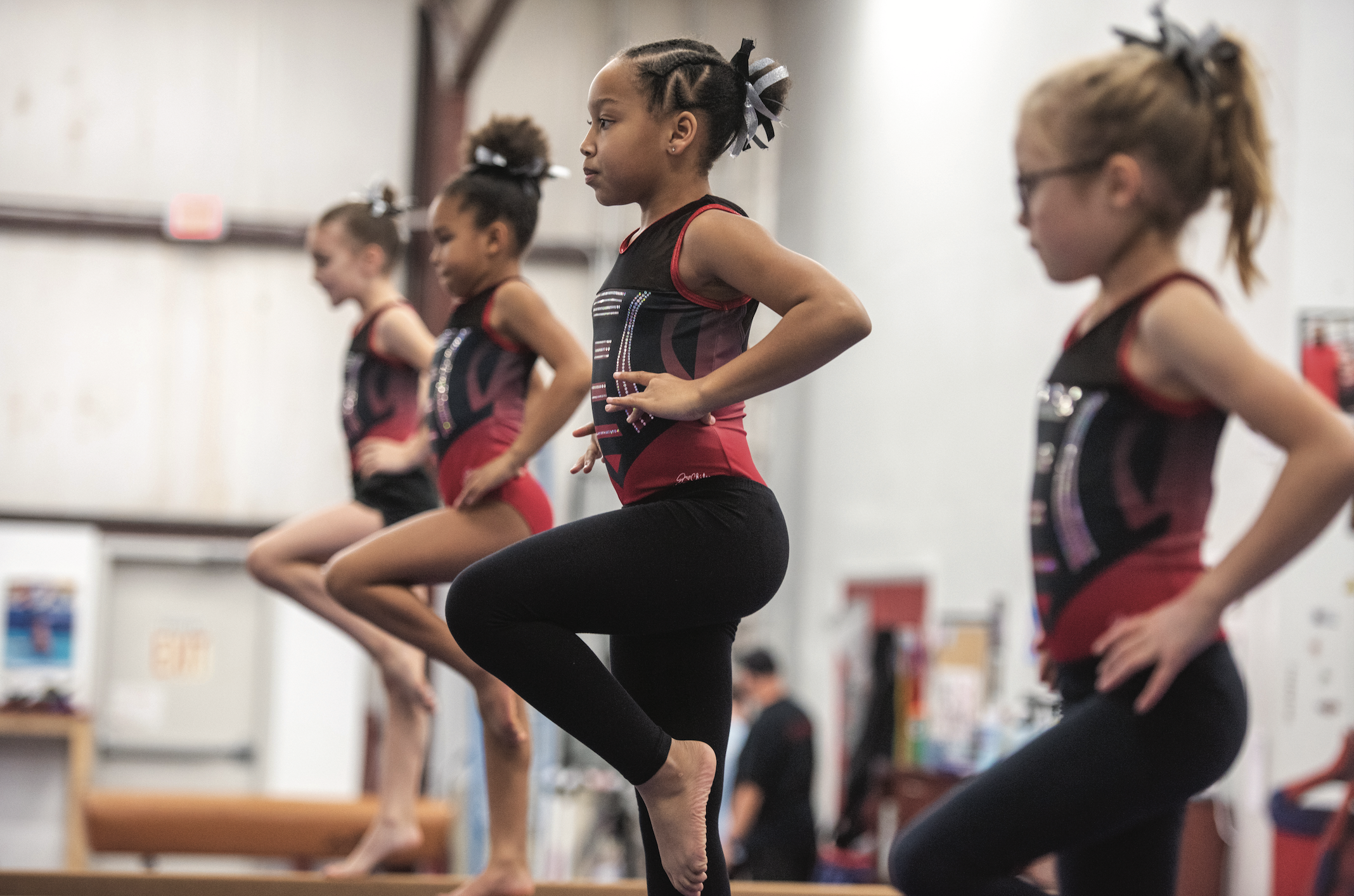 Charlotte submitted her nomination, unbeknownst to Breasha, then waited to hear back. The grateful grandmother then went about her day, hoping, but not expecting, her entry to get noticed by the organization. Several days passed when Charlotte finally got the call she had anticipated. "The lady called me to tell me Breasha won Coach of the Year! I couldn't speak. I was in tears." Wanting to keep the surprise secret from Breasha but unable to hold the good news all to herself, Charlotte decided to tell Breasha's parents so she could have someone to celebrate with until the big reveal. She arranged to surprise Breasha with the good news at her gym, the place Charlotte holds dear to her heart. Upon learning of her win, Breasha and her parents flew to California to accept the award. "I'm thankful to God because it hasn't always been easy." Breasha is the first African American woman to win and the first gymnastics coach to be selected for the honor. 
"Representation matters," she says, explaining how the lack of diversity in her sport growing up impacted her. Echoing the thought regarding how important representation is, Charlotte adds, "You can see ten white girls doing it, but if you see one black one, you think, hey, she looks like me, and she's doing something I can do too. Nevaeh idolizes Simone Biles. Now she has Breasha for inspiration." Breasha again uses what she wished she had as a young athlete and gives it to her students. She strives to not only focus on racial diversity in her gym but also on socioeconomic diversity as well. "I will start a program that goes into low-income areas to introduce the sport of gymnastics, so every student can experience the sport without any financial obstacles," says Pruitt.  
The Future is Bright
With plans to expand BP Elite Gymnastics in unconventional ways within the sport of gymnastics, Breasha continues to instruct young athletes to be not only champion gymnasts but also champions in life. Charlotte sees her granddaughter following in her coach's footsteps. "Nevaeh will make Henderson proud one day," she says. However, it's safe to say both Breasha and Nevaeh already have.
For information on location and programs offered, visit www.bpelitegymnastics.com. BP Elite Gymnastics' vision statement states, "We are dedicated to providing a positive, motivating, safe environment for your son/daughter through coaching the amazing sport of gymnastics."   
Join our list
Subscribe to our mailing list and get interesting stuff and updates to your email inbox.
Reader Interactions