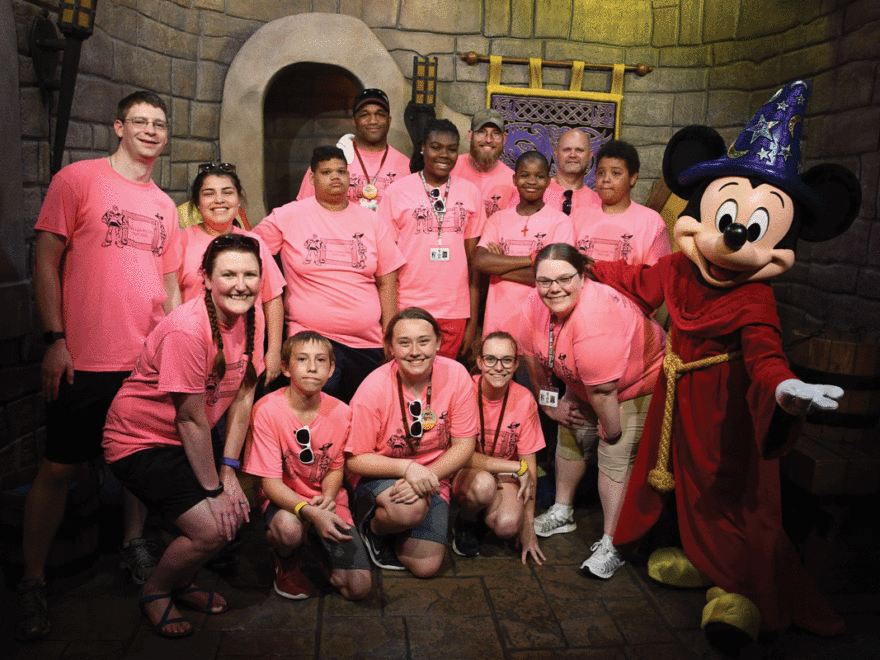 Most children dream of going to Disney World at some point growing up. The chance to go and experience the magic of the castle, the characters and the rides are a thrill of emotions no matter the age, and the Henderson Police Department was able to make this dream come true for 8 very luck Henderson County middle school students. This is an all-expense paid trip to those students who are selected to go. 
The "Cops Connecting with Kids" program is a mentorship program designed to bring local law enforcement and students within the community together. The Evansville Police Department started this program 5-years-ago and asked HPD to join them in their efforts of making a difference in the lives of our local students. 
Billy Bolin first reached out to HPD about this program and spoke with Lt. Jason Hargitt and Major Jermaine Poynter. Major Poynter soon took the role in leading this program with Lt. Lehman helping him manage the logistics of it, and it has been an opportunity they have been grateful to be a part of since. 
Student Nominations 
Local law enforcement makes their presence known within the school system by visiting and volunteering with community events where students are involved. However, the Disney trip is the highlight of this program. It is made to instill criteria that includes good grades, staying out of trouble, showing leadership, being a good citizen and striving to be the best they can be. Kids who are deserving but wouldn't necessarily have the opportunity to go are those who are nominated for this trip by teachers and school administration. 
Since Evansville is much larger and has been doing this for several years, they take more students. This year Evansville took about 58 kids from about 5 different schools. They also select students from 6th-8th grade, but Henderson's program only selects eighth graders. There were 4 students chosen from North Middle and 4 from South Middle, a school administrator from each school and 4 police officers making it a total of 14 people who went on this year's first Disney trip. Between both programs in Evansville and Henderson, there was close to 100 people who went to Disney from this area. 
Students were announced before spring break at each middle school. The entire school was part of the big reveal at each school, too. Once the students were revealed, the officers tried to build a relationship with the kids before the trip. They would go and eat lunch with the kids, whether it be taking a pizza or ice cream, because they wanted them to feel comfortable and know them before they went on a trip together. 
Once nominations were narrowed down, parents were contacted to see if their son/daughter would be able to go on the trip if selected. Once selected, parents knew when the reveal was being held so they could be there and be part of this exciting moment in their child's life. The parents hid until their child's name was called, and the emotions to see the kids and parents was so exciting for everyone.
Planning the Trip 
The Evansville Police Department takes care of all the groundwork when it comes to planning and the logistics of the trip itself. However, it is up to the HPD to fundraise the money to make this trip happen for those students selected. 
They raised just around $14,000 last year to fund this trip. They raised about $4,500 off the Back-to-Blue Jeep Rally, a partnership with Audubon Chrysler and the Evansville Area Jeepers, and the rest was pure donations and sponsorships from different businesses and people within the community. 
An Unforgettable Trip 
The group of 14 left for Disney World on Monday, May 13th around noon and returned Saturday, May 18th around 4pm. They took a bus to and from Nashville and flew Southwest out of Nashville to Orlando. Although there was a lot of excitement, many students experienced a lot of anxiety, too. For most, it was their first-time leaving town, flying, being away from their parents and going to Disney. There was a lot of new experiences taking place within this one trip, but they were all eager to go. 
They hit all four parks on their trip: Magic Kingdom on Day 1, Animal Kingdom on Day 2, Epcot on Day 3 and Hollywood Studios on Day 4. "We were all getting up about 6:30-7am every morning so we could get there when they opened at 9am. We were able to do fast passes for a lot of the big rides. It was a lot of go, go, go. We wanted to make sure they experienced everything. I think we rode every ride there," Major Poynter recalled. 
Evansville's group splits up once they arrive at the parks. "We decided since it was our first trip we would stay together. It would allow for more photo opportunities and help build our program. Next year when we go, we may split up. Not all want to ride rides and others wanted to do more of the character stuff. We wanted to be able to see and do as much as we could."
When it came to meals, each officer had a $500 gift card and each student had $250/each to spend on meals and snacks while they were there. Each officer had two kids they were responsible for. They would ask the kids what they wanted and logged their meal expenses. 
The students were told they could bring $50 for souvenirs. For those who didn't bring money, they told them if they managed their money well on the gift card, they would be able to buy a souvenir with the money left over. Some would skip getting a coke and get water to save money. "We made sure they were able to get something to take back home with them," Major Poynter said. 
Every student enjoyed their experience. Crystal Tow, North Middle School Guidance Counselor, said, "It was a truly amazing experience to witness these kids, who were shy in the beginning, open up, laugh, and form lasting bonds with the police officers. I am so glad I was able to be a small part of this team." Major Poynter recalled, Jabria, who went on the trip. "Her favorite part was seeing all the characters. She didn't care as much about riding rides. They had those penny press machines at the parks. She would carry a pocket full of change every day and every time she would see one, she would collect the pennies. That was her souvenir. A book to collect the pennies she had received. The others had different parks or roller coasters they liked to ride."
He laughed talking about how many pictures they took. He said he had his personal phone in one hand and his work phone in another snapping pictures left and right. He said they did the Disney photo pass and collected over 700 photos. "We tried to make it as memorable as we could," he explained. They are going to be making a book with all the pictures to put in a binder and a CD for each student as a keepsake.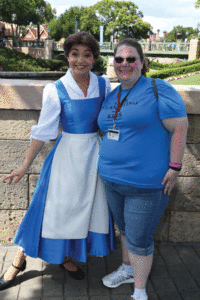 The Future of Cops Connecting with Kids 
For the 2019-2020 school year, the program will be switching the Disney trip to November instead of May because it is more cost effective and a better time. There are different opportunities for the kids during that time, too. The kids who went this year are going off to high school, so they didn't get to come back and share their experience with the 7th graders behind them. 
The kids this year also missed out on 8th grade graduation. They didn't get back until after school was out. By going in November, they will still have the opportunity to do graduation and share their experience. They plan to have the kids who went on this first Disney trip come in November to help with that reveal. "We want to stay connected with those kids and make sure they are still doing what they should be doing," Major Poynter said.  
Logistically for Henderson, since they are only pulling from two schools, are going to stick with taking 8 kids total. They would eventually like to be able to take more but think it's best to take 8 for now. Evansville also has Vanderburgh County involved so they have more people to take as chaperones, etc. 
"Cops Connecting with Kids" has put together a committee of police officers, school officials and administrators and civilians. "We are heavily invested in this," Major Poynter expressed. "It isn't just a Henderson Police Department thing. It is a community thing. We want people to have a say. We want the schools to have a say in how it develops in the future."
The committee tries to meet once a month or every other month. The closer it gets to the trip, the more they meet. They held a debrief meeting to talk about what went well and what they would like to see change in the future.  
Major Poynter explained how trying to give them the best experience possible was the most difficult task about the trip. Figuring out who wants to ride, who wants to see characters and what experiences they each want to get out of it is their focus when they take the next trip in November. Seeing they had a lot of kids who really liked seeing the characters on this trip has them thinking it would be beneficial to figure out a time to reserve the character breakfasts on some days so those students more interested in the characters has those opportunities. 
They have also pitched the idea for the November trip to possibly make it a surprise for the teachers, too. The teachers put in the nominations on what kids they think should go so they would love to let the students do the same for the teachers. "We think that would be a lot of fun, too."
"Going forward the plan is to try to stay involved, especially at the middle schools, to keep them excited about Disney. We will be at the middle schools on the first day of school this year to encourage them to work hard and remind them nominations will be starting so they need to start now doing the things they need to do to have the chance to go." 
It is very important to have officers as part of this program and trip who are passionate about making a difference. "We select our officers who are volunteering and help at youth police camps. Those who are our community-service minded officers who volunteer their own time to come and reflect positively on the kids," Major Poynter stated. 
They have even talked about doing a fun alumni celebration and invite previous Disney members to come back and socialize. "High school are the years they tend to stray, and we want to stay involved and push them to stay in the right direction," he said compassionately.  
Overall, this first Disney trip went very smoothly. It was a blast for every student, school administrator and police officer who had the opportunity to go. "I liked seeing their expressions when they got to do something or when they were having the time of their life," Major Poynter said cheerfully. "It was emotional. It got to me a couple times. Each kid you could see the pure joy."   
Lyndi Mauk, editor of Henderson Family Magazine, was born and raised in the Bluegrass State. She is grateful to be going through life alongside her husband and best friend, Brandon, and being a mother to their little girl.
Join our list
Subscribe to our mailing list and get interesting stuff and updates to your email inbox.
Reader Interactions