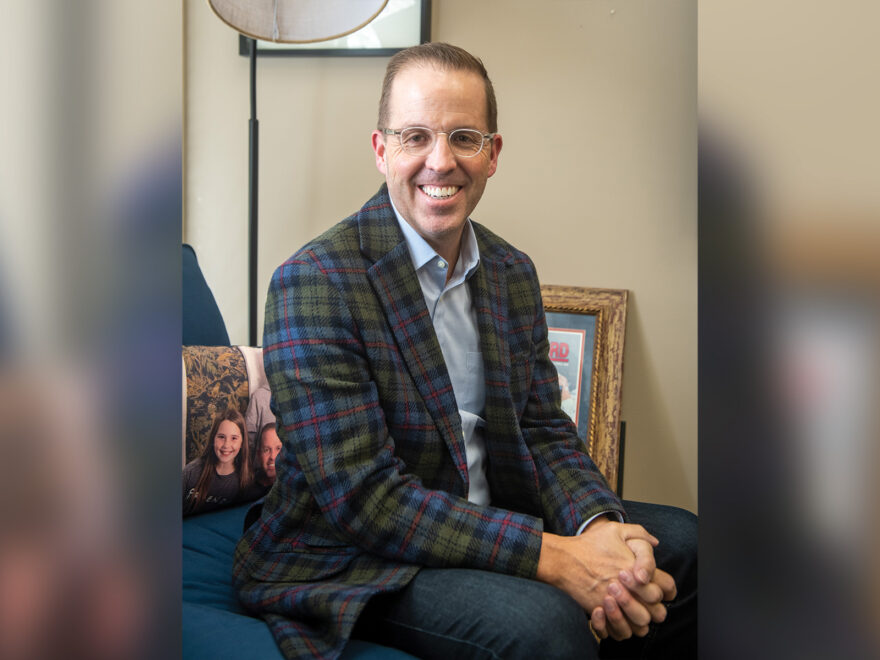 Photo by Darrin Phegley
One day while reading, Joey Davenport thought to himself, "What am I doing with what I am reading?" He offered to start writing something to a friend each day and sending it in text form. It soon became a domino effect as that person started sharing his encouraging text messages with somebody else and then they told someone else and it continued from there. "I tell people all the time that I write these at myself first and not anybody else. So a lot of times, it's that I need to hear it more than anybody else," explained Joey. His intent wasn't to grow a community but here he is over a decade later still encouraging others to Live ON Purpose. 
A Different Plan
Joey Davenport grew up in Sebree, KY and married his high school sweetheart, Amy. They have two children, Cooper and Addison. He has been a financial advisor for 25+ years where he started at Hilliard Lyons—now known as Baird. He began his text ministry over a decade ago and is a volunteer assistant basketball coach for the Henderson County High School boys basketball team. Basketball and dance keep his family very busy with their children's schedules. Joey enjoys spending time with his family and fishing. "We really enjoy traveling and taking the kids to expose them to new things. Basketball and dance allow us to travel a lot. I love to fish. That is my passion is bass fishing," Joey stated.
Joey initially had different plans before deciding he wanted to follow the career path of being a financial advisor. He went to college at Samford University and played NCAA Division 1 basketball.He always saw himself being a college basketball coach. "I thought I would be the next coach of Kentucky. After doing that for one year I realized that isn't what I wanted to do." 
He interned with a former Samford University basketball player in financial advising and really liked it. "I met some of the most successful advisors in the country by chance through different relationships and sat down with them learning how I can try to help people." He moved to Henderson and took the job with Hilliard Lyons, got engaged shortly after and remained in Henderson to work and raise their family, never knowing a new opportunity to help others would soon fall into his lap. 
The Live ON Purpose+1 Movement 
The Live ON Purpose ministry started out as "a way to share what was being fed into me." Joey read a lot—whether it be biblical, devotionals or other inspirational books and wanted to find a way he could use what he was reading to remind himself and help others everyday. He would ask himself, "How does that help me, and how can I help others?" It was more of him sharing what he was reading in text, and it started escalating from there. He would have people come up telling him they had received his daily text. He knew they weren't on his original list, so he quickly started realizing it was being passed on from those in his original text message. 
When his texting ministry started to grow, he decided to come up with a name.  "I was thinking about being intentional and having a purpose. That we all have a purpose. The +1 that's attached to it is to be intentional everyday to bring one more person closer to God." What he comes up with each morning is based on his own reading from the Bible, devotion or sometimes he can use old messages from years ago. Sometimes it may be something he experienced on a day-to-day basis. He has also had mornings where he wakes up and feels God telling him what he needs to share for that day. 
An Inspiring Friendship 
Joey had been sending the text messages for quite a while when he had the pleasure of meeting a local Hendersonian who became a dear friend of his, Todd Satterfield. Joey had heard about Todd's story with terminal illness and reached out to him. Meeting for lunch at Applebees to give Todd a book he thought he should read led to the Live ON Purpose ministry taking off to new heights. Todd was on one of Joey's text links at the time and Joey didn't even know it. "Our kids were in preschool together at Methodist. As fate would have it, both of their boys are starters on the Henderson County High School boys basketball team now," Joey said with a big smile.  
Todd started sharing Joey's text and felt led to share the +1 movement with others. Even after Todd's heartbreaking passing from battling cancer, Joey still sends his message to the same group of people every single morning with Todd's name on it. "It was his list of people he shared the texts with. His original 89 people that he was sending it out to." Todd was in Vanderbilt, and he would wear the Live ON Purpose t-shirts. People would ask him what that was and Todd would tell them about it. Todd was always encouraging Joey to speak and do events. Joey said, "It kind of formed its own and took off from there. I just tried to stay committed to it." The amount of people receiving Joey's daily texts escalated around 2012-2014 from Dick Vitale retweeting his messages to local news and media covering his ministry. After Todd passed away, Joey had an event for Live ON Purpose and Todd's cancer fight. He also held a fundraising event to raise money for a local family who was in need of a handicap van. They sold 900 tickets, and he spoke at the Fine Arts Center, now the Preston Arts Center. He was also traveling and speaking to college basketball teams during this time, too. He would get confronted to help others often—usually in need of some form of money for a particular cause. He tried to form a board to help with it, but then it became too much. The ministry truly became a job of its own, and Joey was not prepared for what it had grown to be. 
"Looking back, I thought I could do it but couldn't do it fully to what it was growing. I didn't have the capacity to do this job, family, church—so that's where it kind of slowed down if you will. I now try to do things more privately than publicly as far as trying to help people. There are enough things to help people privately that nobody has to know about to impact people," the financial advisor explained. 
Behind-the-Scenes of Live ON Purpose
Live ON Purpose brings on another component. Individuals see the text message, but they don't see the behind-the-scenes that goes on. Joey has been sending the text messages the same way since the beginning—through a group texting app. Oftentimes he might send his morning text and throughout the day hear back from those on his list saying they never received it. He will try to go back through and resend, but his schedule doesn't always allow him to do that. He also found if an individual switched phones or carriers, it would mark his text message as spam. This is where the problem would sometimes come from in regards to those not receiving the message they so look forward to everyday. He has pushed more people to go on Facebook and copy and paste his daily message to send to those they want to share it with as a way to try and help with the technology challenges he has faced over the years. 
When he first started Live ON Purpose, he made a website that is still active—liveonpurpose.us. It allows individuals to go online and read more into what it is. He had professionals put the website together and is proud of how well it turned out. But—it wasn't long after he made the website, considered a podcast, made an attempt to send his messages through email and was doing a lot of travel speaking to basketball teams that he realized he just couldn't juggle it all.  With a full-time job and family, he realized he had to find balance. 
Looking Ahead
Joey wants to see Live ON Purpose continue to bless others. It is encouraging to hear when one of his daily messages has made an impact on someone. They are meant to be encouraging and motivational messages about habits and disciplines. Some are biblical and some are not. 
When Joey thinks about the future of this ministry, it is very important for him "to find some way to make it more efficient and fluid where people are getting it that are signed up to get it. I don't know the answer to that yet. I am not worried about the size of it as much as the impact of it. I would like to maintain it at its current level so that it would be something that would continue to live on."
Other people have reached out to Joey telling him they have started something similar because of him. "It makes me feel good." He will get messages and pictures sent to him of a loved one wearing one of the Live ON Purpose t-shirts days before they pass away from battling a sickness. This ministry has inspired hope and faith in so many.  
Joey would like to someday put together the original messages he wrote and compose a book that intertwines the messages with the story. "I don't know what that looks like but something I have written down that I'd like to do," he explained. This ministry has helped Joey stay connected with people and many times he is writing something that is going to touch someone without him even knowing.  "I want to be a part of people seeing grace and not judgment."  
Live ON Purpose started out as a way for Joey to try and make a difference in the lives of others. But this ministry has done the same for him. He has been blessed by the journey it has taken him on over the years and given him even more of a reason to Live ON Purpose every single day. 
For more information or to learn how you can sign-up to receive the Live ON Purpose daily messages, you may visit liveonpurpose.us or visit Live ON Purpose +1 on Facebook.   
Join our list
Subscribe to our mailing list and get interesting stuff and updates to your email inbox.
Reader Interactions