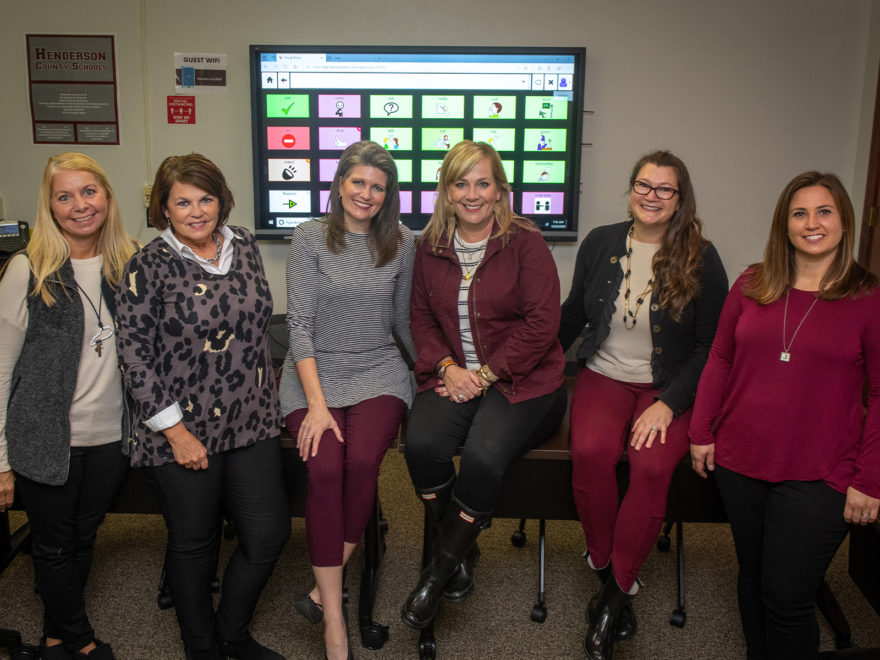 Photo by Darrin Phegley
Since 1996, Voya Financial through its Voya Unsung Heroes Grant, has awarded nearly
$5 million dollars to educators across the United States for various Innovative Teaching Programs in and outside of the classroom.  The grants range from $2,000 to $25,000.  This year the Henderson County Schools Assistive Technology team became the latest recipient of one of the $2,000 grants. The grant will help fund the "Cough Drop Program" in Henderson County Schools.  The Cough Drop program's mission is that every voice should be heard.
The Cough Drop Program 
Speech Language Pathologist and Assistive Technology Professional, April Perry, M.A., CCC-SLP, ATP; provides speech language therapy services at North Middle School, South Middle School, and the Central Academy.  She was one of the grant writers for the program and is excited about implementing the program.
Perry says, "Having the Cough Drop program available from preschool to high school will allow us to start introducing augmentative and alternative communication (AAC) systems to our children starting at an early age. Some of these students may just need it for a little while as their expressive language skills develop and they become verbal communicators. However, some of our kids may not and this allows us to start modeling using AAC early on in their education. It will also allow us to determine what personal system might be best for these students and secure funding as they grow."
The team implementing this program identified a core dilemma experienced by students that receive speech therapy services.  When students have difficulties communicating ideas, thoughts, and emotions, it can be detrimental to their learning process.  Without intervention and a means to communicate, the students may feel left behind in the learning process or may experience feelings of isolation from their friends, peers, and educators.  Creating an environment to empower their voices is paramount to combat those problematic outcomes.
Finding a Solution 
"Alternative Augmented Communication" (AAC) is the remedy.  AAC refers to methods of communicating that do not involve direct speech from an individual. The development of a system for and the use of the system by individuals allows them to share information, develop relationships, express feelings, ask questions, and make their needs and wants known. A variety of options are available.  Other solutions have their own limitations like being impractical for events and situations like recess or can be restrictive in their capabilities.
Individuals who use AAC devices may be nonverbal, have poor speech intelligibility, or may need visual cues to assist with verbalization.   ACC has been found to reduce challenging behaviors, as well as, have a positive effect on other language skills.
Enter the Cough Drop Communication App.  The app is customizable to meet individual and specific classroom needs; it incorporates well-researched templates in a user-friendly way; it is available across a variety of platforms; it provides support to users, parents, and caregivers.
Making a Difference 
The grant will help provide this app and necessary tools for classrooms across Henderson County Schools.  Perry adds, "If one student is able to communicate in the classroom or with a friend because we introduced the student to this program then it will be worth every minute spent on the process."  She continues, "I became a speech language pathologist because I believe in the power of communication and helping people find this power. Language, whatever form, allows us to form relationships, learn, and express our thoughts and ideas. Helping our students develop their language skills allow the student to thrive not only at school but also at home, in the community and beyond high school."
Furthermore, this grant award and the preparation needed to obtain it had an auxiliary benefit of providing team members and therapists with Henderson County Schools April Perry, Sherri Hazelwood, Kim Reusch, Sandy Pritchet, Julie Holland, and Michelle Hillenbrand the chance to dream of endless possibilities for students.
"We saw it as an opportunity to make a wish list of what could we provide some of our most involved students that would allow them to communicate and interact with their peers beyond academics. We started with communication but also dreamed of purchasing materials and equipment to make our playgrounds more accessible for these students. We also looked at ways we could provide our students with sensory breaks or regulating activities to help them better participate in academics. Unfortunately, we didn't get the additional money; however, we are on the lookout for other funding opportunities that may be out there to help meet these needs," Perry says. The team plans on seeking additional funding opportunities for adaptive playground equipment and sensory integration tools for classrooms.
Kris Mayes, Director of Special Education, says, "I am immensely proud of our Assistive Technology team for finding and seeking out this grant on their own. Their heart and passion for empowering our students to be their all is inspiring. Technology is constantly adapting and growing, and these ladies stay on top of it all.  First and foremost, a person needs a way to communicate effectively. Once we can establish that a whole new world opens up for them."
The Cough Drop program exemplifies the Henderson County Schools: HCS+ Building a Better Graduate initiative and the world class skill of communication.  Ensuring that all students, regardless of ability, may succeed at these identified 21st century skills is paramount to students' success as individuals but also our success as a community.  It's only when we come together as a community to lift up everyone's abilities that we can truly succeed.
Join our list
Subscribe to our mailing list and get interesting stuff and updates to your email inbox.
Reader Interactions