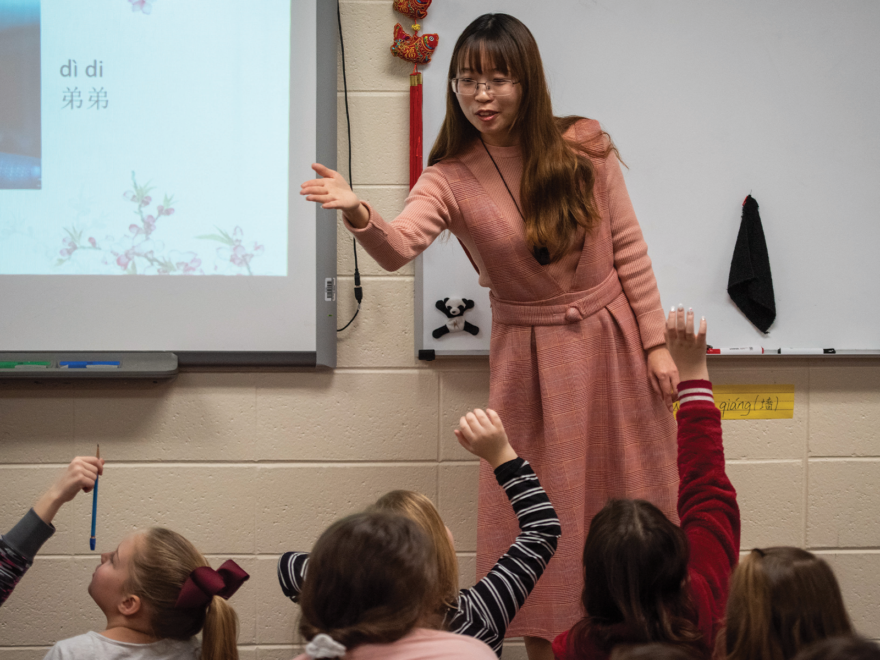 Elementary students welcome two teachers from China to teach the Chinese language
"Expand Our Horizons" is the theme for the 2019-2020 Henderson County School year. Students and teachers have been challenged to reach new heights, explore new ideas, try new innovative concepts, and gain knowledge about the world around them.
Teachers have dived into this concept of expanding horizons and have been integrating technology into the classroom, developing STEAM (science, technology, engineering, arts, and math) opportunities, and have explored and learned more about the world around them. A great example is featured in this month's magazine with Niagara Elementary School students interviewing community members and learning more about their culture. Students at A.B. Chandler Elementary School and Jefferson Elementary School have had the unique opportunity to expand horizons with a brand new subject and language, a Chinese class.
Through a partnership with the University of Kentucky Confucius Institute and the Raymond B. Preston Family Foundation, this new program for Henderson County Schools has been introduced this school year. Pan Hongting is the teacher at A.B. Chandler Elementary School and Jian Luan is the teacher at Jefferson Elementary School.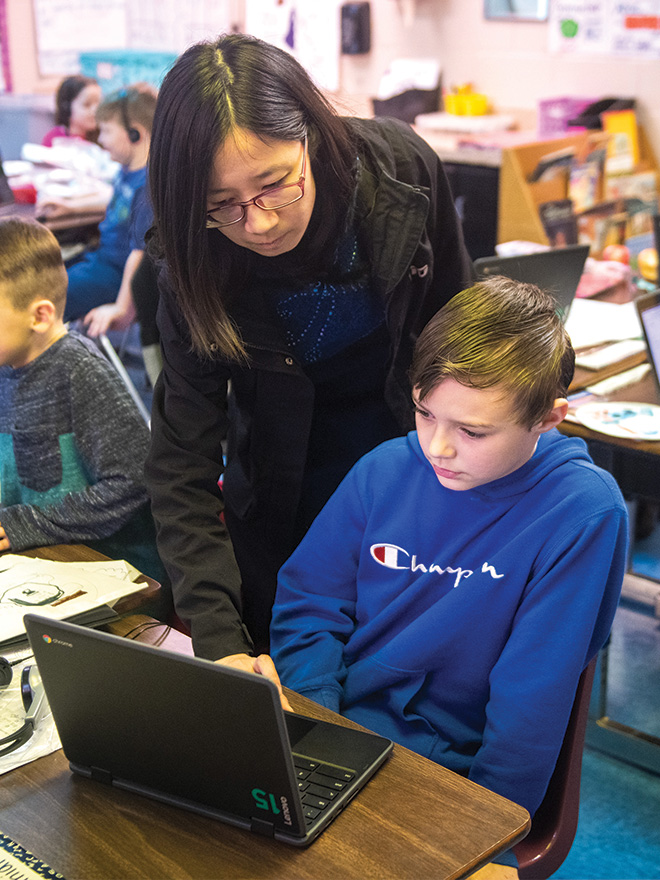 "Students absolutely love going to Chinese class each week.  The class is very interactive and fun for the students. It is amazing how quickly they pick up on the words being taught by Ms. Pan," A.B. Chandler Principal Brandy Haley shares.  Additionally, Principal Haley was part of a team from the Henderson County Schools that traveled to China during the summer of 2019 with the University of Kentucky Confucius Institute. The team visited local elementary schools, high schools, and universities to learn more about education in China. The Confucius Institute provides leadership and support for Chinese language programs in Kentucky's K-12 classrooms. Every year the University of Kentucky Confucius Institute invites school districts from across the state to participate in a Kentucky Educator Study Trip to China for an immersion into their culture and education system. "Visiting China was a once in a lifetime experience that I will never forget. Having the firsthand experience of visiting China and learning about the culture and history has definitely been beneficial for me to be able to share with the students."
Isabelle Gary, a 4th-grade student at A. B. Chandler, has enjoyed this new opportunity. "It's fun and exciting to learn words in a new language.  Some of the words are hard to say, but it's still fun."
Pan Hongting mainly teaches students the Chinese language but she also spends time sharing her culture with students. In January, Pan shared with families from across the district about the Chinese New Year at a District Family Reading Night.
"It's exciting to learn new words in Chinese.  It's a good experience for us to learn new languages," shares Lauren Yates, a 4th-grade student at A.B. Chandler.
Jefferson Elementary School Interim Principal, Gwen Courtney, shares that students are picking up the new language very quickly. "The students love Ms. Luan, and she has been a wonderful addition to our staff.  We are teaching her about our culture, and she is teaching us about Chinese culture.  It's a win-win for all. We can travel and experience Chinese culture through her. This opportunity allows everyone to expand their horizons in their way of thinking about other people, languages, and a different way of living.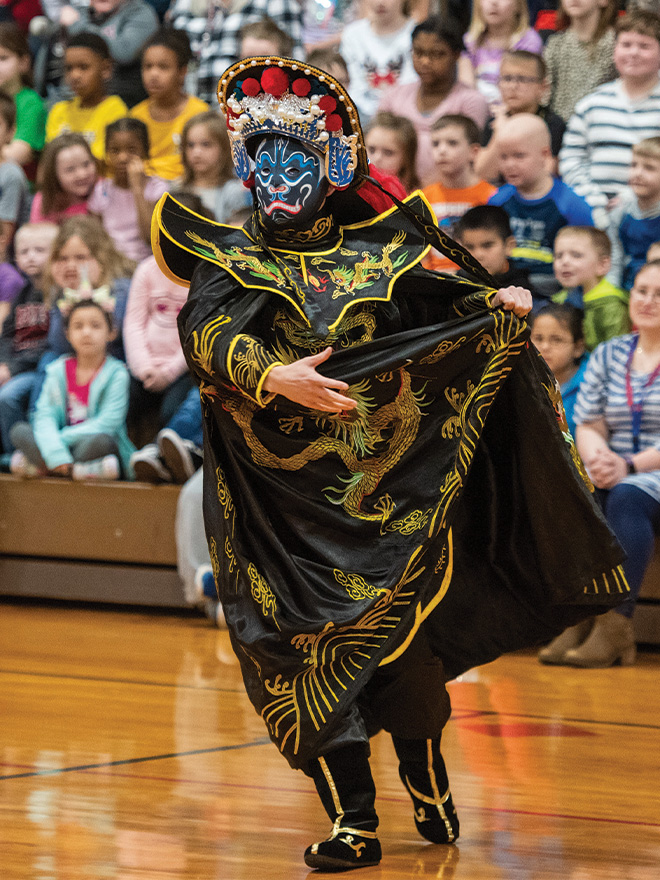 Jian Luan is learning more about the culture of Jefferson Elementary School "Jefferson has a unique school culture, which includes the 7 habits of leadership; be proactive, put first things first, seek first to understand then to be understood, think win-win, begin with the end in mind. This reflects Jefferson's deep love for all kids, and I have learned from that. I hope my Chinese class will allow children to expand their horizons and thinking and improve their comprehensive thinking ability and speculativeness."
Students at both elementary schools have learned about Chinese painting, playing the pipa and guzheng (traditional Chinese instruments), face-changing opera, and tea art during a recent program presented by the U.K. Confucius Institute.
The teachers live with local host families and have had the opportunity to experience what it is like to be a part of an American family and what it is like to be a part of the Henderson community.
Pan shares, "What I have learned about Henderson is to be optimistic, smile to everyone, and everything will be fine." 
Join our list
Subscribe to our mailing list and get interesting stuff and updates to your email inbox.
Reader Interactions