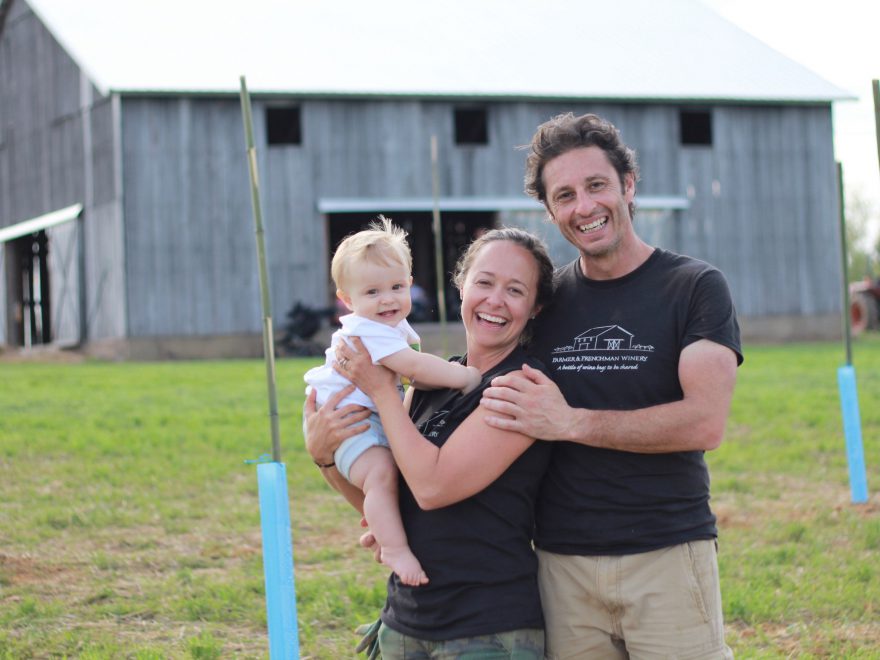 When a farmer meets a Frenchman, good things can happen. Add a little wine, food, a beautiful Henderson landscape, and the love and support of family, and anything is possible.
Farmer and Frenchman is just that: a dream made a reality through a collaborative, family effort.
It all began as a love story. Henderson-native, Katy Groves-Mussat, and Frenchman, Hubert Mussat, met in Miami in 2009 where they fell in love, got married, and later had their son, Luca.
Living in Miami, the duo had an ideal setting. The weather was warm, nightlife was lively, and tourism dollars flowed. As a restaurant owner with his father, Hubert planned to open more restaurants in the Miami-area, when he realized he no longer had the same motivation to follow through with his plan.
"My plan was to open a lot of different restaurants and I never got the motivation, because it was only the money," says Hubert.
The motivation, Hubert says, was rekindled over a recent camping trip with Katy's family.
The backstory is that Katy's mother's side of the family – the Tripletts – purchased some land in Henderson county in the 1930's. The Triplett family built the farm, including a tobacco barn, in the 1940s, and the land has been farmed since.
During the camping trip, Katy's brother-in-law, Tommy  Jenkins, a Henderson farmer, mentioned how wonderful the location would be for a vineyard. That night, Tommy said if something like that ever happened, they should name it Farmer and Frenchman, after Tommy as the farmer and Hubert as the Frenchman.
"It all seemed to make sense," says Katy. "Hubert had his own restaurant and he had been working with his dad in restaurants since he was young. Working in the restaurant industry in Miami wasn't something that appealed to me, but in a place like Henderson, it did."
Katy says, however, her intention was not to return to Henderson, even though most of her family lives there.
"As soon as I met Hubert, I didn't think we would move to Henderson," says Katy. "I thought if we moved anywhere, it would just be somewhere else, in Miami or Paris."
Katy approached Tommy with a business plan; however, he decided to opt out of owning part of the business, but would help them as much as he could. Just like Tommy, the rest of Katy's family offered their unconditional support in the planning and implementation of Farmer and Frenchman.
"From day one, all of the family came together," says Hubert. "Both sides of the family, remarried parents and everybody pushed us and helped us as much as they could to help us make it happen."
Hubert says this type of support was unusual for him. Growing up in Paris with only his mother and grandmother, he couldn't quite comprehend the amount of love and support he received from Katy's family.
"That was totally new for me to have this family," says Hubert. "They are always on Katy's side with whatever she does. I have a great family, but they always asked me 'why do you do this?' or 'I don't understand why you did that.' But for Katy's family. It is different. Even if they don't know if it's going to work, they will help you to make that happen. That amazed me."
The support from her family went beyond the duo's expectations. Though the business venture began in October 2013, they did not move to Henderson from Miami permanently until February 1, 2016. Before that, Katy and Hubert were traveling between Miami and Henderson for 10 days at a time, every other month, while the family took care of the grapevines, construction, architecture and anything else that needed to be done.
Katy's father, Paul Groves, says it was truly American ingenuity and the desire to succeed that kept them moving forward on the project, while Hubert says it was love.
"Paul's feeling? Love," Hubert says. "He said 'my daughter is going to be home so I am going to do everything I can to help her.' Debbie (Katy's mother), was the same. She said 'oh, my daughter is going to come back? Here is the key. I don't even know if it will be able to run or if it will work, but she is coming back so here is the key. Take care of it.'"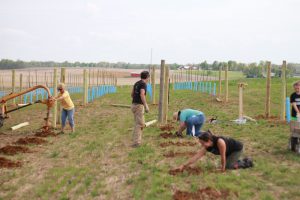 With both of Katy's parents remarried, the family says they have embraced how "modern" they truly are.
"I like what Paul calls us, which is a modern family," says Debbie. "And it's true. There's divorce, remarriages, blended families, blended stepfamilies, but we are all here to help Katy and Hubert."
Debbie says winery visitors often ask her how she is related to Katy and about her husband, to which she points outside and responds, "my husband is the guy out there working with my first husband."
Not only did the family help build Farmer and Frenchman, but they also volunteer their time to waitress, cook, wash dishes, babysit 2-year-old Luca, and anything else that needs to be done.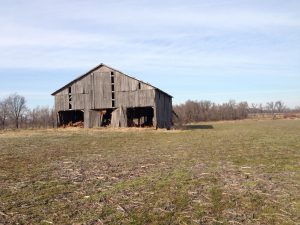 Katy's sister-in-law, Holly Bugg, works full time by day, and at the winery at night. She says although she wasn't able to help as much during the construction phase, she is happy to volunteer her time now as a waitress.
"I am not a waitress by trade, but I am going to do my best," says Holly. "Everybody that works here is family. We are going to do what we have to do to make this whole beautiful venture succeed. We wouldn't be here doing this if we didn't want to. Though I couldn't be a part of the construction a lot, I feel like now is my time that I can help and do my part to help this succeed."
Now that Farmer and Frenchman has been established, Katy says she doesn't mind being back home.
"In all of the difference places I've been, I learned that you just make the best wherever you are and it doesn't really matter where you are, it just matters what attitude you have," Katy says.
Farmer and Frenchman is located at 12522 Highway 41 South in Henderson and is open Tuesday through Saturday noon to 9 p.m. In addition to their wine selection, they serve homemade food supporting local producers with all fresh ingredients.
To make reservations, call 270-748-1856. For additional information, visit them at farmerandfrenchman.com.
Join our list
Subscribe to our mailing list and get interesting stuff and updates to your email inbox.
Reader Interactions