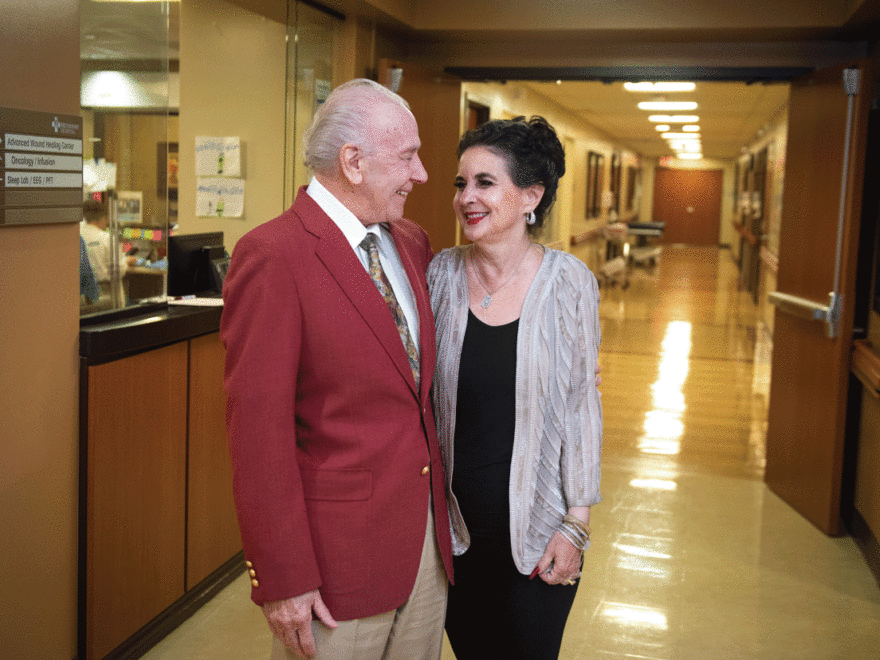 "For better or worse" are common vows said between spouses on their wedding day. For Glenn Johnson and Pem Pfisterer Clark, they didn't know one of their worst hardships would come only six years after they said, "I do." 
This Henderson couple has been happily married for twenty years and are inseparable. They do everything together. When they first wed, they had three vehicles between themselves. Now they share one car, one bathroom, one TV, etc. They have never spent a day apart and wouldn't have it any other way. 
Something they also share is their love of being entrepreneurs. Many in Henderson know them as they have both impacted our community in such a positive way. Glenn owned and managed Matt's Hallmark Gold Crown Store for 42 years before retiring in 2002. Pem is still sharing her passion of the bridal industry and her love for making a difference in our youth. She owns and operates Gallery Gifts & Bridal, Worsham Hall & Worsham Chapel, Wedding Planning with Pem, Ms. Pem's Art for Kids and Ms. Pem's Manners Matter. 
An Ongoing Battle
Glenn and Pem were given news 14 years ago many of us have experienced, whether it be a family member or friend. Glenn found out he had throat cancer the week of Father's Day. This was devastating news not only for Glenn and Pem but also to Glenn's son and daughter. Glenn underwent both chemo and radiation, and he has been blessed to be cancer-free since that trying time all those years ago. 
If only it were that easy. As many know, radiation has side effects. In Glenn's case, his cancer was on the left side of his tongue, and a side effect of radiation to his head was damage to his jawbone. Glenn had experienced pain on and off after he underwent radiation, but it can take a long time to know whether the pain is normal or if something else is going on. 
The first time they saw damage to the jawbone was after a dental procedure. This was the first time Glenn was introduced to hyperbaric oxygen therapy (HBO). He had to receive 100 days of hyperbaric oxygen therapy by making a three-hour drive every day. It was very successful, and they both thought everything was finally behind them. 
Ten years later the same thing happened on the other side. This time they were out 13.5 years from his initial radiation treatment. The damage was a little bit more devastating on the left side but also showed itself after a dental procedure. It was a tooth extraction in both cases. 
Glenn's oral surgeon, Dr. Wolford who is in Evansville, sent them to Methodist Health because he saw there was death of the jawbone and wanted to keep it from getting worse. Pem explained how he wanted Glenn to be able to live with it the way it was or have further treatment that would bring back good quality of life. Dr. Wolford was afraid the jaw would break, and it did eventually happen. 
Glenn spent 30 days straight in HBO treatment at Methodist Health's Advanced Wound Healing Center. He was inside the chamber for treatment for a total of 90 minutes, but it took all morning the time he was prepped and ready to begin. The treatments started in March and ended in April 2019.  He lived with a broken jaw from May 2019 to mid-August 2019. It happened after he finished his HBO treatments, but it was expected. The HBO treatments limited the damage, and without the treatment, there was no question it was going to break. It was just a matter of when. 
Glenn underwent a jaw transplant at the University of Louisville in August. It was a microscopic surgery lasting 12 hours. He spent 10 days in recovery and around a week in therapy. Glenn said, "One of the things about this operation is not having to take bone out of the leg to replace the jaw. That's huge because at my age pneumonia is always a risk. We give HBO full credit for managing it. Tim is just wonderful. Everyone has been." Instead, they were able to take a piece of bone out of his wrist for his jawbone transplant.
"He is a really good patient. We kept on schedule and didn't miss a treatment. This is a wonderful thing to have here in Henderson. The first thing we thought was we were going to have to do 30 more hours driving somewhere. It was a huge blessing. We can't say enough good things," Pem said enthusiastically. 
Hyperbaric Oxygen Therapy
So, what is hyperbaric oxygen therapy? It is flooding a patient's body with oxygen, and in turn, the oxygen will heal the wounds by forcing the wounded area to rebuild skin by growing vessels like a tree. The skin will build new cells allowing the wound to slowly be healed. This process requires a patient to lay inside a clear chamber for 90 minutes, and each patient varies on how many times they must enter the chamber or "dive." They are taken down to an oxygenated sea level where the pressurized tank will jump start the healing process both internally and externally.  
This is what is so amazing about Glenn's story. Many who suffer from radiation injury are not aware HBO therapy is an option to help them heal from the side effects they might be experiencing. Ashley O'Connor, Program Director of the Advanced Wound Healing Center, stated, "I think radiation injury is the most fascinating indication I feel that it works for and I had no idea. I've really tried to educate myself on it now. I had no idea this was even an option. We think about wounds we see and not internal injuries this might help when you think of hyperbaric. This story has touched all of us in our clinic." We spoke about how wonderful and life-changing technology can be. Glenn stated, "The beam of radiation they used on me the first time was almost as big as my pinky finger. Now 20 years later, it is the size of a needle."
 The HBO Process
Many people may self-refer to the wound clinic. If someone sees a wound or sees something that is concerning them, they don't have to go through all the steps with their primary caregiver. Most patients come back weekly, but HBO therapy is a daily commitment. 
A day of HBO therapy always begins with an assessment. Tim, who is the HBO Technician, will check all vital signs, and blood sugar if the patient is a diabetic. Patients may only go in with what they have naturally. In other words, no colognes, soaps, shampoos, etc. Static can also build up. To avoid being an ignition point, patients cannot wear any jewelry, have any electronic devices or even wear hearing aids. 
Once it's time to begin actual treatment, the patient gets inside the chamber and is given a bracelet to take care of any static charge, so it doesn't discharge through them. Some may be given a mask to provide regular air we breathe in case they need to take breaks if they are diving deep. Like Glenn, some patients have tubes put in their ears due to HBO. While patients lay in the chamber, they may watch TV and movies or sleep. 
The Advanced Wound Healing Center 
Methodist Health opened the Advanced Wound Healing Center seven years ago and was the first in this area to have hyperbaric chambers. They are part of Healogics, which is the largest wound management company in the world, and their focus is advanced therapies and treatments for their patients. 
The Center consists of three providers, an HBO Technician, two wound nurses, a clinical nurse manager, program director and one office personnel staff member. Ashley stated, "We are a smaller operation, but we get things done." 
Tim's job is to not only handle the chamber operations but to make sure his patients are comfortable. "We have been so proud of Tim and how he has really made our patients feel during a time when they have to come in everyday and devote so much of their time. Tim is very knowledgeable in what he does, and patients feel comfortable. They feel like family. Their comfort level and care are something they know and feel," Ashley said enthusiastically about their HBO Technician. She went on to explain their main goal is to get patients in and out as quickly as possible and healed up so they may return to their normal life. 
Tim was a paramedic on an ambulance service before starting his career at Methodist Health's Advanced Wound Healing Center. "With critical wounds, you get to make changes and intervene, but you lose touch with how they turned out. This is more of a place that I enjoy better because not only do I get to know what happens afterwards and still get to keep in contact, but I feel like I befriend them a bit and really enjoy that a lot," Tim explained. 
Looking Ahead
Glenn and Pem are looking forward to finally getting back to normalcy in the months to come. "We expect a great outcome," Pem said. Glenn has been discharged from the Advanced Wound Healing Center, so he isn't required to come back unless they pop in to say hi to the friends they made along the way. Glenn will work with his oral surgeon from this point on. 
Pem wants our community to be aware this clinic is here. It was such a blessing to them and knows it can be for others, too. Before this journey, Glenn used to play golf. He is told he will be back on the course next spring and is greatly looking forward to playing golf again.
Glenn could not have gotten through everything he did without his wife, Pem. She has been by his side every step of the way. They were truly in this together. "There is no way to describe. This lady has saved my life in several different ways. Not only physically by keeping me going in the right direction with medication and treatment, but emotionally. It's just hard to describe how much of an impact she has had on my life," Glenn said emotionally. "Never give up," he said, holding back tears as he expressed his gratefulness for his wife, the Advanced Wound Healing Center and encouraging others to hold on to hope and do the same.    
Lyndi Mauk, editor of Henderson Family Magazine, was born and raised in the Bluegrass State. She is grateful to be going through life alongside her husband and best friend, Brandon, and being a mother to their little girl.
Join our list
Subscribe to our mailing list and get interesting stuff and updates to your email inbox.
Reader Interactions