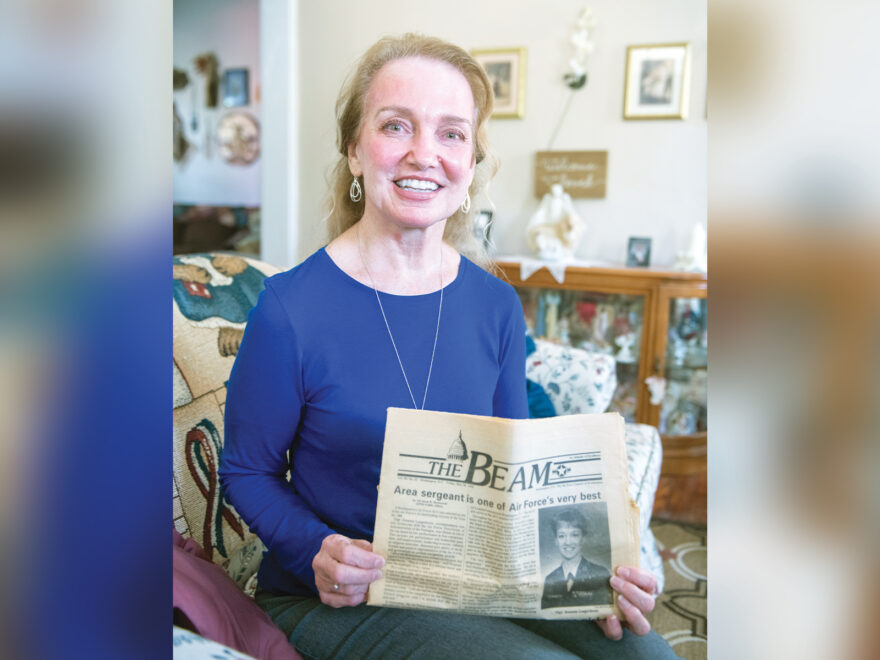 Photo by Darrin Phegley
Humble Beginnings
Having an accomplished military career complete with many "firsts" was never in the original plans for Henderson native, Ramona Turner. "My father served in the Korean War and was shot. In my eyes, as a little girl, Uncle Sam shot my daddy. "I didn't want anything to do with military," says the poised lady, sitting with perfect posture in her downtown Henderson home. However, the plans she had made for herself to become a special education teacher changed after she graduated high school in 1973. "There wasn't any money at that time. I didn't know about scholarships or how to apply." Being the tenacious person she is, she couldn't let that roadblock stop her from moving forward. She began to explore other options, which landed her in a field she never dreamed she'd be in. 
Change of Plans
"This man who worked with my father had a daughter who had just joined the Air Force." This had until this point been a path that Ramona had not considered, given the trauma she felt as a child when her father was injured while serving in the army during the war. "Daddy mentioned to me that if I wanted to talk to him that would be fine, but only for the Air Force or the Navy. He did not want me near the Army or Marines." She found another path to her college dream once she discovered that she could serve in the military for 4 years, going to school while she was there. This seemed like the solution to her problem, and she signed up. Undecided on which branch to join, she took the exam for both the Air Force and the Navy. "I did better on the Navy one, but the Air Force treated me better so that's where I went," admitted Turner. Originally thinking she would only be in for 4 years and would likely be assigned to an administrative or nursing duty because she was female, she had the lowest of expectations. 
Women Helping Women
The military has come a long way regarding opportunities offered to women and minorities, but in 1973 the options were few for Ramona; or so she thought. Early into her career at Keesler Air Force Base in Mississippi, Ramona refused to settle for only the jobs primarily set aside for women. While on casual status there, she had a runner come to her requesting that she report to the DA. "I grew up watching Perry Mason. I thought it meant District Attorney," she giggled, "I thought, oh my gosh, I'm in trouble!" However, for military purposes, DA stands for Director of Administration. In that DA's office, Ramona was greeted by a "female zebra" (referring to the stripes on her uniform). The DA's boss was a female Lieutenant Colonel. The young 18-year-old, fresh recruit had never seen women in these high-ranking positions. These 2 women would become mentors to the ambitious Ramona in her efforts to crash through glass ceilings as she built her career. "I could not have had better mentors. The strength of character they had. The belief they had in me," Ramona says passionately and with tears in her eyes. Decades later she still recalls their role in helping her with vivid clarity. The confidence these women helped build within Ramona gave her the gumption to apply to be a Base Honor Guard, a role set aside for only men at that time. After she applied, she was told she could not join the Honor Guard because she was a woman. Lieutenant Colonel "saw red" upon hearing of this news from a disappointed Ramona. She marched her into the Inspector General's office, firmly telling Ramona to "tell him what you just told me." Ramona smiles ear to ear recalling how that's what it took for change. "I was selected for Base Honor Guard Team; the first female!"
Honor Guard was just the 1st in a long string of accomplishments she can boast of now, including being the recipient of the Defense Meritorious Service Medal, Joint Service Commendation Medal, Air Force Achievement Medal, Air Force Outstanding Unit Award, Outstanding Airman of the Year Ribbon, and Air Force Overseas Long Tour Ribbon, just to name a few. She went on to be stationed all over the country. She has been stationed in Texas, Mississippi, Hawaii, Virginia, Colorado and even the Pentagon. "There are more people in that building than in the whole county of Henderson," she continues describing the grandeur of the world's largest office building, "It has miles of corridor. I don't even know how many water fountains. It has so many cafeterias. It even has a post office, a bank, and a hospital; you could live there and never need to leave." Despite the historical significance and size of the structure she explained that "it never felt crowded." Ramona retired from the military in 1995. She had a family and eventually moved back to Henderson to help look after her aging father. Even after seeing the country and serving it at the highest levels she acknowledges "there is no place like home." 
Honor Flight Kentucky
According to Honor Flight Kentucky (HFK) they are a "501(c)3 with the mission of flying World Word II, Korean War and Vietnam War veterans to see the memorials in Washington, D.C., that are dedicated to their service and sacrifice. This is a one-day, all expenses paid trip that leaves from and returns to Bluegrass Airport in Lexington."
HFK began accepting applications for "female veterans of all ages" for a flight that would be honoring women who have served. Ramona applied and to no one's surprise, was accepted to participate. The flight, which took place June 11, 2022, was one she will not forget. 
The night before, the women chosen for the flight attended a dinner hosted by the Kentucky Historical Society in Frankfort. "They had the highest-ranking military woman in history as our guest speaker. Her name is General Lori Robinson. She just recently retired. Not only was she a 4-star General, but she was the first female commander of a war fighting command." Ramona's excitement was unable to be masked with sharing about how far women have come since she enlisted back in 1973. "She was dynamo!"
The morning after the dinner was the big event. "We were all assigned a flight buddy. There were 132 of us on that flight times 2. It was an incredible day," Ms. Turner's voice escalates with enthusiasm as she goes on to describe the event, "They sent us off with bagpipes. We had a water salute from the fire department. We had our own plane, our own service attendants, our own pilots. When we got to DC, the DC fire department did a water salute as well. As we deplaned, there were all these people at our gate dressed in red, white, and blue cheering and clapping for us. There was a quartet of men singing. There were banners hanging from the rafters." The group of honored veterans were then taken to the Military Women's Memorial. "Our histories and pictures are all there for perpetuity; we are all there now," she boasted. The group went to Arlington, watched the changing of the guard and to the World War II memorial. At the end of their exhilarating day, they began their journey back home where they were cheered along the way. 
Powerful Ending to a Powerful Day
"When we came back from our flight, General Lori Robinson, US Air Force retired, was there waiting for us in her military uniform, blinded by the light of the 8 stars on her shoulders, 4 on each side. She was cheering for us. She was hugging us as we walked through. Some of the women on this flight had never felt appreciated until then. The trip was the pinnacle of their time in the military." 
She again filled with tears of sheer pride when we recalled a quote from General Robinson. The night before the flight at the dinner, the General told the women, "Your shoulders are the broadest of all because the rest of us stood on them." The trail-blazing Ramona Turner, along with other brave, determined women along the way, helped make the road for women coming in behind them a bit smoother. 
Judging by the smile on her face, she feels it was worth it.   
Amanda Waggener is a blogger for the Huffington Post, author of No Grit No Pearl blog site and is a native of Henderson. She and her husband are the parents of two teenagers who they are raising with as much zeal as they can muster.
Join our list
Subscribe to our mailing list and get interesting stuff and updates to your email inbox.
Reader Interactions