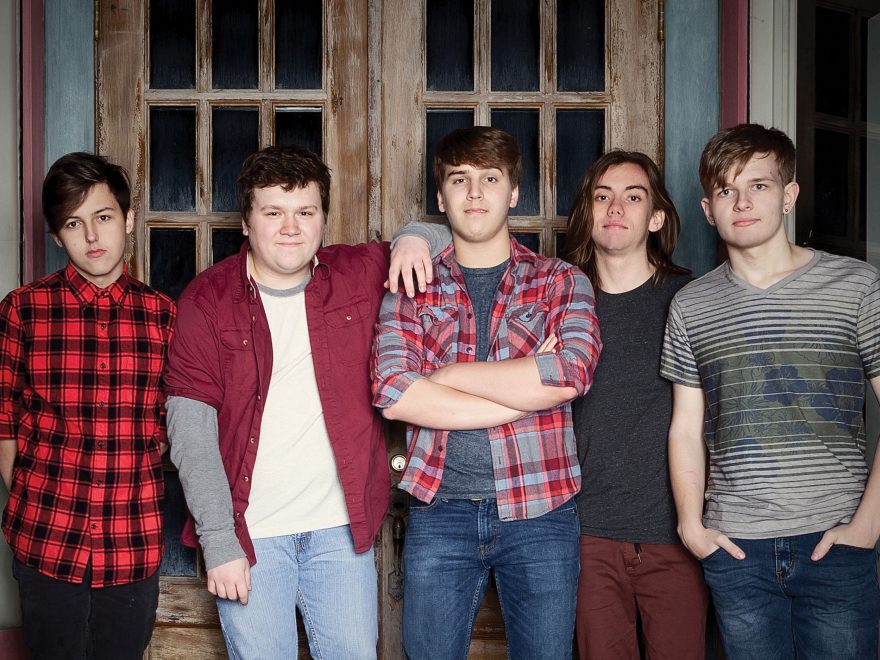 These kids can play.  They'll school you in rock in a way that would make Jack Black proud – and all before 8 p.m.
At 15 and 16 years old, the bandmates of "Five After Five" channel alternative and 90's rock that harken back to garage bands of lore.  At one moment John Abbott will belt out the silky smooth stylings of Thom York from Radiohead and then switch over to Kurt Cobain from Nirvana.
As this old fogey sat toe-tapping in an unassuming garage, awestruck at the talent of these teens so far removed from GarageBand grunge that defined a generation, I found myself asking a very simple question, "You take requests?"
I felt almost bad; I didn't want them to think I wasn't enjoying their vibe.  I was, immensely.
They took a giddy-like quizzical look, half musing at what I would suggest, half worried I might suggest something so outlandish they wouldn't know what I was talking about.  I decided to test them.
"What about some Blink 182?" This, I figured could be a little departure for John on lead vocals and could give Gage Johnson a run for his money on the lead guitar.  "Know Blink 182?"
Excitement filled the air.  "Oh man… Pop Punk!" John shouts.  The energy was now palpable.  "We played that at our marching band gig," says Caige Hazelwood, the pianist/synth player.  Drummer Zakk Marks muses that it might be a stereotypical song, but he starts twirling the sticks anticipating the moment he gets to beat out one of the most recognizable punk rhythms in music.  Draven Skaggs grabs the bass ready to slap on the rumble and Caige, back on the keyboard and backup vocals (or as John puts it, "Lead backup vocals") gets one of the most purely happy smiles you've ever seen on someone.  He's like a kid on Christmas, but one that plays punk in a garage. And every lead backup vocal line he harmonizes he adds a little flair of an accent.  His smile is contagious.
For the next three minutes, somewhere out there, Travis Barker is smiling.
Five After Five isn't just a cover band, though.  They have over 20 original songs.  As they put it, Gage is the primary songwriter.  Sometimes it's just a scratch idea or concept.  He brings this idea to the band, and then they collaborate to create something together.
For Gage, it's a way to express an emotion to his audience.  And he loves the way it becomes a group effort.  One of their original songs, "Room to Breathe," just started as a bass riff he played over and over.  The band created the rest.
For these young artists getting on stage is only part of it.  It's truly about the art and communicating with their crowd.  Those crowds have varied.
They fondly remember winning the West Side Nut Club's Amateur Show Under 18.  That's a highlight.  Especially since it's been their biggest show — around 2,000 people.
The band loves their hometown of Henderson.  Having events in downtown Henderson like the Farm and Art Market is awesome for no other reason than it presents an opportunity to make a first impression. That is what happened for the band this past summer. The guys said making that first impression can be intimidating; however, once you get up on that stage, it's magical. It's an energy that flows from the crowd to the stage and back and creates an incredible experience.
But it's the time they played for their friends in the marching band at a Halloween party that they fondly remember.  They had some flashing lights for ambiance and a crowd of friends and fans they could play off.  "It's all about the music, the connection with the audience, that's why we play."
These kids are obviously young.  In fact, they were only named two years ago.  They were trying to come up with a name for Tri-Fest when one of the bookers called one of the bandmate's Dad, "Um, I think they're called Five After Five or something…" the Dad said.
"Thanks, Dad. That's close enough" one of the members teased.  But another chipped in, "Our name is an accident but, a happy accident."
The band has had local opportunities to perform, but find there are challenges with venue locations for a teenage, underage band in Henderson.  Recently, the band had the opportunity to perform at Brown Bag Burgers, and they have been in contact with Rockhouse at Wolf's. But the guys say the music scene in Henderson for teens needs to grow, and they are trying to make that happen.  It will not happen overnight, but they are intent on making it happen.  There's a lot of talent in Henderson, especially in our youth.  It's our job, as the audience, to support creativity and help it grow.
Practice and strong camaraderie are essential to creating this young, but energetic, band that encompasses alt-rock and 90's hits and they aren't stopping.  They're determined to get more gigs.  They're looking forward to nailing Owensboro's "Friday After Five" soon (hopefully their name will help with that, they say) and are excited about the Farm and Art Market again this summer.
But growing their fan base is the other cog in the wheel.  Here's what you should do.  Check them out on social media and at their next gig, which is Saturday, April 22 at Tri-Fest in downtown Henderson.
These guys are going places.
Join our list
Subscribe to our mailing list and get interesting stuff and updates to your email inbox.
Reader Interactions