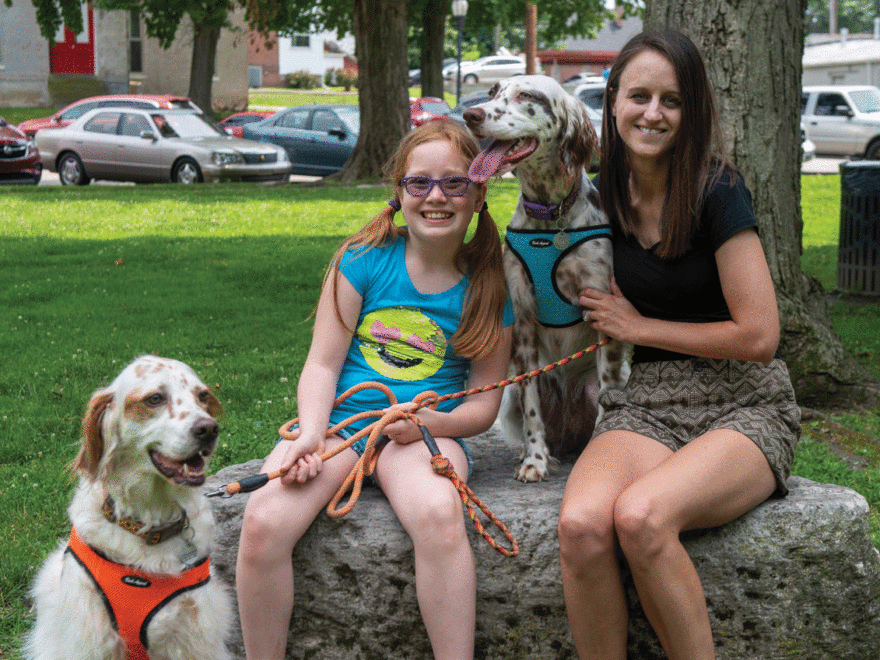 A Big Brothers Big Sisters Match Story 
"It changed my life," Emily Patton says of having mentors as a kid.  Emily is empathetic towards children who need some extra guidance.  As fate would have it, she was invited to a Big Brothers Big Sisters Bowl for Kids event at Echo Lanes by a friend of hers in the spring of 2016.  Not knowing much about the program, her intentions were simply to go and have a good time with her friends.  She admits her objective of the day was primarily to get her ball down the oiled-floor lane, straight enough to knock over some pins.  However, it didn't take long for the day to take an unexpected turn for the Webster county native who has a heart to serve.  "While I was there I learned some about the program and what they do for the kids in our community," she recalls.  "Right then and there I knew I wanted to be a Big." 
The Perfect Match 
Big Brothers Big Sisters refers to their adult volunteers as "Bigs" and the child they get partnered with as "Littles."  She was matched with her first Little within a very short period of time, but that match only lasted for about two years then closed.  This is something that occurs, on occasion, in the program.  Emily explained this can happen for a variety of reasons such as "unforeseen circumstances that happen like someone moves away or they stop communicating."  She urges Bigs to not become discouraged by this.  "Don't give up.  Sometimes it can be rocky," she suggests.  She didn't let this discourage her and anxiously awaited news of when she would be matched with her next Little. 
In July of 2018, Emily was matched with, now 10-year-old, Gracie.  Having the experience from her first Little, she was prepared to give the relationship the time it needed to cultivate.  "The more time you spend with your Little, the more impact you'll make.  You just have to give it a little bit of time and you'll grow to be best friends," she assuredly shares.  
Gracie is being raised by her grandparents, who desire for her to have connections with other young adults.  30-year-old Emily was the perfect match, and not only because of her young-adult age.  As Emily began to develop a relationship with her new Little, she noticed many similarities between Gracie and herself as a child.  "Gracie is pretty shy, just like me as a kid.  She loves animals.  I can't stress enough how much she loves animals.  I used animals as a crutch when I was young.  I would rather be around animals than with people.  We are a lot alike in these ways," says the doting Big of her Little.  The two love to go on outings together and take along Emily's two English Setters, Winston and Ivy.  "We go to the dog park a lot," she says as she begins listing their other frequent activities. "We take the dogs on walks, get ice cream with them, volunteer at New Hope Shelter, and eat at the Cat Café.  We do anything we can involving animals."  It may come as no surprise that Gracie aspires of one day becoming a veterinarian and a zoologist.  In addition to canine adventures, the pair have also gone zip lining, attended plays together at the Henderson Area Arts Alliance, watched shows at the Ford Center, ate popcorn while taking in a hockey game and even attended a Harlem Globetrotters game.  Even in a small town, there is no shortage of fun things to do together.  
The Benefits of a Mentor
During the time the pair have been in consistent contact with one another, Emily has seen personal growth take place with Gracie.  "She's more talkative with people. She's coming out of her shell a little more.  She had her first speaking lines in a play at school; which is a really big deal."  Emily adds, "That was exciting!"  
"I've had such good mentors growing up as a kid.  When I was young, I could not have a conversation with anyone.  I was scared to death.  I couldn't call anyone on the phone.  I couldn't talk to adults.  I probably couldn't have even had a job without the help of my mentors,"  Patton recalls.  "I was in the 6th grade and they were juniors and seniors in high school."  Emily now is motivated to continue the legacy her mentors started in her own life by impacting the lives of local youth.  
"Now I want to pay that experience forward to someone else."
"Our mission is to provide children facing adversity with strong and enduring, professionally supported, one-to-one relationships that change their lives for the better, forever," Big Brothers Big Sisters of Southwestern Indiana.
The beautiful relationship that Emily and Gracie possess wouldn't have been possible if not for Big Brothers Big Sisters.   The program, "doesn't give up on our kids.  I think it's just so important," Emily says.  "It's greatly needed in this community."  Emily, who was newly named to the board of directors, also adds, "It helps kids become the adults they will be in the future.  It's one more relationship that can change their lives for the better."  There are plenty of children awaiting being matched with a Big.  The need for volunteers is great.  "This is their 50th anniversary!  There are now generations of littles that have gone through the program and are now business professionals."  Knowing how impactful having mentors in her own life as a child was, Emily encourages others to check the program out.  As the Big has discovered through her own personal experience, not only is the child's life positively impacted, but the life of the Big is also richly enhanced by the lifelong relationships formed with their Little.  "They say the program ends when the Little turns 18 or when they graduate high school, but my goal is to be with her forever."  Information about how to become a Big can be found by visiting mentoringkids.org.
Some feelings are difficult to put into words, but when asked how Emily feels about Gracie, now having spent a couple of years together, after a long pause, she exuberantly said, "She's awesome!" 
Amanda Waggener is a blogger for the Huffington Post, author of No Grit No Pearl blog site and is a native of Henderson. She and her husband are the parents of two teenagers who they are raising with as much zeal as they can muster.
Join our list
Subscribe to our mailing list and get interesting stuff and updates to your email inbox.
Reader Interactions