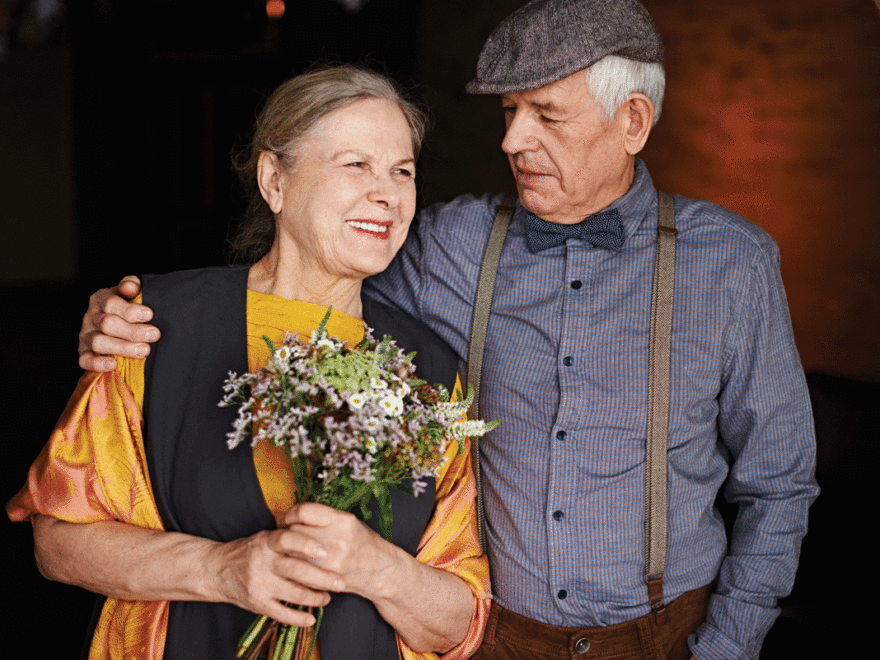 High Schoolers Give Senior Citizens a Prom of Their Own
How the Idea Originated
In 2016, teacher Natalie Martin was on the cleanup crew for senior prom at Henderson County High School. After taking down all the beautiful, well-done decorations, she couldn't help but think that they were going to waste by only being used for a single night. This is how the idea for Senior Citizen Prom was born, and how many senior citizens have gotten to experience a special day with some hard-working students. 
The Freshman Initiative Program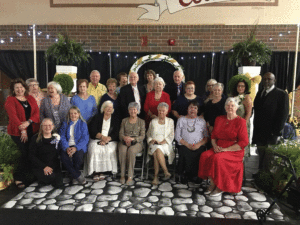 The Freshman Initiative Program at HCHS is a community service outreach program that new students participate in to do some good in the community. Once a month, these freshmen, accompanied by one or more of the three team leaders (Emily Phillips in the red unit, Natalie Martin in the green unit, and Ashley Schartzer in the blue unit), go out into Henderson with the goal of making someone's day by performing well-meaning activities. These activities include raking leaves, baking and delivering cookies to first responders, playing games with seniors at retirement homes, and much more. In April, the program focuses on the Senior Citizen Prom. 
Natalie Martin helps to orchestrate the event as part of the Freshman Initiative Program. "It started as a service-learning project that morphed into inviting the elderly into our community to mix with the youth. We get some leftover prom food, all the beautiful leftover decorations, the flowers, and a lot of the elderly dress up. Many of the girls who invite their grandparents now dress up, too, and it's a real treat to see them all dancing together. It's been growing every year."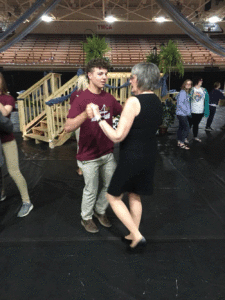 Who Can Attend? 
Every senior citizen is eligible to come to this event. While the first senior citizen prom was focused mainly on the grandparents of freshman students, the event has been opened up to the public. During the first year, about 50 participants attended. Last year, between 100 and 150 made their way to the gymnasium, and even more are expected this year.
Invitations have been sent out to the Silver Sneakers program at the YMCA, Redbanks and Colonial residents, members of the Gathering Place, and many more groups around Henderson. Participants are encouraged to dress up, dance, savor some light snacks and drinks, and simply enjoy themselves. Senior citizens with relatives in the high school are allowed to have their student come to the prom and enjoy the event with them. The event promises to be a fun, memorable morning for all who are involved.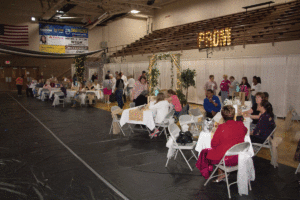 Senior Citizen Prom takes place on the Monday following the HCHS prom. This year, the date is April 15th, and the event takes place from 9am to 11am. A photographer will be present, and students involved with the freshman initiative program will be offering different activities, such as nail painting, dancing, board games, and more. Anyone who wants to attend does not need to register and may simply show up at the time of the event. 
Kaycee Garner has lived in Henderson her entire life and plans to keep it that way. She loves animals and movies, and enjoys drawing with charcoal and working on local political campaigns in her spare time.
Join our list
Subscribe to our mailing list and get interesting stuff and updates to your email inbox.
Reader Interactions