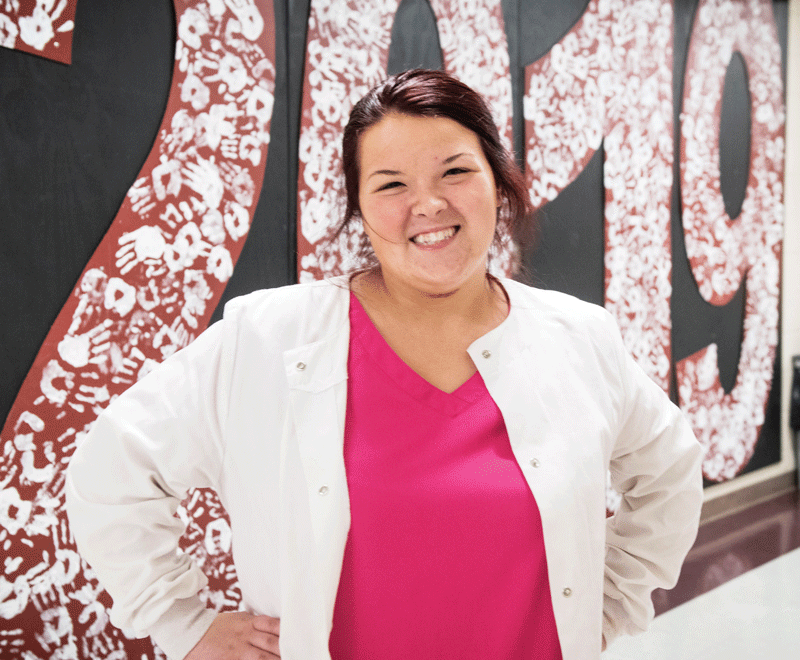 Graduation is an exciting milestone for every senior. And for some students, the anticipation to say, "I did it," is more than others could ever imagine.
The countdown until you finally walk across the stage to receive your diploma is a feeling like no other. A new chapter awaits. For some, obstacles and hurdles came their way throughout the years leading up to this moment, yet they have overcome and here they are. 
Hayley Galloway and Cameron Staples are two Henderson County High School seniors who are graduating after taking part in the Special Education Program during their time with Henderson County Schools. Their roads weren't always easy, but their success stories are inspiring. They are showing so many students who may be walking through similar situations they can accomplish anything they set their minds to, and with the help of amazing programs such as this, they will succeed. They fought to get where they are today, and they are on their way to accomplishing so much. 
Hayley's Success Story
Hayley was born with 22q.11 Duplication Syndrome, a rare chromosome disorder. Only 16 in the entire US have this disorder, and she is number 11. It affects all her organs and kidneys. Because of this syndrome, she has suffered from a variety of conditions including a form of spina bifida, a heart condition, a neurogenic bladder and she has three kidneys. People with this form of spina bifida aren't supposed to be able to walk, but she beat the odds and walked. She underwent back surgery to fix her spina bifida after she was diagnosed, but was unable to walk long distances. Her legs would give out, and she would fall so she had to get a wheelchair. In 8th grade, she had bladder surgery and developed an infection that put her in the hospital for 36 days, and they didn't think she would live to graduate. 
Hayley still had trouble walking long distances after her bladder surgery, and after she entered her freshman year it only got worse. By her sophomore year, she couldn't walk at all, so she started going to physical therapy. This helped her tremendously. She was then able to walk short distances and now she can walk long distances again. She always has her wheelchair with her in case she needs it, but she has been having a lot of good days, so she is able to push it around at school all day.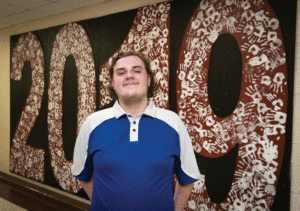 Cameron's Success Story 
At age 3, Cameron was diagnosed with ADHD. This has been difficult for him at times over the years in school, but he has overcome the obstacles he has faced due to this diagnosis. He underwent eye surgery to correct astigmatism in both eyes when he was only 3-years-old. He now wears corrective lenses in both eyes. Cameron also has asthma. In 1st through 5th grade, he had to carry a very heavy breathing machine with him to and from school. 
Looking Ahead
Hayley and Cameron are both very excited about graduation and what the future holds. Hayley has been part of the HOSA program and was able to co-op at the hospital this year. She said, "I made it and fought hard to get there." She wants to be a NICU nurse and plans to attend Henderson Community College for two years with the possibility of transferring after that. What she enjoyed most about high school was taking part in the Health Science Program. When she isn't in school, she enjoys hanging out with friends and going to bonfires. She participated in archery since 3rd grade, but stopped when she started high school.  Although Hayley is excited about this new chapter, she is going to miss being with her friends because they will all be going down different paths when they graduate. In five years, she hopes to be graduating nursing school. 
Cameron has been hired by the Henderson County Board of Education as a custodian and will be starting work once he graduates, but his dream job would be to be a pro-gamer. When he isn't in school, he enjoys playing video games, listening to music, and singing and dancing. His favorite classes were P.E. and dance, but what he enjoyed most about high school was hanging out with friends. In five years, Cameron would like to be the best Fortnite gamer. 
Hayley's advice to younger students who may be facing similar obstacles is, "Keep pushing and don't give up. If you really want it, you can fight for it and get there." Cameron agreed. He said, "Try your best. Try your hardest and stay out of trouble."
Being part of the special education program has been a blessing to them both. "I feel like it helped me push myself to become a better person and not give up easily and to be able to fight through all my complications to get where I am today," Hayley explained. The program offers them support to help them push through those challenges. Cameron added, "You have people to help you on that, too."
There have been so many people over the years who have been there and helped them in so many ways but when asked who they would like to thank Hayley said, "My mom. She never once left my side in the hospital. In all my surgeries, she hasn't missed one at all. She has always been there for me." Cameron said he would like to thank Mr. Holstein. "He helped me get to where I am now," he said. 
"The mission of Henderson County Schools is to provide extraordinary educational opportunities for every student. Our exceptional graduating seniors are a reflection of that mission. I am very proud of these seniors and their grit and tenacity to succeed," said Kris Mayes, Director of Special Education for Henderson County Schools.
Henderson County High School's graduation is scheduled for Friday, May 17, 2019. 
Hayley and Cameron have a bright future ahead, and we wish them and the entire graduating class of 2019 the best of luck as they turn the page and begin this new chapter!  
Join our list
Subscribe to our mailing list and get interesting stuff and updates to your email inbox.
Reader Interactions