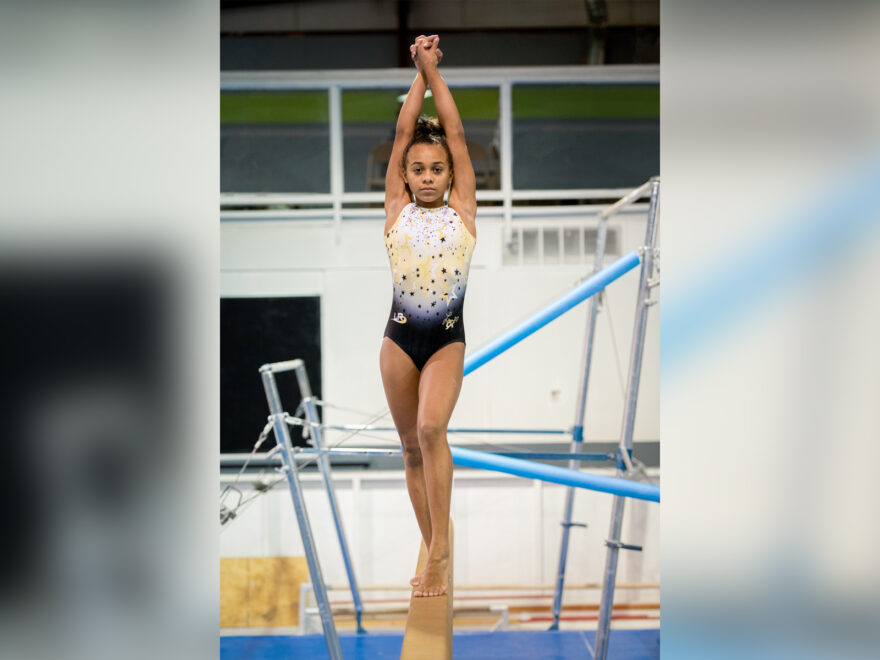 Photos by Darrin Phegley
When one thinks of Olympic gymnasts, they might recall names such as Simone Biles, Shawn Johnson, Aly Raisman, Shannon Miller, Dominique Dawes and Laurie Hernandez. These women have influenced and inspired generations of young women and continue to do so today. 
Laurie Hernandez was a team member on the U.S. women's gymnastics team in 2016 during the summer olympics, and she continues to help other gymnasts around the United States succeed in their talent. She recently hosted an invitational, in which 82 gymnasts were invited to attend and compete from across the region. The invitational was held in Knoxville, TN on Saturday, December 18 and Sunday, December 19. There were gymnasts invited from states such as Pennsylvania, New Jersey, Tennessee, North Carolina and Florida. Most excitedly, our local Spirit Sports Academy, which has been open for 7 years, had a gymnast of their own invited to attend the Laurie Hernandez Invitational. 
Meet the Gymnast
Kalayah Henshaw is a 6th grader from Morganfield, KY but drives to Henderson to participate in gymnastics since there is not a gym in Union County. She began her journey in gymnastics right before she turned 9. She started in a tumbling class for about 3 months before eventually working her way up to a level 6. She is currently the only level 6 gymnast at Spirit Sports Academy. When she isn't in the gym, Kalayah enjoys hanging out with her cousins and playing Xbox.
Kalayah's interest in gymnastics started when she would watch the olympics, and she would flip around the house, so her grandma decided to put her in a class. 
Being a Gymnast 
Kalayah practices 3 days a week for 3 hours each of those days. When she moves up to level 7, she will go to 4 hours a day with two private lessons a month. "Private lessons are really good because you get a lot of work done in an hour," said Ken Henshaw, Kalayah's dad. Kalayah said her favorite event would have to be the bars but what she enjoys most about the sport of gymnastics is making new friends. Although her interest in gymnastics was sparked by watching the olympics, she has never really thought about that for herself. She just has a love for gymnastics, and it is something she truly enjoys competing in. With competition comes hard work and dedication. "When you move up into levels, it gets much harder. Since it gets harder, you don't have that many people on that level to talk about your skills with or anything. It is more solo," explained Kalayah. This is probably the hardest part of gymnastics in her opinion. Even though you are on a team, individually the girls can be at different levels. 
The Laurie Hernandez Invitational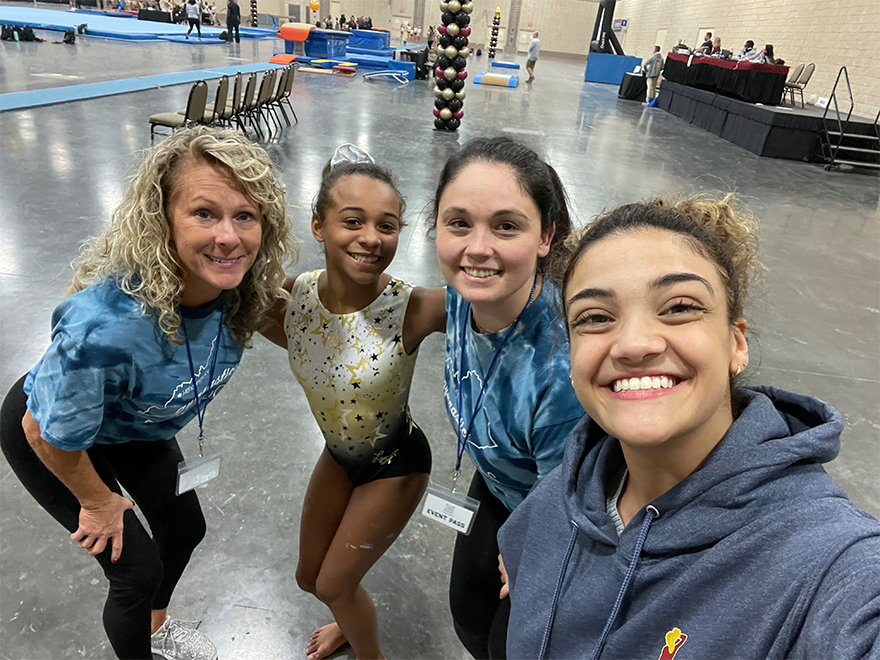 Kalayah's opportunity to be selected for the invitational came during the Magnitude Competition in Nashville, TN the weekend of November 6 where she finished 3rd all around. "I didn't get invited because I had the highest score. They said every time I stood in front of the judges they were impressed." She was one of the judge's picks. This was an invite only competition, so she was 1 of 82 chosen to compete and level 6 had 40 girls total in the competition. 
Kalayah placed 6th overall, and 2nd on vault. Her overall score was 37.05. Kalayah had the opportunity to meet Laurie. "The best part about the competition was her signing my shirt and giving me advice because I fell on my floor routine," Kalayah said. Laurie asked Kalayah if she laughed about her fall, and when Kalayah said she did, Laurie told her that's the best attitude to have. Kalayah recalls her response, "What else was I supposed to do other than laugh about it and keep going?" This attitude is something that is taught at Spirit Sports Academy. They want their team to work hard and do well, but they also never want them discouraged. It is important to keep your head held high and push forward. 
The Coaches Perspective
Kalayah wouldn't be where she is without her coaches, Cathy Millhof, manager of Spirit Sports Academy, and Sarah Bowley. Cathy has coached in Ohio, Georgia and Kentucky and Sarah in Alabama and Kentucky. Sarah is actually one of Cathy's old gymnasts, so they have a long history together and work well as a team. Kalayah's parents, Ken and Brandy, said they have to give a shout out to them. "They have been really good to us. This is her gym family," they said. 
Cathy recalls seeing Kalayah after she started gymnastics at Spirit Sports, and saying, "Oh, she has talent. We need her on the team." Cathy said some kids you can just see it, and Kalayah was one of those kids. Laughing, Sarah said, "I told her when she first got to the meet that no one knows where the heck Morganfield, KY is, but she needed to put it on the map." 
When Kalayah fell on her floor routine at the competition, she handled it exactly as they wanted her to. "We were proud of the fact that she kept going because a lot of kids will not. A lot will curl into themselves and may stop. We try to take that edge off of it. It's over and done with, and we have the next event to go to so put it behind you," Cathy explained. It is important to them to instill a love for fitness and health in their gymnast while having fun. "There is a lot more to life than winning and losing, whether it's in the gym or in life," stated Sarah. 
The judges picked 5 gymnasts from the Magnitude Competition in Nashville to attend the Laurie Hernandez Invitational. They weighed scores, performance and personality. "It was nice to be known that we were 1 of 40 to be picked for this competition," Sarah said. They have competed in numerous competitions over the years and have done well, but as coaches, it made them proud that others recognized the talent outside of them and picked Kalayah to go. 
Spirit Sports Academy was the only Kentucky level 6 team. As a level 6 gymnast, some of the skills you must obtain are a handstand on high bars and flip off bar, which is known as a fly away, back handspring on a 4 inch balance beam, and on the floor—a round-off back handspring back tuck and front handspring front tuck, to name a few. Everything they follow for their gym is from the USA gymnastics guidelines. 
"Even from a small town, I feel like we have earned the respect of other gyms and coaches within Kentucky," expressed Cathy. 
A Future in Gymnastics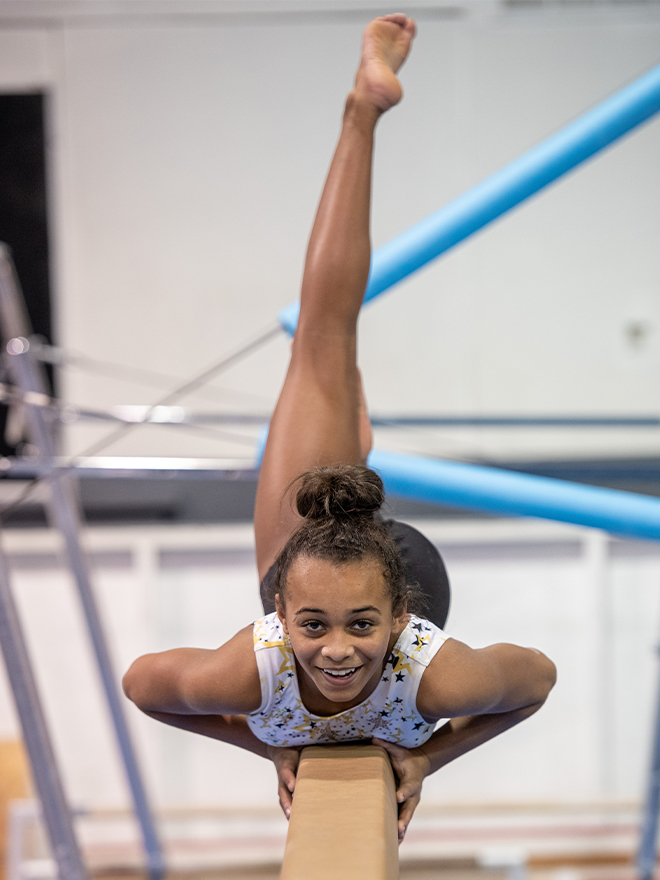 Kalayah was a very good softball player, but when gymnastics became a little more serious, she had to make a decision about which sport she wanted to pursue due to time. She chose gymnastics, and she hasn't looked back since. As her parents, Ken and Brandy are so incredibly proud of their daughter. Grinning ear-to-ear, her dad said, "For me, it's watching her get better. Watching her grow. Watching her hard work pay off. When you talk to her she doesn't even really care that you notice it, but I do. It makes me very proud. When you are there in front of all these people, and she has done well, you get that feeling inside like 'Man, that's my baby.' I'm going to let her live her life. She knows when she gets up there she has to sacrifice. I'm not sure what she is going to do, but we are going to leave it up to her." 
Brandy added, "I like the fact that when she gets out there you can see she is actually having fun doing what she likes to do, and if she makes a mistake she puts it behind her, moves forward, has a positive attitude and doesn't drop her head." 
When the gym is closed, the gymnasts find something to do while they are off. "We have mats. We don't have a beam or a bar. I don't think I'll ever do that. She gets enough of that at the gym, and I don't want to overwhelm her or ruin that love for it," stated Ken. 
Looking ahead with Kalayah's talent, Sarah said, "She has a natural physique for a gymnast. We are really working with her to figure out the difference between having natural talent, what she is going to do with it and what do I have to do to get to where some of these older and more experienced kids are." It was really great for Kalayah to speak with Laurie at the invitational because as coaches they saw it as a wonderful opportunity for Kalayah to see where she has to push herself if she wants to go really far.
Cathy added, "You're always moving upscale. You do your level but you work your way up towards the next level. You have to be pushing past where you are to gain strength." Their focus moving forward will be to start training Kalayah for level 7 skills, which they believe she can reach this year. She is only 12-years-old, so she is focusing on understanding the dedication it will take. "Level 6-10 is called optional. Once you have made it to that point you are really a gymnast. You have enough skills to say you can actually do something with gymnastics. She is the only optional we have right now. Any of our kids could have qualified for this, but our highest level kid did," Sarah boasted.  
Having a local gymnast be invited to an Olympian's invitational was a great experience for all of them. They gained so much by being there watching other gymnasts compete and talking to other coaches from the region. 
Kalayah has a love for gymnastics and competing. Being at a young age, she doesn't know where gymnastics will take her moving forward but she is dedicated to working hard and never giving up. Kalayah's advice for other young kids who are considering gymnastics, or those who have maybe just started is, "Don't be scared. If you fall you fall, and you just have to get back up and try again." 
Could Spirit Sports Academy have a future Olympian in their gym? Only time will tell, but for now, our community looks forward to seeing the young gymnasts, like Kalayah, having fun, working hard and always believing in themselves. Congratulations, Kalayah for making Henderson proud and being a role model for our local kids. 
For questions or information on classes at Spirits Sports Academy, you may call 270-454-9293, email [email protected] or find them on Facebook.  
Join our list
Subscribe to our mailing list and get interesting stuff and updates to your email inbox.
Reader Interactions