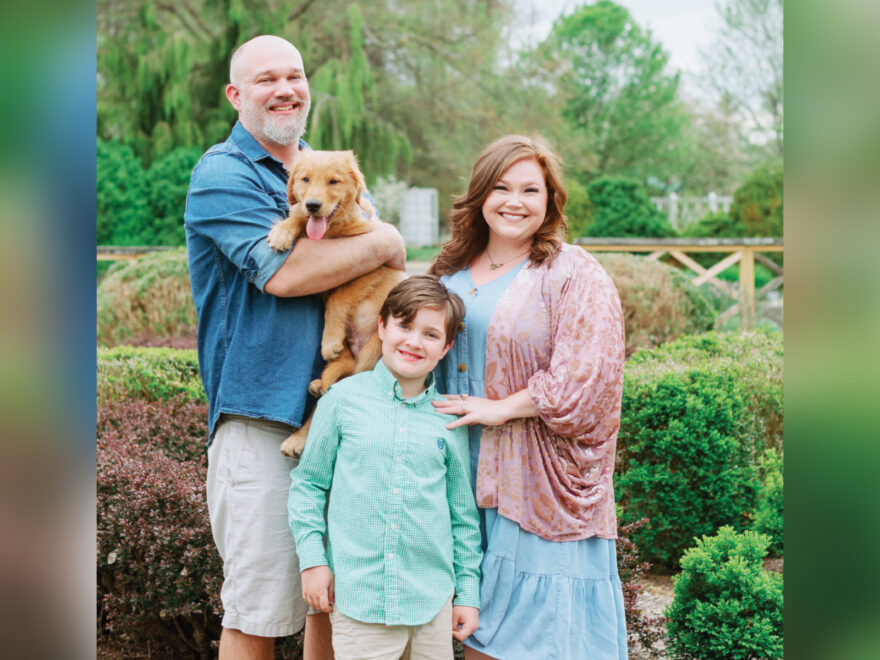 Photos by Jacqueline Russell
There's no denying that our pets are just furry family members! As fall approaches and you start thinking about scheduling family photo sessions, you might also consider including your pets. As a professional photographer, I've got tips for successfully including your dog in your next family photos.
Think about your location and your dog's personality
Research and ensure that your photo location allows dogs before showing up. If your dog is nervous around crowds of people, taking them into a busy spot for photos isn't a good idea. Consider your dog's favorite places for a possible photo session location — even if that means a cuddly session on your couch.
Bring along a dog wrangler
If your session is somewhere other than your home, consider bringing a friend or family member to help manage your dog. After including the dog in a few shots, the helper can take your dog for a walk away from the group so they stay happy while you finish your family photos, focused on your children and having fun.
Come prepared
Don't leave home without a leash, treats, your dog's favorite squeaky toy and waste bags. Also, bring water for your pup if it's a hot day. Treats can make all the difference in your session if your dog is food motivated, so bring their most valued snack to your session. Just steer clear of anything messy so you don't stain your clothing.
Bring a lint roller
If your dog is a big shedder, or their fur is the opposite color of the outfits you're wearing, make sure to toss a lint roller in your bag. This will help avoid unwanted hair in your photos and help you clean up afterward!
Consider a nice collar and leash
While planning the outfits the people in your photos will wear, consider getting a collar and leash that will coordinate. You don't want a neutral-toned family photo with your dog wearing a neon harness. Dress up your pup with a coordinating bowtie or bandanna, or stay timeless with a classic leather collar. You'll want the leash to match or be neutral in tone, so it doesn't stand out too much. I recommend letting your dog try these accessories out a day or two before the session so they aren't thrown off by something new.
Exercise them before the session
If your dog is full of energy, make sure they get a good workout before your photo session so they're a little tired. A tired dog is a happy dog! To keep your photo day as laid-back as possible, enlist a friend to take them for a long walk or to the park for a run. Right before your session, arrive early so you can let the dog explore. Doing so allows them to get used to the environment, do their business and get comfortable enough to relax with you.
Set expectations and have fun
If your pup gets overwhelmed, give them a break and focus on the human members of your family. No matter how much you prepare, your dog will ultimately dictate the session. You may be able to get candid-style photos of your family playing with the dog much easier than you get a posed picture. That's OK! Remember that this is a great way to show their personality and represent their importance to you. Be sure to ask your photographer to snap a portrait of your dog on their own so you have it to cherish always.  
Join our list
Subscribe to our mailing list and get interesting stuff and updates to your email inbox.
Reader Interactions