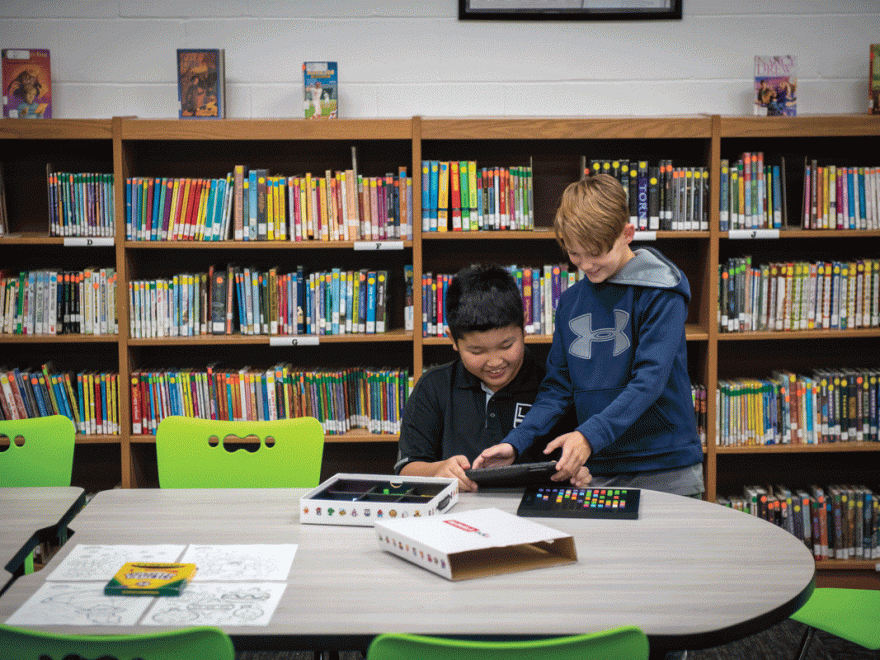 When you visit Bend Gate Elementary School, you may hear students talking about the Steamy Swamp. It may take you by surprise and make you wonder if they are talking about a science project or a recess game. 
The Steamy Swamp
The Steamy Swamp is indeed a place at Bend Gate Elementary School. STEAMY Swamp is the new innovative media center where students can explore STEAM activities. STEAM is an educational approach to learning that uses Science, Technology, Engineering, Arts, and Mathematics to help develop and cultivate world class skills such as communication, critical thinking, and collaboration. This approach goes hand in hand with the Henderson County Schools new initiative Building a Better Graduate, which includes rigorous coursework plus mastering world-class skills.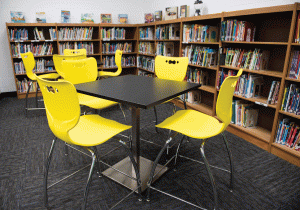 Bend Gate Elementary school is not the only school to undergo the Innovation Hub renovation. Media centers across the district began this process last summer when they submitted proposals for funding for innovative, student-centered media centers.
"The Innovations Hubs were created to transform our traditional media centers into becoming the innovation hub of the school. Literacy is still an integral part of our media centers, and progressive programing allows our students more daily opportunities to communicate, collaborate, and think critically. Schools have designed their programming primarily around coding, robotics, and engineering, providing students with the opportunity to build or create," states Marganna Stanley, Superintendent of Henderson County Schools. 
Finding the Fun in Learning 
Students at Bend Gate and other schools are arriving at school early and staying late to utilize the Innovation Hub. They are using snap circuits to learn about electronics, green screen technology to create videos, iPads to create video games, and small robots to program movements.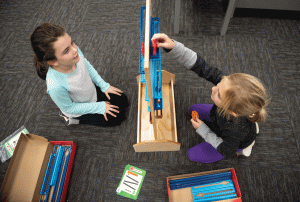 "With the ever-changing world of technology, students need this opportunity. They are learning to use tools and skills that are going to be a big part of their future," states Hannah Hudson, Bend Gate media specialist. She tells the story of a student using Bloxels, a program that teaches students how to create video games. The student was hesitant about using the program because she thought she was not very good at video games. After a short time, her face lit up and she was having fun. She now has an interest in designing video games one day. "What students are participating in today could shape and impact their future," adds Hudson.
Ava Coomes, a third grader, says last year she may have visited the library only once a week.  This year, she is finishing lunch early in order to help Mrs. Hudson teach kindergarteners about all the new gadgets.  Ava loves to visit the Steamy Swamp innovation hub multiple times a week.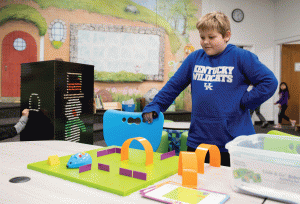 "I thought it was going to be the same as last year, but I was surprised when all the new stuff came in. I got so excited!"  Drake Jones, 5th grader, agrees. "When I came in here this year, I
was so happy we had new iPads to use with new technology.  My favorite are the Spheros. You can program them to move around anywhere you want. You can make them change colors, make animal noises, and even speak into them."
Max Hoggard, 5th grader, says, "This year you can expand towards technology.  I haven't seen a library like this. There aren't limits and you can do anything you want, and you can be yourself." 
Abigail White, 4th grader who loves books, says "Using technology in the library is fun. I like using the green screen.  In STLP, we made a video for Cates Farm. We're working on a video for Polar Express Family Night. You can choose your background for the videos and put music in." 
Student Technology Leadership Program
STLP is Student Technology Leadership Program. Students across the district participate in this program that uses project-based learning principles to empower student learning and achievement through the utilization of technology to solve school and community needs. Student-led projects are showcased through regional and state events. Several schools recently competed at regional competition at Murray State University and qualified for state competition at the University of Kentucky this spring. Innovation Hubs in the schools are enhancing and expanding the future for students' learning.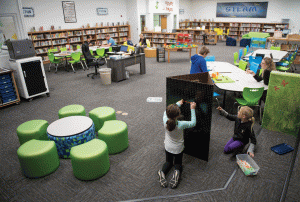 Think back to the history of libraries.  Perhaps one would envision rows and rows of dusty papyrus scrolls.   After Gutenberg's printed revolution one would see stacks and stacks of books, then came microfilm, CDs, and DVD's, computer archives all housing knowledge.  Libraries have continued to evolve since their inception. The Innovation Hubs are one such step in the ever-changing future. Innovation libraries are a revolution for the schools that still they maintain the oldest and noblest of purposes:  seeking wisdom and growing intellectually.  
A.J. Casey owns his own video production business, AJKC, and aspires to be a filmmaker. He co-hosts Jam in Henderson on WSON. He is married to his lovely and talented wife, Megan Mortis.
Join our list
Subscribe to our mailing list and get interesting stuff and updates to your email inbox.
Reader Interactions