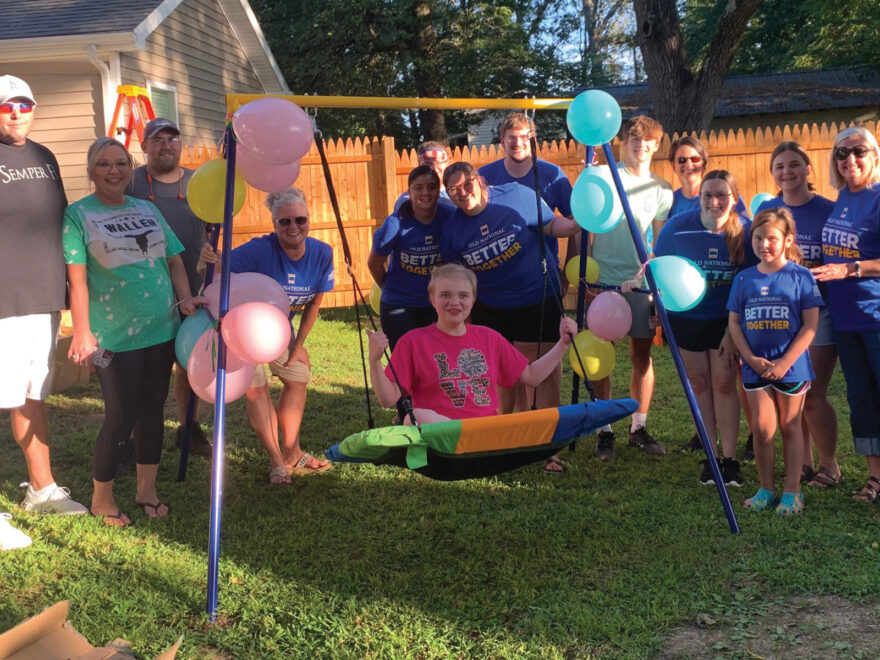 "We were excited for Jadie. We actually didn't know who was coming. They just told us volunteers would be there. Of course – this big group came from Old National Bank. They were like a big family. Amazing people. It was very, very heartwarming. It was amazing to see people that you didn't know do something that special for your child," 
—Kristi Smith, mother to Jadie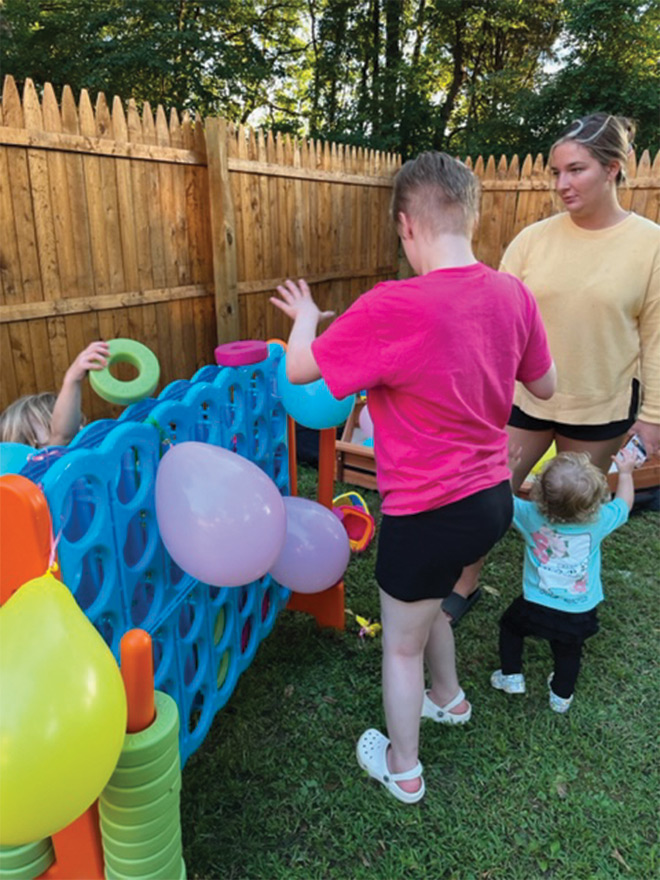 About a year and a half ago, Eric and Kristi Smith moved to Henderson. They are a blended family with five kids and three grandkids. Kristi's daughter, Jadie Ellison, is 16-years-old and was diagnosed at the age of 18 months. Jadie loves to be outside. Kristi saw that other kids with Jadie's diagnosis had been granted wishes through the Make-A-Wish Foundation. Kristi thought she would try submitting an application and see if Jadie would be considered to receive a wish. "I submitted her application, and she got it!" The paperwork was submitted after their move to Henderson, but due to COVID, the process took a bit longer. Jadie's wish was to receive playground equipment in their backyard so she could enjoy the outdoors. 
A Call to Help 
The Make-A-Wish Foundation reached out to Old National Bank about sending volunteers to help grant Jadie's wish. Maria Quinton, Indiana Market Advancement Officer with the Make-A-Wish Foundation, said, "We chose them because I know they care deeply about the communities they are in. We needed volunteers to help in Henderson, and I immediately thought of ONB! They immediately were excited to participate in a local wish. ONB is a pillar in our community and we are lucky to have them." The call to help grant Jadie's wish made it to the office of Lisa Leslie, Henderson's Banking Center Manager, putting her in charge of planning an evening for her team to grant the wish. Make-A-Wish worked as the liaison between Old National and Jadie's family. Once the equipment was delivered to the Smith's home, they were able to schedule an evening for the reveal. Old National has been involved with other volunteer opportunities such as their recent National Volunteer Day at New Hope Animal Rescue, an annual yard sale benefiting Relay for Life and Rotary's Trivia Night. This was their first time having the opportunity to serve with the Make-A-Wish Foundation. 
Old National Bank's motto is "Better Together" and the opportunity they were given to help grant this family's wish made their motto a true testimony. "Associates, spouses and some of the associates' children went. It was sort of like team building for us, too," expressed Lisa. There were about thirteen people total who helped volunteer that day. The Old National team planned an evening after work to go and showed up to the family's home with drills and tools needed to put the playground equipment together.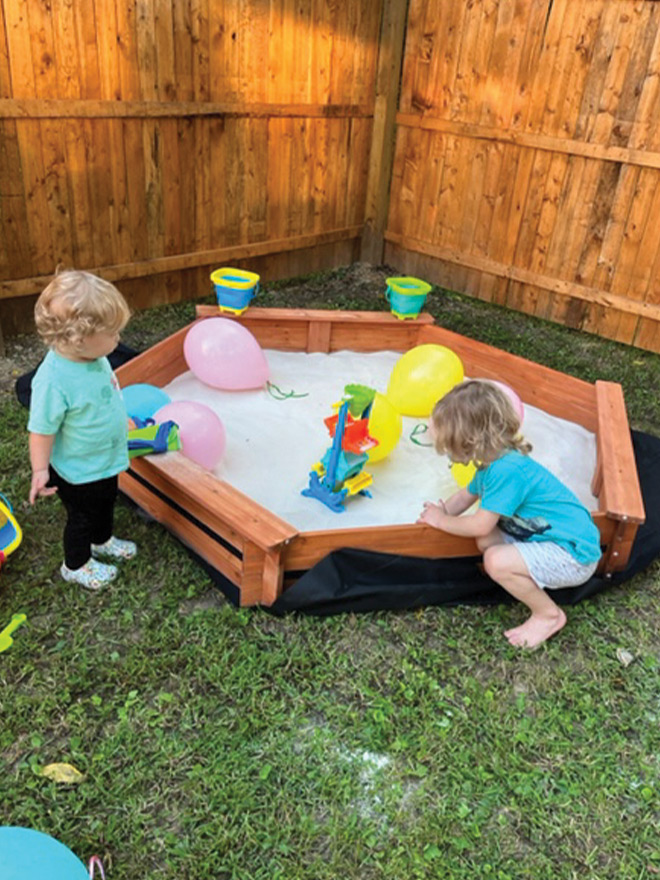 Reveal Day
September 1, 2022 was the day everyone had been waiting for. Two weeks prior, Eric, Jadie's stepdad, and some of his co-workers installed the fence in their backyard. 
When the Old National volunteers arrived, they separated into groups. There were three different types of playground equipment—including a swing—which has been one of Jadie's favorites. One group would lay instructions and sort pieces while another group started putting the equipment together. Lisa smiled as she recalled, "Once the first swing was up, Jadie sat in it and didn't want to get up!" The interaction with Jadie and her family is what Lisa enjoyed most about this volunteer experience. "She was not at all shy. She is nonverbal but she loved seeing everyone." 
Once everything was built, Old National held a reveal party. They had already blown up balloons and had them in trash bags before they left the bank. Associates put balloons everywhere in the backyard and served cupcakes. Even though Jadie had been there while the equipment was being put together, it was a fun way to end the evening with the new playground equipment.
A Place of Her Own 
Eric and Kristi are beyond grateful for their experience with Make-A-Wish and Old National Bank on behalf of Jadie. 
Although Jadie loves being outside – there is something else she loves, too. Jadie is the proud aunt to two nieces and a nephew – ages 1, 3 and 4. "She absolutely loves her nieces and nephew." Kristi said, "She puts them in her wheelchair and strollers and pushes them around." They are also enjoying the playground equipment and playing outside with Jadie. 
What does their new backyard mean for Jadie now? "More freedom being outside and her being able to run. A place where she feels like she can go and do what she wants to do," said her grateful mother. "She goes to the swing every time she gets out there. It is like a trampoline swing. She loves it!" 
Jadie loved seeing everyone the day of the reveal. Eric chuckled and said, "She was getting on the equipment before they could get it anchored down." This entire experience brought nothing but smiles to the family and the volunteers involved. Eric and Kristi grew up across the street from each other but never spoke to one another. After Eric got out of the Marine Corps, he reached out to Kristi and the rest was history. And in the seven years they have been together, this experience has been one of the most humbling for them and their family.
Kristi describes her daughter as being "full of life" and this wish is allowing her to live her best life being outside and having a space to call her own!
Join our list
Subscribe to our mailing list and get interesting stuff and updates to your email inbox.
Reader Interactions