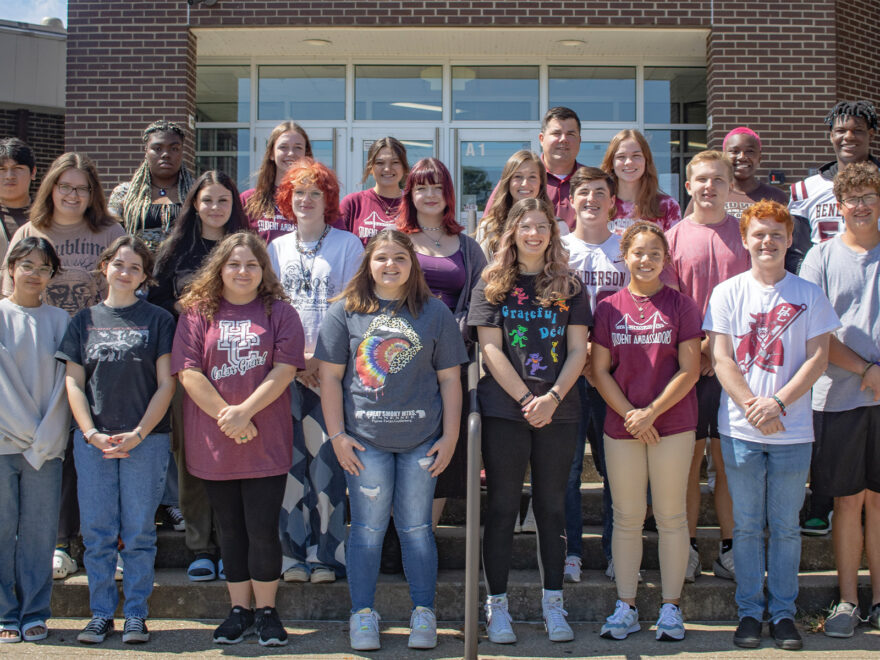 "In the community, Colonel Cast News and Colonel Journal actively seek partnerships within the community to practice the craft of making good media and making Henderson a better place. This has involved helping local businesses create multimedia content, doing live and recorded video production for shows and pageants, and reaching out to become more involved with local news outlets."
Being our Kids Takeover, we decided to hand the writing over to some of the journalism students at Henderson County High School. We provided them with a list of common topics along with two different prompts to choose from. They were asked to write about their own personal experiences/perspectives as a way to shine light on some of these topics for future HCHS students and their families to benefit from. 
Luke Dalton: Class of 2023
High School Athletics are something that I would recommend to everyone. I would not be where I am today without Henderson County Football. Participating in athletics provides skills to students that create better teammates, better problem solvers, and better leaders. Athletics teaches you to be a part of something bigger than yourself. It allows you to work with people from all different backgrounds to a common goal, which is a skill that will transfer well into adulthood. 
Jerrika Basham: Class of 2025
Being involved in Marching Band in high school is important/impacted my life because you have an opportunity to meet people and make new friends. Also, the cultivates creativity and provides students with a unique opportunity to grow as individuals. The foundations and lessons gained from marching band make it an extremely valuable learning experience for children of all ages. It also gives kids challenges that they overcome together while also developing the individual initiative of choosing an instrument, participating in an environment with social complexities, and succeeding through practice and repetition.
Joe Coghill: Class of 2023
Being involved in the Henderson County Gentlemen's Club has impacted my life because it has shown me a lot of ways to connect within the community. The Henderson County Gentlemen's Club is an organization where High School students are given the opportunity to go out and do community service while also creating new friendships. It has truly shown me how amazing Henderson is and what makes me want to come back after college.
Grant Edwards: Class of 2023
I wish I knew more about Colonel Cast Network as an incoming freshman. This school news network has taught me so many different things that can shift into real life after high school. It has shown me how to work with other people, creativity, and how to work a camera. Nowadays everywhere you go there is a camera, so it is nice to know how to work a camera with its many different features. You have to work with everybody to make an episode so it really shows you team work. This is why I wish I knew about the Colonel Cast Network as a freshman, so I could get involved in it sooner than my senior year.
Mollianne Major: Class of 2023
Being involved in absolutely anything in high school is super important. It gives you a sense of community in such a big atmosphere, and it makes you feel like a part of something bigger than yourself. My advice to anyone coming into high school is to get involved in clubs, sports, or activities that you're interested in. You'll make new friends with the same interests and get to experience some of the most amazing things! Coming from a high school senior, you will make crazy awesome memories. Yes, you might not end with the same friends that you started with, but the ones you have when you're my age will last a lifetime. I also encourage you to just be kind to everyone you meet. It doesn't cost you anything, it's not hard, and it can help you with making those new friends and acquaintances. You will have some hard times adjusting to all of the changes, but just cherish every single moment and tell your friends that you love them because it goes by so fast!
Yusef Sanogo Kendrick: Class of 2024
I wish I had known more about the importance of being able to take criticism as an incoming freshman. High School will ask a lot out of you. Learning how to take criticism is important because you're not gonna be perfect in high school and people will tell you their honest truth and opinion, whether it's positive or negative. You must be able to accept and use it as a positive. Also, don't let it affect you and change the way you want to do things unless the change is for the better. Joining a club or clubs and getting involved in something is definitely something that is worth it. It keeps you occupied, creates memories, and you make great friends along the way.
Kendall Pullum: Class of 2023
Being involved in SoFA Theatre in high school is so important to my life because it allows me to express myself in ways I've never been able to. Every production we put on has many roles, acting and tech, to be filled by so many people with so many different talents. People with an eye for color and shadows are able to design lights, people with a knack for making everything go where it needs to have stage management opportunities, and of course, there's always a place for our talented actors. No matter where you come from, you will always have a home in the theater, and I'm so glad I joined.
Mabrey Rice: Class of 2023
From the first moment I stepped on stage as a 6-year-old in a parrot costume, I've known that the theater was a place I could truly open up and pour everything into. When I first came to HCHS, the SoFA Theater program seemed to be an opportunity I couldn't pass up– building skills with artists around me, putting on shows to share, specialized classes and educators, all theatrical aspects hands-on work, spending school time on things I'm passionate about. Did any other school have such an opportunity to grow and learn while bringing arts awareness to our peers and community? The SoFA program is truly special, and without it, I don't believe I'd be the student I am today. 
Alyssa Stahl: Class of 2023
As a senior, I wish I had believed when the seniors my freshman year told me how fast high school actually passes by. I thought it was going to be the longest four years of my life, but it feels as though just yesterday I was attending my freshman orientation. There is so much I wish I knew back then. The importance of AP classes, how you should try your hardest all four years, and why you should choose a class based on if you want to and not based on your friend's opinions. I could stress about many different topics regarding high school but unfortunately, it probably won't settle in your brain until you actually experience them. All I have to say to incoming freshmen is to enjoy your high school years because they are over before you know it.
Jarie Thomas: Class of 2023
Being involved in basketball during high school has impacted my life in many ways. It has taught me life lessons and has given me memories that I can remember for the rest of my life. High school basketball has not only helped make me a better athlete, but it has also made me a better person. It's given me a family through my teammates, and I will forever cherish the friendships I've made through this sport. I highly recommend getting involved in something you are passionate about while in high school; I promise you won't regret it!
Join our list
Subscribe to our mailing list and get interesting stuff and updates to your email inbox.
Reader Interactions